Are butterflies mentioned in the Bible?
As Christians, we are so often told that the Bible literally talks about everything. But does it actually reference or mention butterflies?
Butterflies are creatures of transformation, changing from a crawling caterpillar stuck on a tree into the freedom of a gorgeous butterfly.
Many Christians desire dramatic long-term transformation too! Let's examine Bible verses about butterflies and discover what these stunning, delicate creatures might mean for you.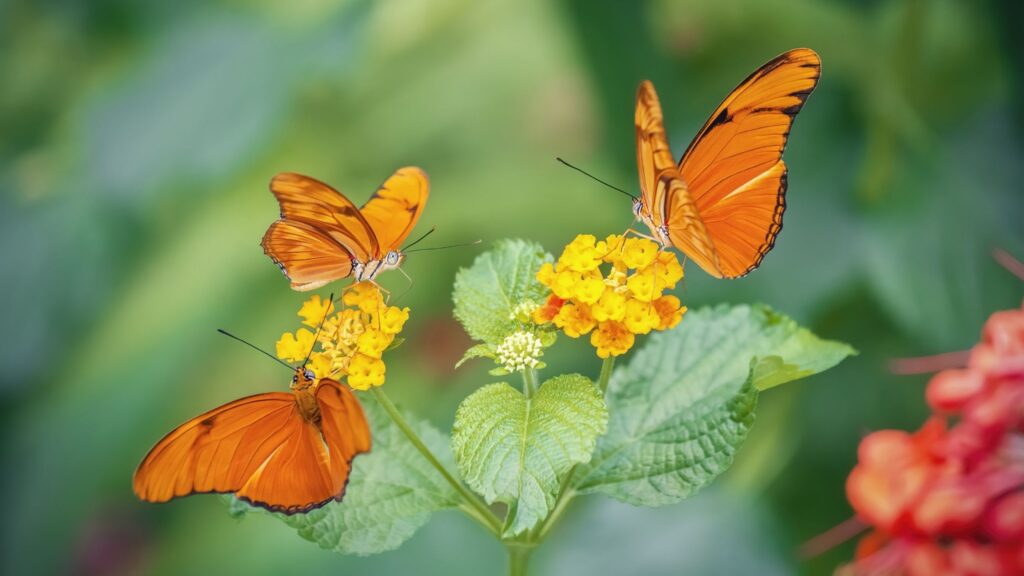 This post may contain affiliate links. Read our full disclosure here.
Butterflies in the Bible
We often hear the phrase "God is transforming us like a butterfly" but what Bible verse about butterflies actually talks about that?
The truth is that the Bible doesn't reference or mention actual butterflies. But the Bible is full of scripture about what butterflies symbolize.
What Do Butterflies Symbolize in the Bible?
In the Bible, butterflies symbolize new beginnings, transformation, and change.
Sometimes biblical concepts can be hard to read or understand, but we can absolutely visualize the change that happens when a caterpillar transforms into a beautiful butterfly!
Just went the caterpillar thinks its life is over, it emerges more beautiful and with a brand new life.
We can think of the caterpillar as our old self. When the caterpillar turns into a cocoon, we can think of that as the transformation period where Jesus begins working on our hearts.
When the butterfly emerges, that is symbolic of us emerging new in Christ.
That is what choosing to follow Jesus is like. We shed the old version of ourselves – our old self literally dies. And we emerge as a new creation in Christ.
Jacob, who went from a liar to the father of Israel, is one Biblical figure who best represents what butterflies symbolize in the Bible. Isaiah even refers to Jacob's previous existence as a lowly insect.
In Jacob's caterpillar to butterfly experience, God even changes Jacob's name to Israel. Jacob's name change reflects Jacob's complete make-over.
Abram to Abraham, Sara to Sarah, Simon to Peter, and Saul to Paul are just a few examples of Biblical figures who experienced tremendous butterfly transformations where God/Jesus gave them new names to reflect their inward changes.
Bible Verses About Butterflies
Are there actual Bible verses about butterflies?
No. The Bible doesn't specifically reference butterflies anywhere in Scripture. But we do find many references to the life cycle of transformation and new beginnings that a butterfly experiences.
And that is exactly what being a Christian and living a life for and through Christ is all about! Letting go of what we were so we can become something much better!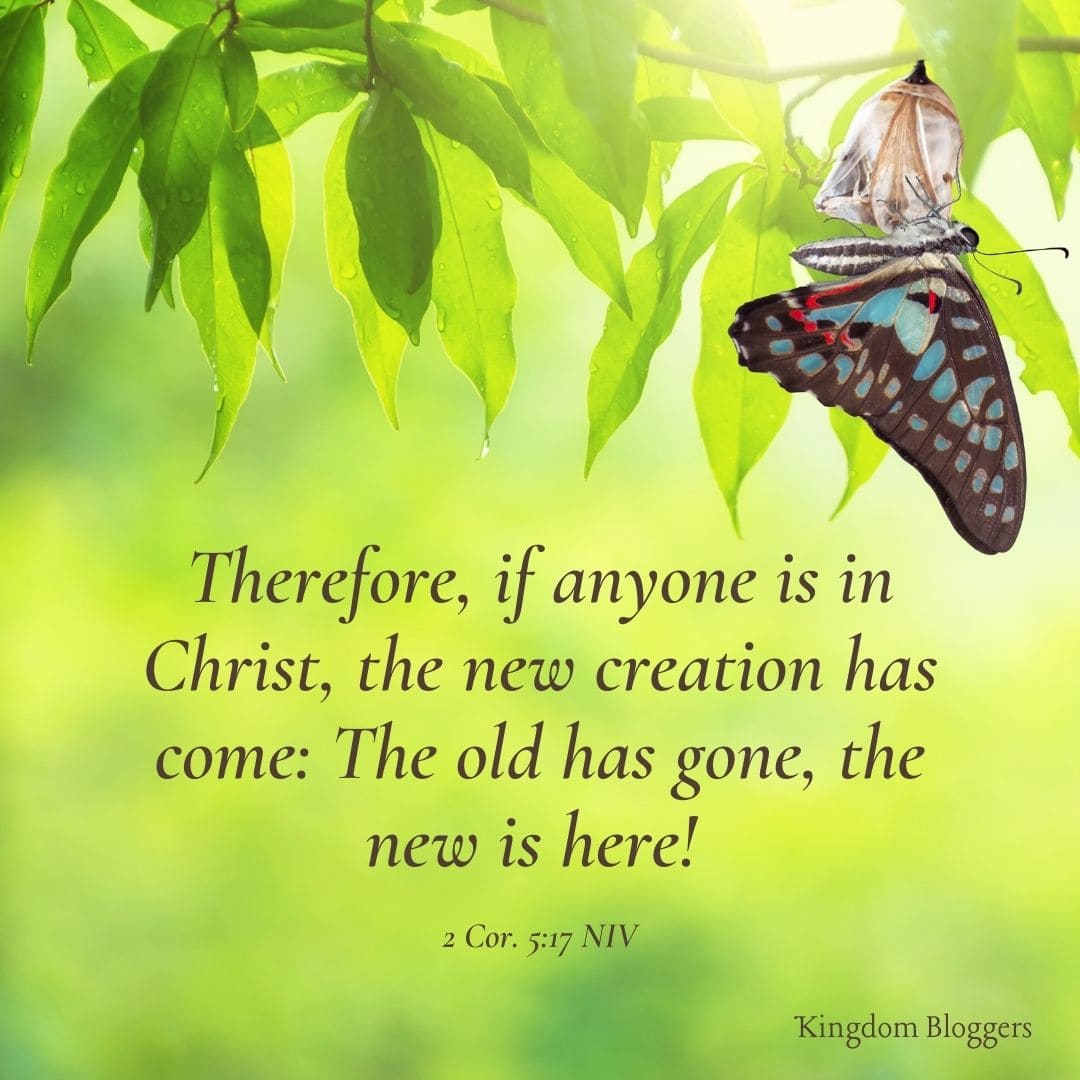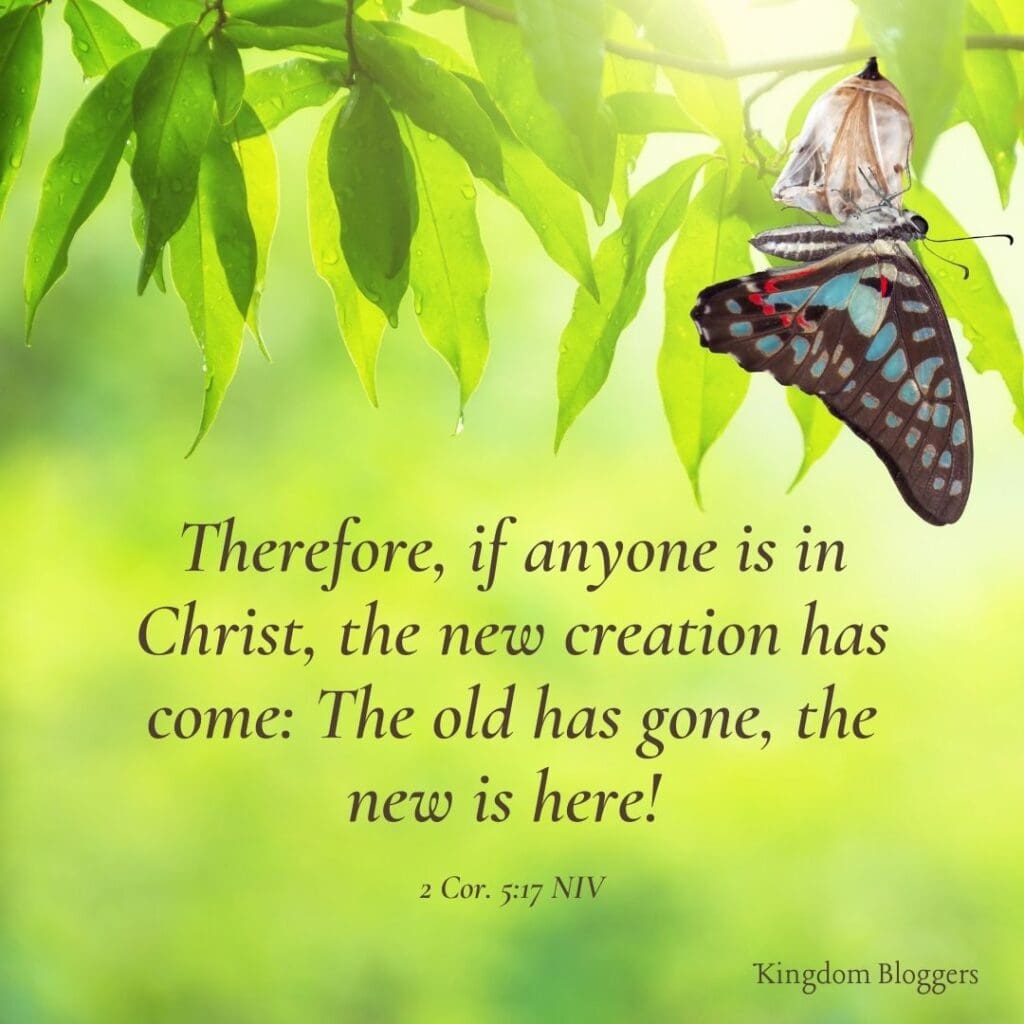 2 Corinthians 5:17
We are called to leave our old lives behind. Just as the butterfly leaves its broken cocoon behind, we are called to focus on our new life in Christ.
Therefore, if anyone is in Christ, the new creation has come: The old has gone, the new is here! 2 Cor. 5:17 NIV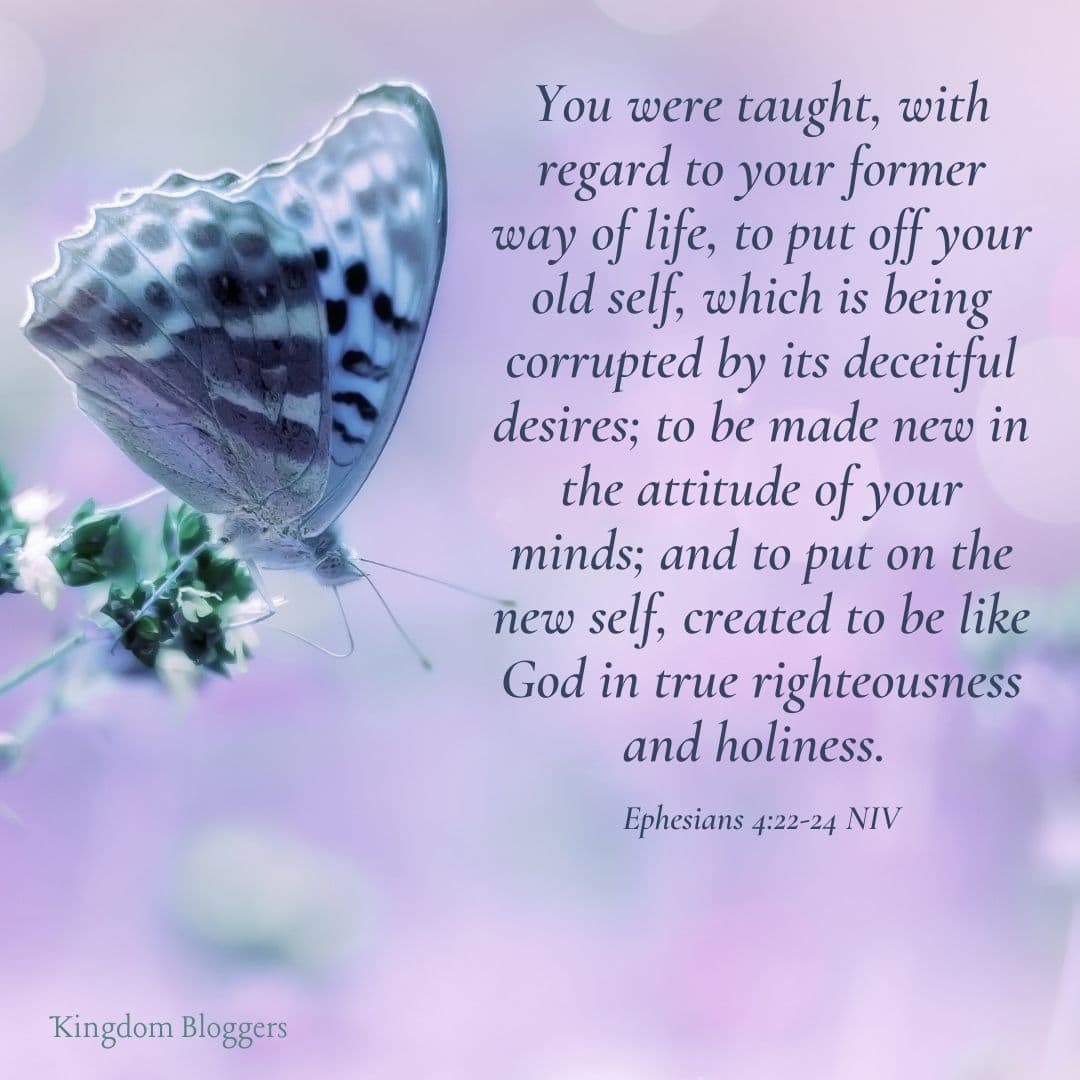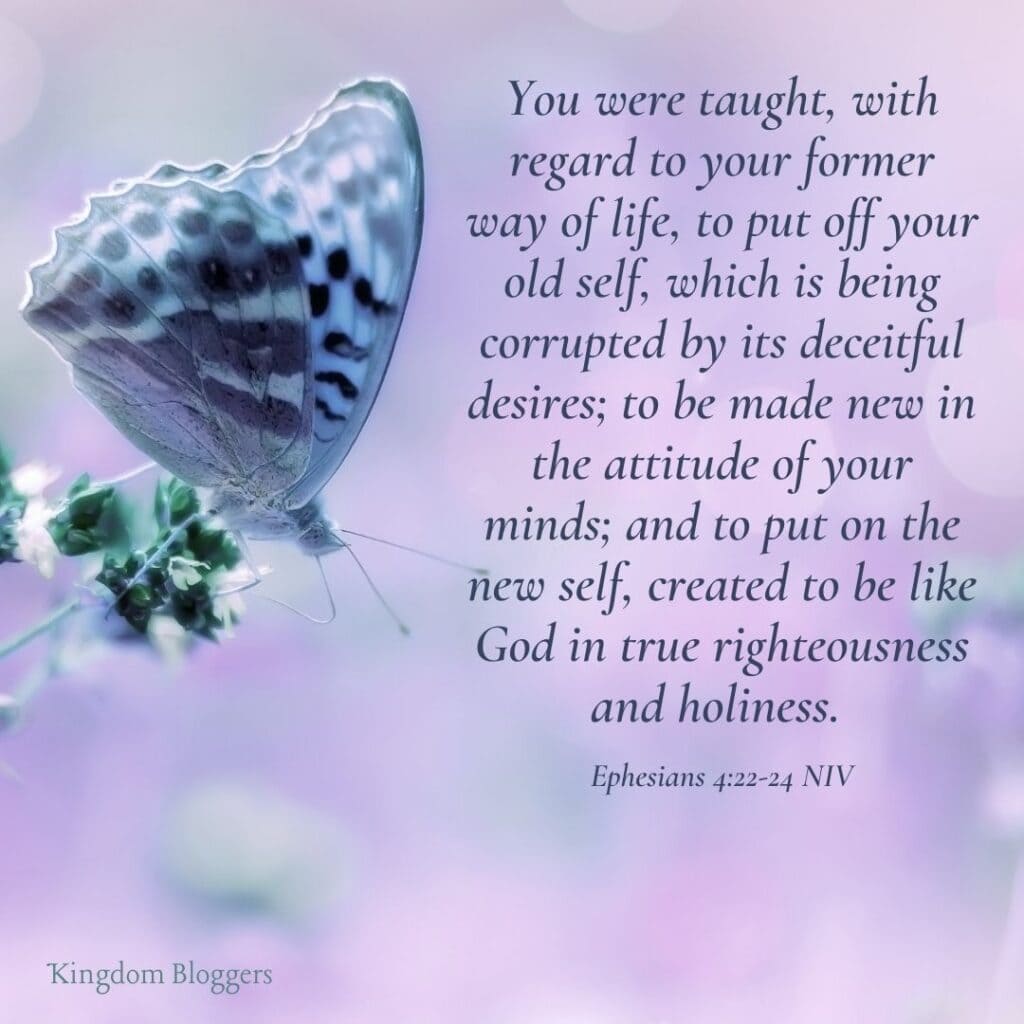 Ephesians 4:22-24
The butterfly must feel total freedom breaking out from the cocoon. Once I became a Christian, I had to learn how to operate in my new life, leaving some bad habits behind since I wanted to lead a life pleasing to God.
You were taught, with regard to your former way of life, to put off your old self, which is being corrupted by its deceitful desires; to be made new in the attitude of your minds; and to put on the new self, created to be like God in true righteousness and holiness. Ephesians 4:22-24 NIV
As I began to attempt to make some changes, I had to remember God loves me and you unconditionally, no matter what we do or don't do.
And the good news is God helps us every step of the way to become who He created us to be.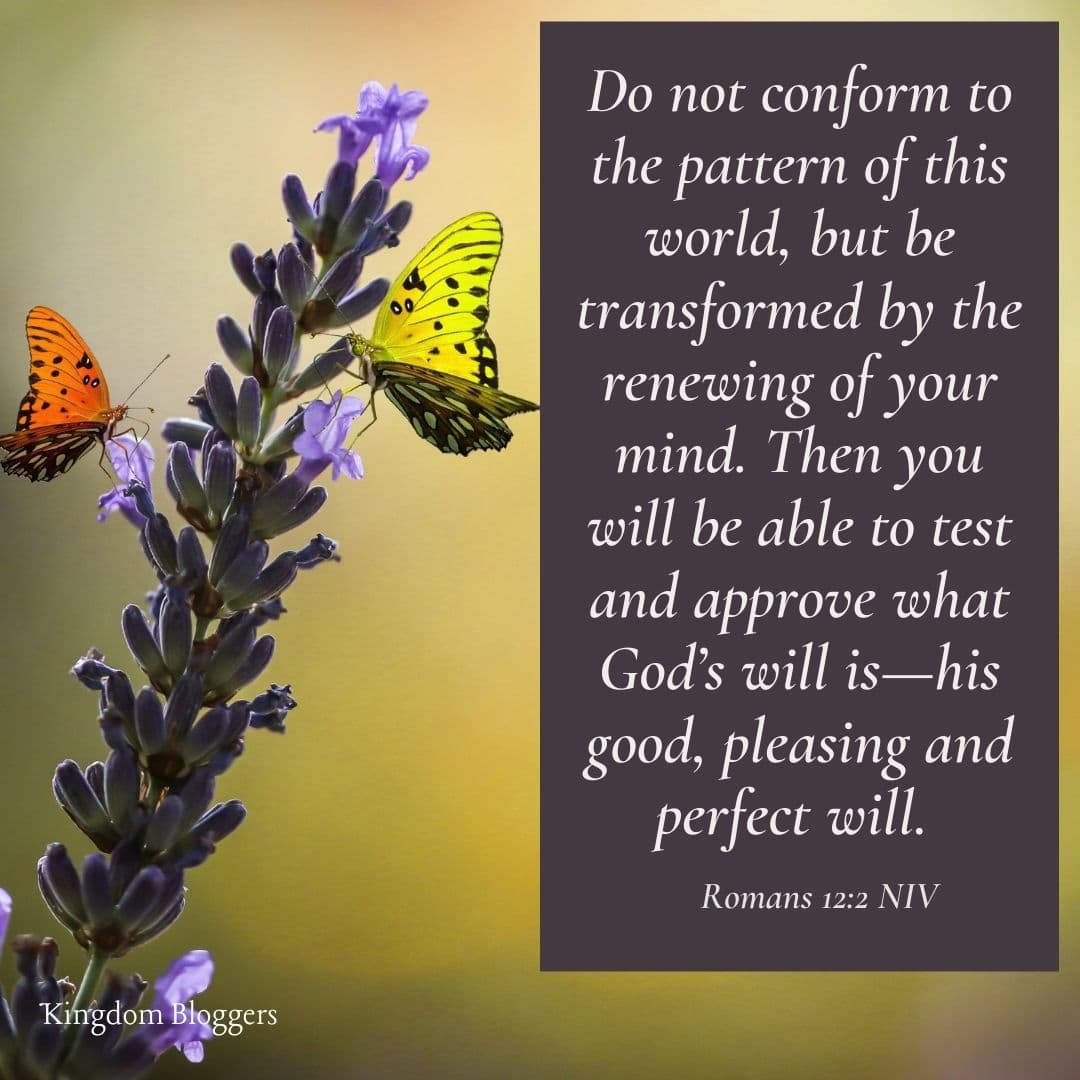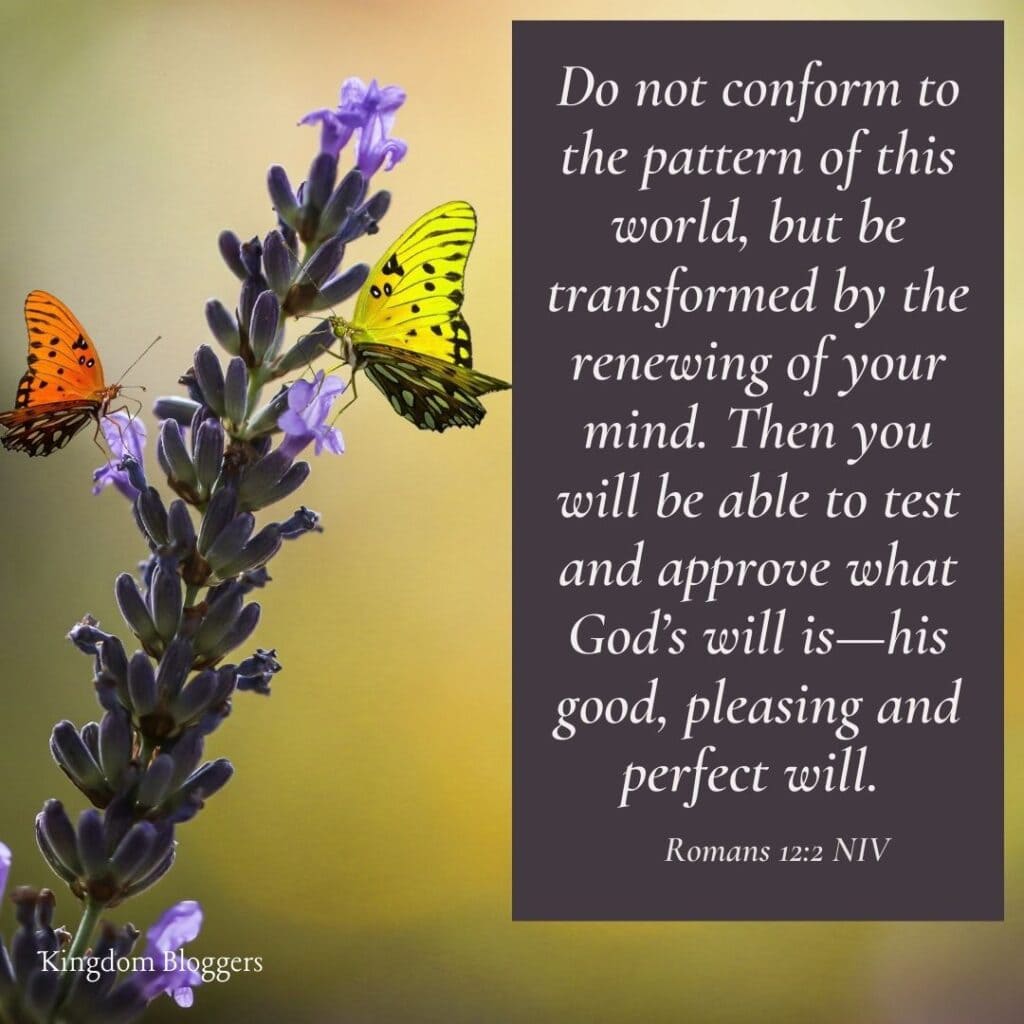 Romans 12:2
The butterfly is physically transformed. But God wants our minds to have the butterfly effect.
Do not conform to the pattern of this world, but be transformed by the renewing of your mind. Then you will be able to test and approve what God's will is—his good, pleasing and perfect will. Romans 12:2 NIV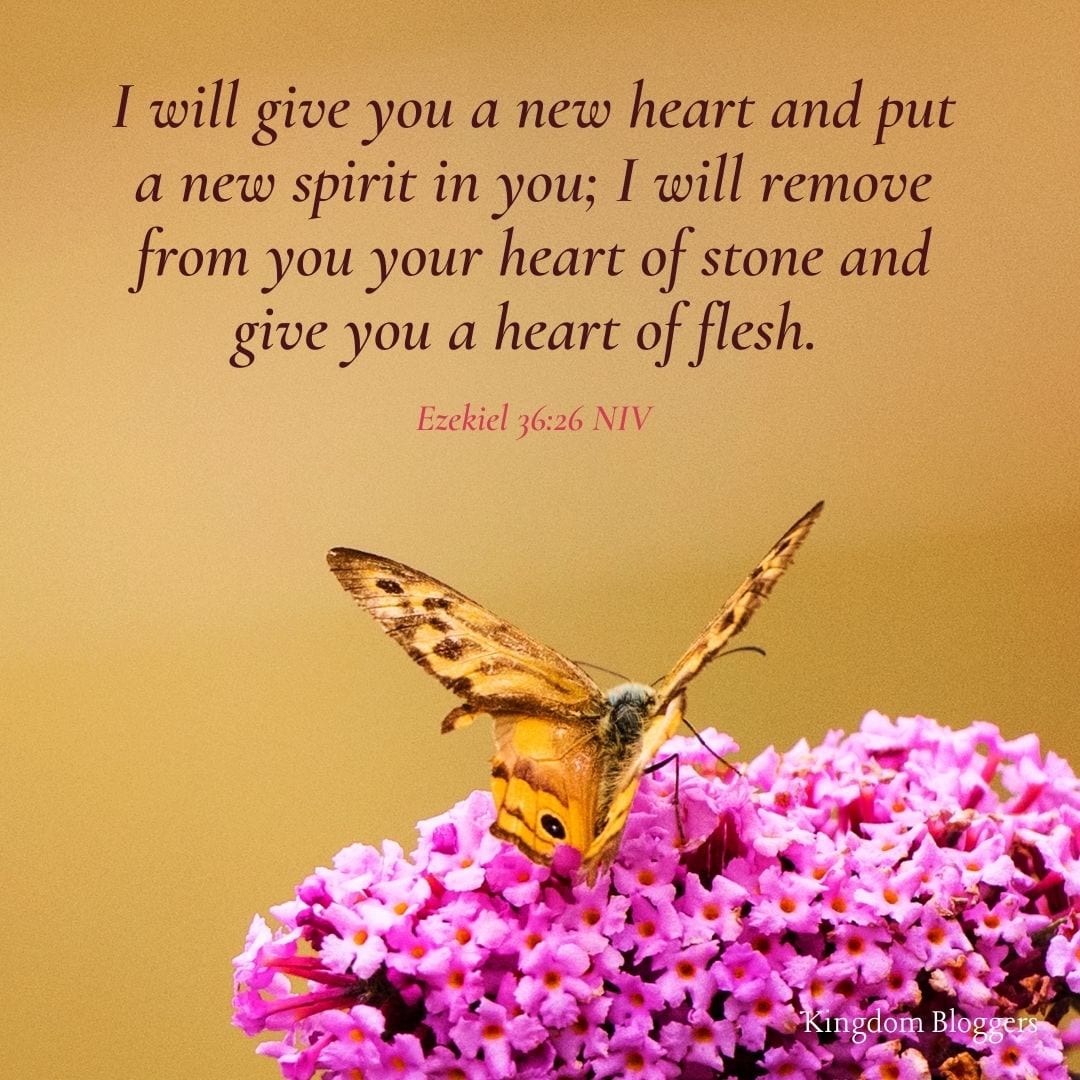 Ezekiel 36:26
Just like the butterfly who emerges with a brand new body and life, we are given a new spirit when we accept Jesus into our hearts and follow Him.
I will give you a new heart and put a new spirit in you; I will remove from you your heart of stone and give you a heart of flesh. Ezekiel 36:26 NIV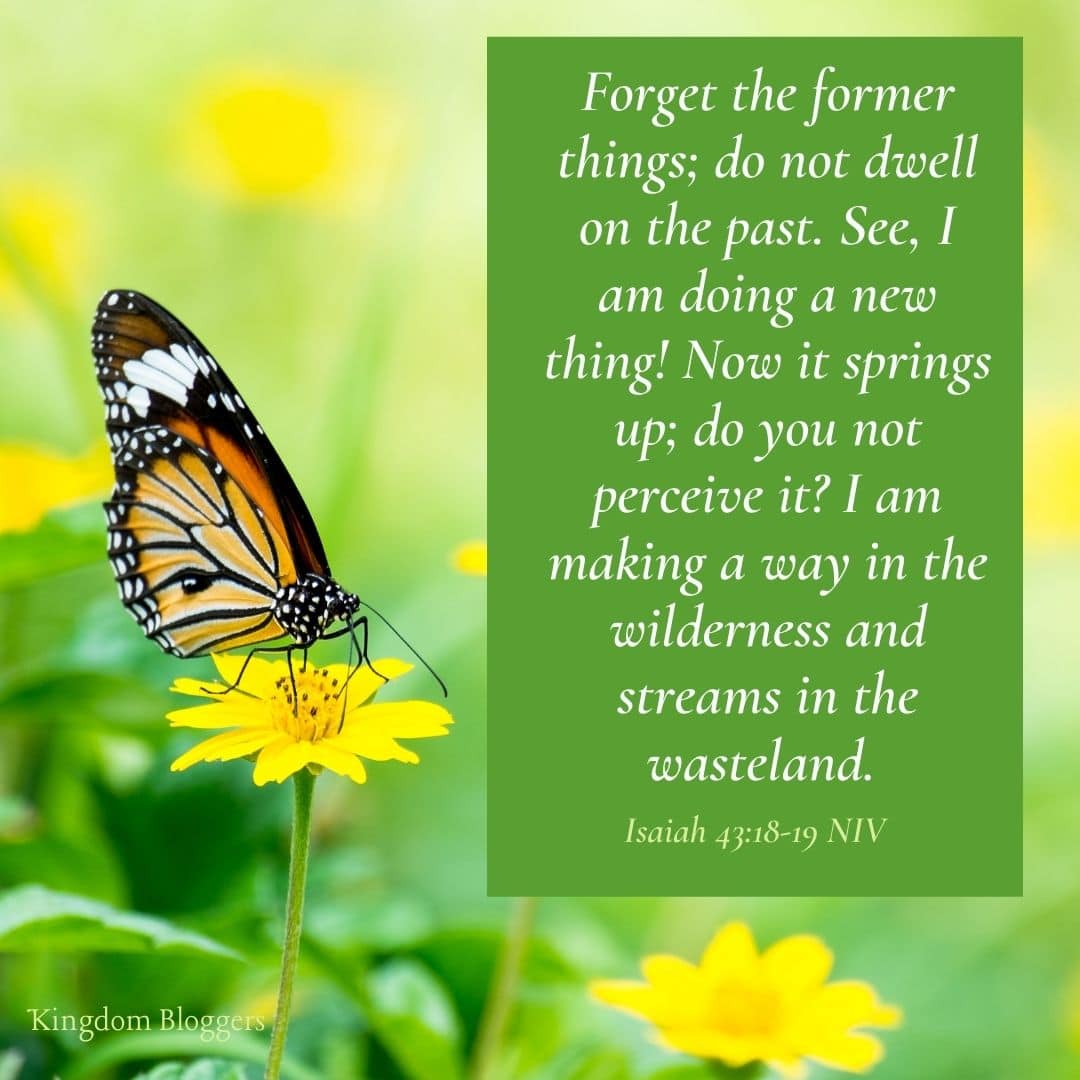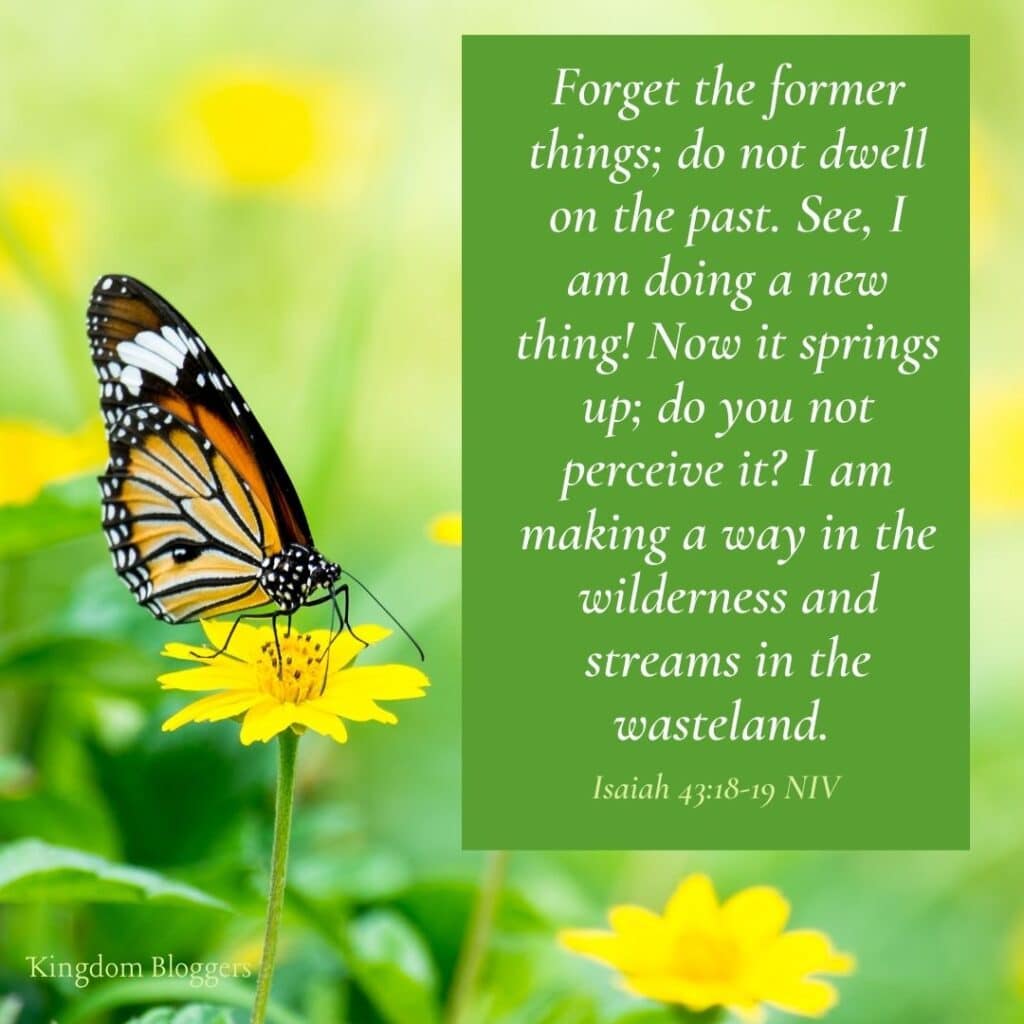 Isaiah 43:18-19
So often, we want to hold on to the past. But when we do that, we may miss out on what God has in store for our future.
The caterpillar doesn't try to hold onto its worm self. It readily hangs upside down in anticipation of what new life is to come!
Forget the former things; do not dwell on the past. See, I am doing a new thing! Now it springs up; do you not perceive it? I am making a way in the wilderness and streams in the wasteland. Isaiah 43:18-19 NIV
God wants to transform us just like the caterpillar so we can spread our wings like the new butterfly!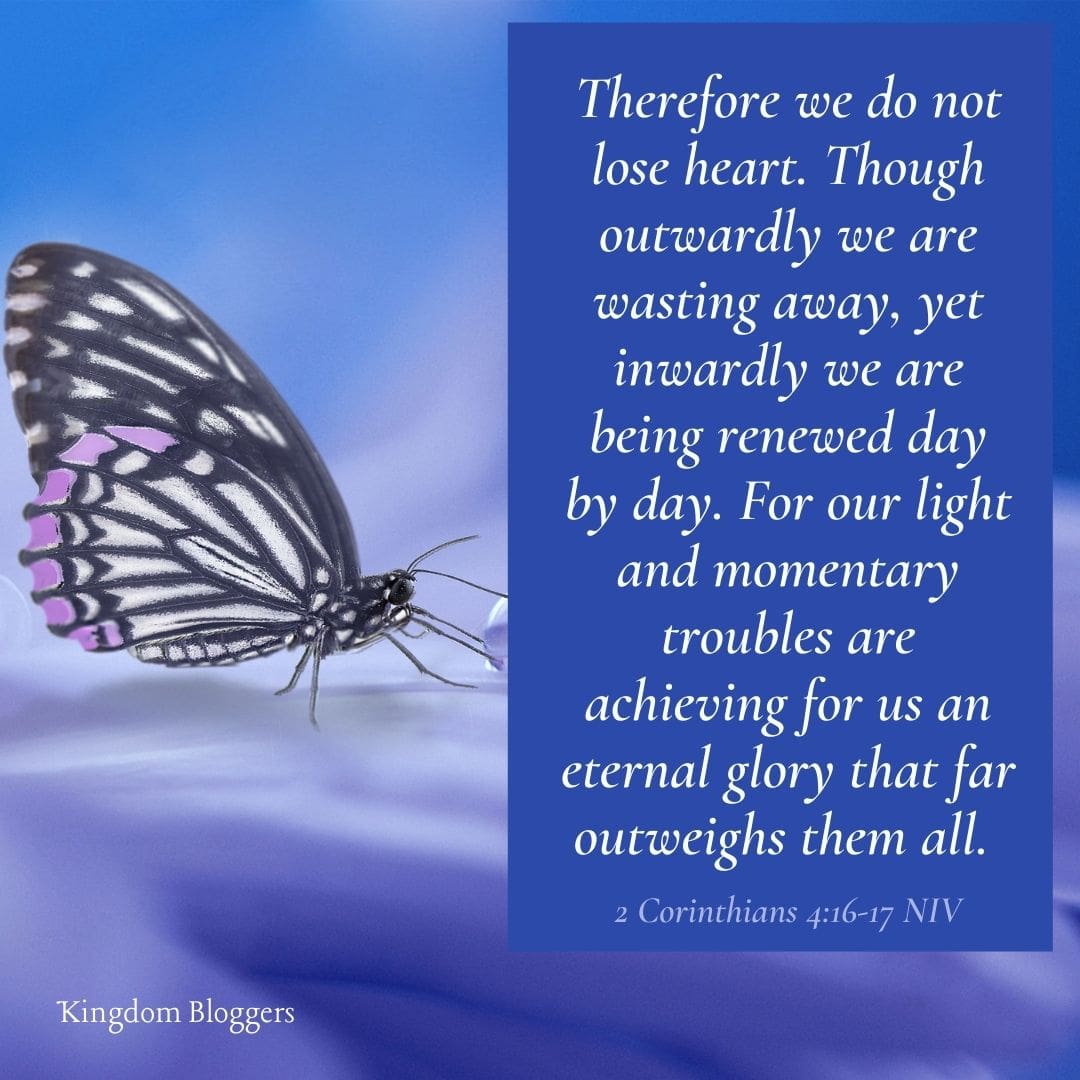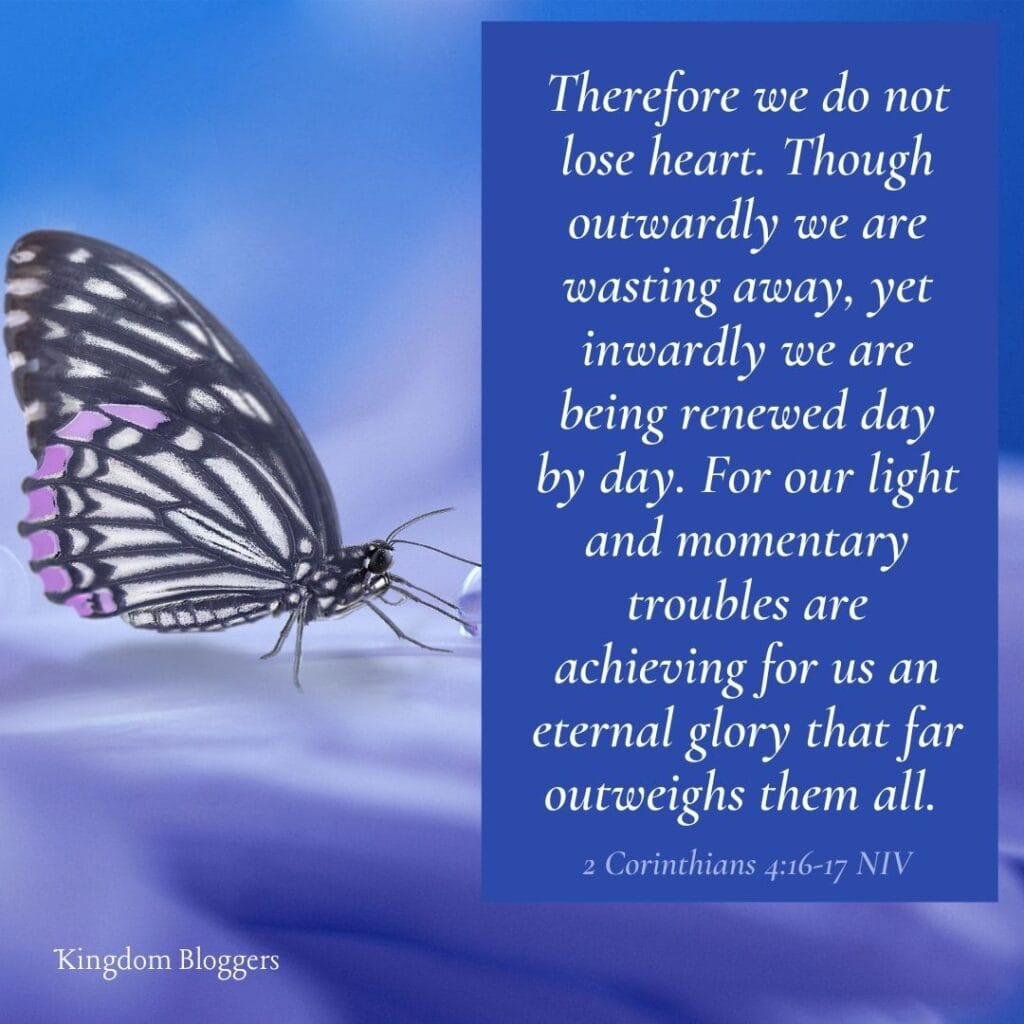 2 Corinthians 4:16-17
The death of the caterpillar isn't final. Only the outward version is dying. But inside, God is creating a new, more beautiful version.
The same applies to us. Even though we grow older and our earthly bodies begin to wither, He is preparing us for something so much better in Heaven!
Therefore we do not lose heart. Though outwardly we are wasting away, yet inwardly we are being renewed day by day. For our light and momentary troubles are achieving for us an eternal glory that far outweighs them all. 2 Corinthians 4:16-17 NIV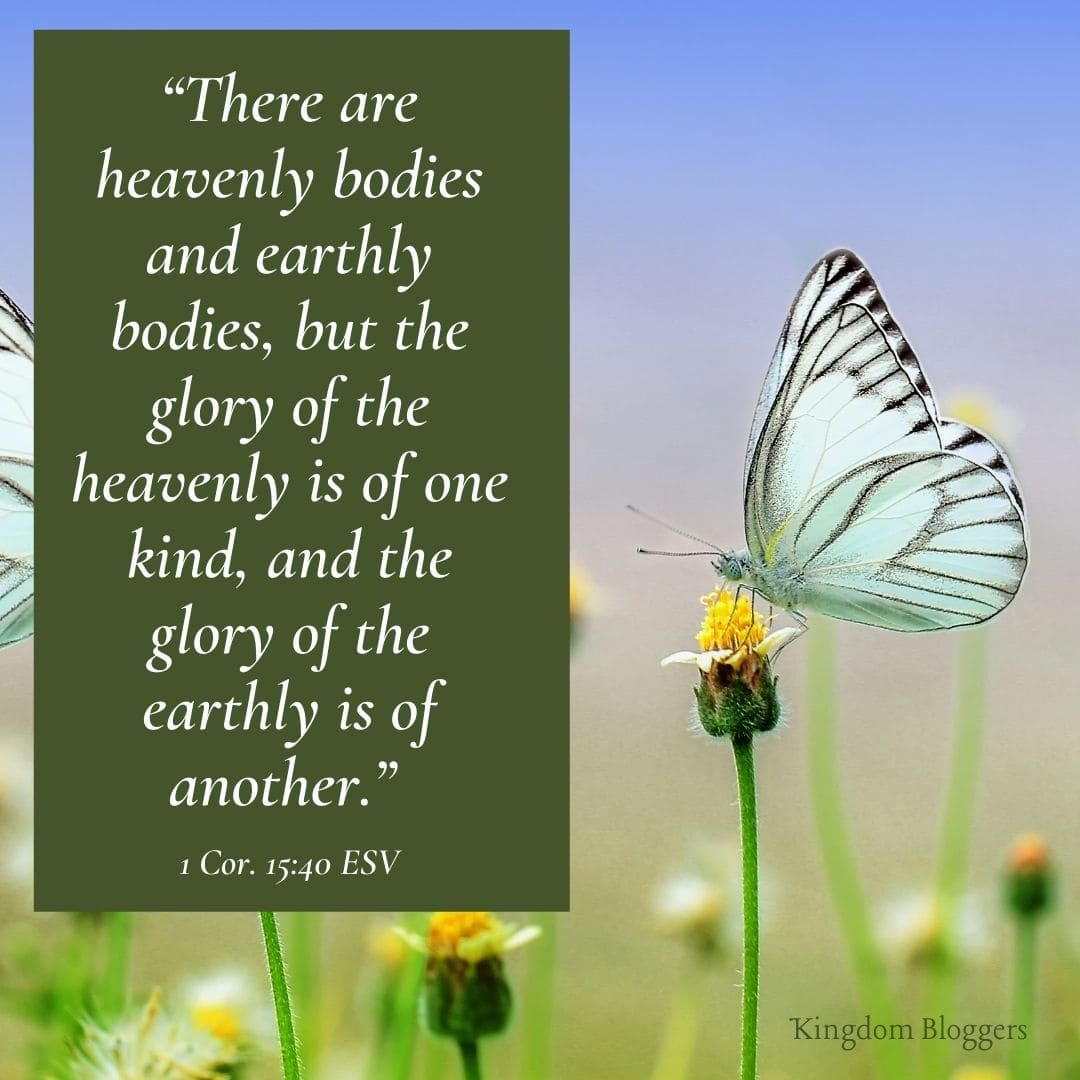 1 Corinthians 15:40
Looking at the butterfly makes me think of when the time comes to leave my earthy skin suit behind,(my cocoon) and be with Christ in Heaven for eternity.
"There are heavenly bodies and earthly bodies, but the glory of the heavenly is of one kind, and the glory of the earthly is of another." 1 Cor. 15:40 ESV
Like the butterfly I will be transformed, where anything is possible, we might walk on water and fly like butterflies!
Next time you see one of these beautiful insects flitting around you, remember all these Bible verses about butterflies and what butterflies symbolize in the Bible.
And always remember that although we change, God never changes and He will always be there to guide us through our transformation.
Keep in mind that butterflies might be a sign from God indicating to you that hope, change, or transformation is on the way for you!
Be sure to also read: