Hospitality is basically the friendly and generous reception and entertainment of guests, visitors, or strangers. Many of us enjoy entertaining guests in our homes or elsewhere. But practicing biblical hospitality isn't just about bringing others into your home.
What does the Bible say about hospitality?
What is biblical hospitality?
How can we practice more biblical hospitality throughout the week?
Our culture is all about building a perception of perfection. We want to build an image that makes us look smarter, wealthier, and more talented than we actually are. Spotless floors and perfect meals can be used to gain glory and praise for ourselves.
However, as Christians, we aren't called to boast in perfection about anything. God commands us to be hospitable towards others and give Him glory by doing so. Hospitality does not have to be elaborate.
It can look like a simple cup of tea or coffee and some store-bought desserts. It's simply about opening up our lives and our hearts to pour out Christ-like love towards others.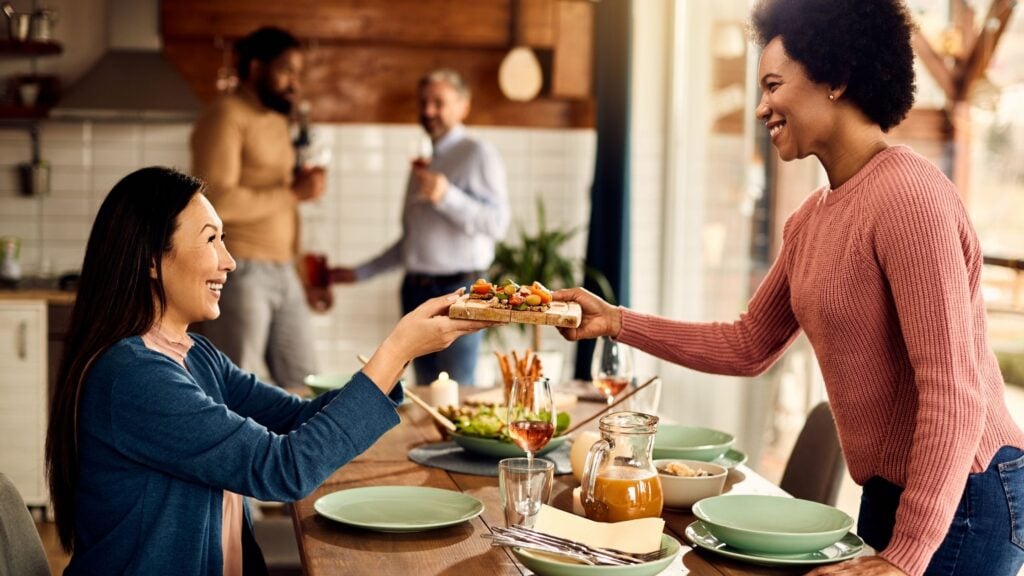 This post may contain affiliate links. Read our full disclosure here.
What Does the Bible Say About Hospitality
All throughout scripture, you will find references to hospitality – to serving others with love the way Jesus did. The basis of hospitality towards others is the gospel itself!
Anyone who welcomes you welcomes me, and anyone who welcomes me welcomes the one who sent me. Matthew 10:40 NIV
As Christians, we are called to open our hearts and even our homes to share God's love with others. Biblical hospitality is just that – welcoming others with love and a heart for Jesus.
What is Biblical Hospitality
The biblical definition of hospitality is simply to show love and kindness to others. (AV1611) In other words, the willingness to invite people into our homes and/or serving them in some way.
It doesn't mean having the perfect home, luxurious furniture, an exquisite meal or hand-crafted decorations. It is concerned with loving others, putting them first, getting to know them, and serving them well.
Our purpose is to serve and build up the body of Christ. Hospitality means that we seek to love and build others up by serving them. God supplies us with the strength and willpower to be hospitable towards others. In showing hospitality to strangers and serving others, we bring glory to God.
Why is Hospitality so Important in the Bible
Showing hospitality is not something we just do in our own free time or when it is convenient for us. We are called to show hospitality with others without grumbling (1 Peter 4:9). We are called to be hospitable no matter what our circumstances are at the current moment (1 Kings 17:7-16).
The truly humble person gives without hope of reciprocation. We are called to care for our neighbors out of love and to give no thought to self-interest.
It means thinking creatively about how you can make a difference in another person's life by lifting even the smallest of burdens. We should be constantly thinking about who we can serve.
Hospitality is important because it allows us to shine the light of Christ with everyone around us!
Examples of Hospitality in the Bible
There are so many examples of hospitality in the Bible.
We see biblical examples of hospitality in the book of Ruth when Naomi and Boaz show kindness to a family who had lost their husband and father.
Other biblical characters are also known for extending hospitality–from Abraham's willingness to share his home with strangers (Genesis 18) to Lot's insistence that he not be separated from his guests (Genesis 19).
Jesus, himself demonstrated hospitality when He washed the feet of His disciples!
The biblical account reveals that hospitality is far more than just being a gracious host or hostess, but it's an act of love and service to others where we take into consideration their needs before our own.
In all these instances, we see how biblical hospitality is an act of selflessness.
Bible Verses About Hospitality
The Bible is clear that the practice of hospitality is an important part of being a Christian. The Bible encourages us to practice hospitality all throughout the Old and New Testaments.
By serving others and showing hospitality to strangers, we become part of the Great Commission to share the Good News of the Gospel of Jesus.
Do not forget to show hospitality to strangers, for by so doing some people have shown hospitality to angels without knowing it. Hebrews 13:2 NIV
Is it not to share your food with the hungry and to provide the poor wanderer with shelter—when you see the naked, to clothe them, and not to turn away from your own flesh and blood? Isaiah 58:7
and is well known for her good deeds, such as bringing up children, showing hospitality, washing the feet of the Lord's people, helping those in trouble and devoting herself to all kinds of good deeds. 1 Timothy 5:10
Since an overseer manages God's household, he must be blameless—not overbearing, not quick-tempered, not given to drunkenness, not violent, not pursuing dishonest gain. Rather, he must be hospitable, one who loves what is good, who is self-controlled, upright, holy and disciplined. Titus 1:7-8
Above all, love each other deeply, because love covers over a multitude of sins. Offer hospitality to one another without grumbling. 1 Peter 4:8-9
At that hour of the night the jailer took them and washed their wounds; then immediately he and all his household were baptized. The jailer brought them into his house and set a meal before them; he was filled with joy because he had come to believe in God—he and his whole household. Acts 16:33-34
When a foreigner resides among you in your land, do not mistreat them. The foreigner residing among you must be treated as your native-born. Love them as yourself, for you were foreigners in Egypt. I am the Lord your God. Leviticus 19:33-34
Share with the Lord's people who are in need. Practice hospitality. Romans 12:13
These scriptures about hospitality make it clear that Jesus welcomed all sorts of people in all sorts of settings. He always made it a point to extend a loving hand to those who needed it.
He showed kindness, compassion, and hospitality towards strangers. He invited them in. As Christians, we are called to respond in the same He did.
Ways to Practice Biblical Hospitality
So what does it look like to practice biblical hospitality? There are unending ways to actually do it but I've listed a few ideas below to help you get started – and to help you understand the actual goal of it all – serving others.
Host Gatherings in Your Home
Do you enjoy being a good host? Do you have the gift of hospitality? I absolutely love to open up my home to host others for meetings, bible study groups, or just for coffee.
Many times people avoid hosting others in their home because they don't feel their home is good enough. But hospitality isn't about fancy furniture and decorations! It is simply about offering a space to gather and serving them while they are there!
One thing to keep in mind is that practicing biblical hospitality is not just about entertaining others. It is about blessing and serving those God has placed around you. Yes, this might include
Serve Your Neighbors
It seems these days, neighbors tend to not know each other very well. To be honest, I don't know the names of most of my neighbors because I rarely see them. But there are still some ways to show them hospitality.
Bring in their trash bins
Mow their yard
Bring them a potted plan for their porch
ALWAYS wave hello when you see them!
Being Kind to When Challenged
One of the best ways to practice biblical hospitality to strangers is when you encounter a rude or not-so-pleasant employee while out an about shopping.
Our natural instinct might be to be rude right back to them. But you really don't know what put them in that mood. You never know what others are going through which causes them to react in ugliness. But you know what? It doesn't matter!
We should always respond to ugliness or crankiness in a way that would make Jesus proud! Respond with love. Ask how you can make it better for them. Or simply bless them and be on your way!
Sharing Your Gifts and Talents with Others
I already mentioned having the gift of hospitality. But what other gifts and talents do you have that can be shared with others as an act of hospitality?
I seem to have a green thumb and absolutely love gardening. I've taken the time to learn about the needs of all the different types of flowers and plants in my garden.
When I see someone (maybe a neighbor) with plants dying in their yard, I reach out and offer some help to get them thriving again.
Your gift may be something even more unique. How can you share your gifts and talents in a way that serves someone else?
Showing Hospitality on Halloween
Ok, so I know there is a huge divide among Christians on the topic of Halloween. Some Christians are completely opposed to participating in anything related to this holiday while others embrace it.
For me, I LOVE this holiday!! Why? Because this is one night of the year where my entire neighborhood is out. On this one night of the year, you can literally sit in your driveway and share the Gospel with everyone who stops by for candy!
And beyond just handing out candy to the kids, you can show hospitality by offering a cold drink to the parents who are most likely exhausted from chasing the kids all over the neighborhood!
Ultimately, Jesus calls us to follow His way of life. When we were yet sinners, we experienced the unspeakable privileges of His hospitality. Jesus brought us back into God's family.
Therefore, as a Christian, you should follow His example of hospitality – counter-cultural, joyous, authentic, generous, and open-hearted.
Hospitality happens as an overflow of your love for God. So let your hospitality to strangers be an overflowing abundance of love towards others!
Be sure to also read: