Top Christian fiction authors and writers have several things in common.
First and foremost is their love for God. If not for that, they would not have a reason to write for us.
Second, there must be a desire to share God with the world. His Character. His Love. The depth and breadth of his compassion and sacrifice. His Justice, Mercy and Grace.
Third, great imagination and a way with words. In order to take 3 verses or even 14 chapters of scripture, and create a story that works well takes imagination and talent.
As long as Christian fiction writers point us back to Christ, they're doing amazing work!
I have a somewhat simple biblical worldview. So when I read, I see the lessons of scripture scattered in unusual places. Even in the non- 'Christian' books and shows that I enjoy. It's easier to find these values and lessons with Christian fiction writers than mainstream media, though. So I tend to spend most of my time here.
BE SURE TO PIN ME FOR LATER!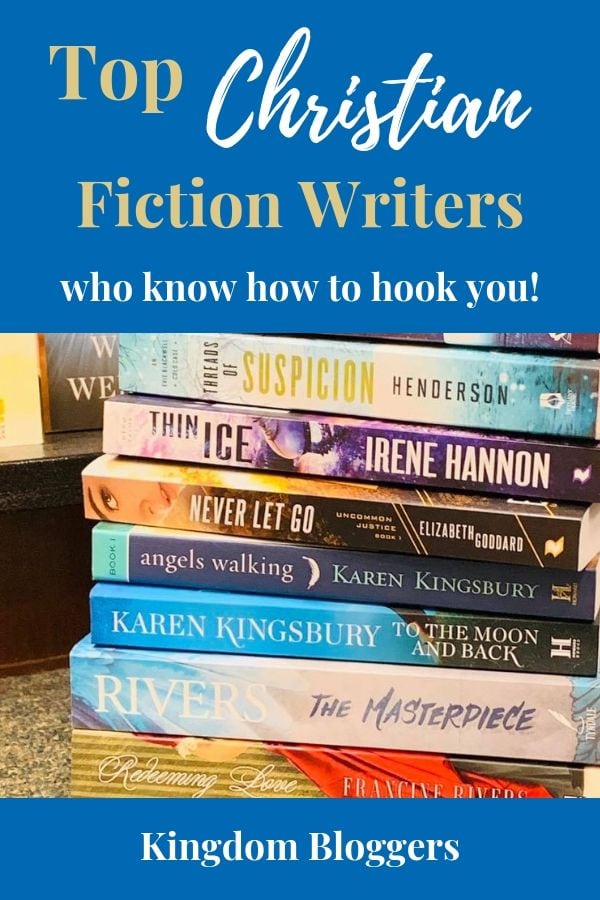 This post may contain affiliate links. You can read my full affiliate disclosure here.
Who Are the Best Christian Authors
Are you looking for some great Christian fiction to read this year?
There are so many amazing Christian authors and writers today that it may be hard to say that one of them is the "best" over the others!
Classic Christian Authors
You can't go wrong starting with the classics. After all, they've stood the test of time and are still popular and widely accepted as remarkable work!
Here are some of my favorite Classical Christian Authors:
C.S. Lewis: First you step through the wardrobe. Then it is on to the Screwtape Letters, the how-to manual for demons to mess with our faith. C.S. Lewis is one of the most classic Christian authors around.
Charles Sheldon: I read In His Steps as a teen, and was drawn in. This fictional story is filled with practical application that will help you "work out your faith" with action and thought. This is NOT to be confused with works based salvation though!!
John Bunyan: I mean, Pilgrims Progress. Honestly, the allegory is plain and simple, which makes it easily digested and applied. But at the same time, you sit and scratch your head, and watch the adventure and journey unfold. Having read the children's adaptation and not the original, I can only speak to it, but it still echoes in my head 20+ years later. I have no doubt the original is more powerful.
JRR Tolkien: I know they aren't published as Christian specifically, but Tolkien was a Christian, and it shows.
The Hobbit, and even more so the Lord of the Rings trilogy has undertones of the Christian faith throughout. Don't believe me? Check out these two devotionals on finding Jesus in the Hobbit and in LOTR.
Amazing Christian Historical Fiction Authors
History covers a lot of ground. Christian historical fiction authors are generous with chances to explore what it was like to live in so many times and places.
Because of their research, creativity, and generosity, we can experience character qualities tested. Imagining ourselves in those places allows us to practice in advance how we will handle challenges.
I've already covered many of the great Biblical Fiction authors here, so let's jump into more 'recent' history.
Lawana Blackwell has done the "English Garden" scene so well that you feel like you're there. This is one spot on the bookstore or library shelf I Always check out.
Phillips / Pella: The Russians series is a lot of fun, and very interesting, as you get both sides to a lot of the historical drama.
Lori Wick is one of the most versatile Christian fiction writers. Her Kensington Chronicles span a couple of centuries, and I still know the story well, even after 15+ years since reading it.
Early America Through the Civil War
Gilbert Morris has written several awesome series covering early American culture, such as the Brides of Montclair, the Appomattox Saga, etc.
Jeanette Oke covers a wide span of America/Canada in the early years. She is one of my favorite Christian Historical Fiction Authors for sure!
Jane Peart's Orphan Train series has stuck with me for years. I felt like I was right there with these kids!
Laurine Snelling: horses, an independent courageous lead character, surviving the Civil War, well, let's just say She's good at what she writes.
Lori Wick writes well-researched books in many time periods. Early America is one of her specialties. Usually involving a lawman ?
World War II
Lynn Austin has a couple of really good books for WWII. One has vastly different women working together for the war effort, and being forever changed.
Penelope J. stokes has a trilogy that has stuck with me for close to 20 years. (Is that even possible?! It's been that long since I read Faith on the Homefront for the first time!) The faith, hurt, hope, and growing that happens is absolutely the best!
Sarah Sundin has several inter-related series of WWII books. She is definitely one of the best Christian historical fiction authors in this category. She has some characters you love to hate, some you just want to shake, and a few you wish were your best friend!
[bctt tweet="As long as Christian fiction writers point us back to Christ, they're doing amazing work! Check out this list of amazing Christian fiction writers. #ChristianWriters" username="kingdomblogger1″]
Contemporary Christian Fiction Authors
If you're looking for something more "now" these Contemporary Christian fiction authors may be just right. They are a good mix of reality, suspense, romance, comedy, and fun. They write characters that could be you, or a friend. Experiencing them living out their faith in an honest Christian walk is both inspiring and encouraging.
Hallee Bridgemann is one of those Christian fiction writers who can pull you in quickly, keep you on the edge of your seat! And she has a knack for writing interconnected stories that can manage to stand alone.
Ted Dekker writes compelling work that opens your eyes to the supernatural world that surrounds us. My first introduction to this Christian fiction writers world was When Heaven Weeps. Wow!
Chautona Havig. Ok, probably my favorite author ever, if you base that off my purchasing almost everything she writes. She's written an entire metropolis into existence. A great place, complete with suburbs and culture and dozens of interconnected standalone stories. Real life people, with practical faith.
Dee Henderson writes suspense that grabs you and doesn't let go. My favorite would definitely be the O'Malleys series. This follows a group of orphans who adopt each other, and all end up in first responder jobs (negotiator, fireman, police, etc).
Jan Karon, on the other hand, has a more peaceful style, though there's usually a mystery to solve. The Mitford series, set in a small town, follows the adventures of an Episcopal priest and his neighbors. It's full of fun, values, and solid relationship lessons.
Karen Kingsbury. A collection of series, with the Baxter family at the core. Covering a wide range of situations this large family invites you in! And then the crisis stories are unforgettable. Karen's books are fun and intriguing while dealing with so many complicated dynamics!
Tracie Peterson is extremely versatile in genres. I like her historical fiction, but as one of the more popular contemporary Christian fiction authors, She does a fantastic job! I recently read "Where my Heart Belongs" which handles 2 estranged sisters and much family loss in a believable and resonant way!
Sharon Srock is one of those amazing contemporary Christian fiction writers who does real life. Everyday women in everyday life situations, often choosing to serve Jesus in the moment instead of themselves. The Women of Valley View series, in particular, is very inspiring.
Alana Terry, Wow! Suspense, drama, missions, rescue work. Adoption, mysteries, America, Korea… Alana Terry hooks you in the first few pages and doesn't let go. And she has great discussion questions too!
Lori Wick. Yes, again. The pretense is unforgettable! It covers a lot of ground with a prodigal, a really awesome stepdad, and the gift of forgiveness. There's some really hard stuff in this one, but good lessons to be learned.
Christian Fiction Authors – Romance
As I've said before, Christian Romance authors have a hard job. Weaving the ultimate love story of God into a human romance takes talent. Trying to keep it believable and real while keeping the 'fairytale' hope alive is tricky.
If you are looking for truly inspiring Christian fiction writers in the Romance category, let me introduce you to some of the Best!
Christian Fiction Authors – Fantasy
Now, I'm from the camp of 'God had an awesome imagination' so, with the idea of Christian Fantasy, Authors don't have a hard time getting my attention. Though keeping it takes quality! These 4 Christian fantasy authors have taken a spark of an idea and built worlds of adventure, wonder, faith, and courage. A few may have been intended for teens, but are done so well that they'll draw in anyone who's in hearing range!
Patrick W Carr debuted with a trilogy set in a unique medieval world, where the 'church' has a lot of power. And nothing is as it seems. The Staff and the Sword builds drama, suspense, and character development in a way that challenged me to face some things!
Bryan Davis, well, I could go on for a long time about Bryan's Dragons In Our Midst. For him to be able to weave good and bad dragons through so many great moments in the Bible and history, in general, is awesome. But then to give them new life in the 21st century, wow! These teens discover their heritage and have ongoing adventures while growing their faith. They are continually learning how to trust the God they know above the "facts" in front of them. Very inspiring at any age! Not to mention his several other series.
Sharon Hinck: The Sword of Lyric series is unusual. An average soccer mom goes up to the attic and finds herself in another world. Her adventures there challenge her faith, her fitness, and her grasp of what's really important. This one, I could not put down!
L. Nicodemus Lyons. Another unique medieval world, but man, what a wonderful world it is. I actually pre-order everything she writes! The only people in the whole world who still have Bibles / know about God are totally isolated from the rest of the world. Have been for several hundred years. But that's all changing, and nothing will be the same again. In this Epic saga, each book is complete. You could walk away at any point because there's (almost) never a huge cliffhanger. However, I dare you to walk away. The characters become your best friends. You want more. You can't put it down.
Christian Fiction Authors – YA
Christian YA fiction is a much-needed genre. Our teens need good friends and good fiction that will build them up in moral character, faith, and courage. Many of the above top Christian fiction writers are great for teens and young adults. But these are the best I've found for that age group specifically! So let's wrap up this list with quality Christian YA Fiction!
Lisa T Bergen writes teen girls and time travel so well you feel, in the Waterfall series, like you've stepped into historical Italy! While there is teen angst and boy-craziness, there's also courage and determination. Puzzling out faith, and doing the best you know how.
Bryan Davis: aside from the series mentioned above, which is phenomenal, has a whole other world of dragons, and a contemporary story of a teen and a crazy camera that sort of predicts the future. Heartstopping drama and action, written in a way teens and young adults will love. I could not put them down!
Kristen Hogrefe has created a dystopian world in the not too distant future where the USA has become the ASU. American Socialists United. A brainwashed and highly controlled/censored population with no hope. You're even required to marry whomever the government computer matches you with. Enter Portia. Her goal: to change the world. Right wrongs. Admirable but seemingly impossible. Until she discovers the real wrongs and learns from the Founding Fathers of the 'previous civilization. I, my mom, and several friends could NOT put this trilogy down!
Sarah Woodbury has taken Christian YA Fiction to a whole new level. If you have any interest in Wales, or Welsh / English history, or the possibilities of an alternate timeline, this is the place to be! Beginning with Daughter of Time, the last Prince of Wales gets a new future, and so does a good portion of Europe! With characters that grow, adventures that fascinate and the bach and forth between our near-future and an alternative history, I pre-order this series every time!
Who Are Your Favorite Christian Fiction Authors
What's on Your 'to be read' bookshelf? I'm always looking for more book suggestions. Who do you recommend? Did you find someone intriguing here? Leave us a comment and tell us which Christian fiction writers you love and why!
Be sure to also read: