Who doesn't love to color? And what better way to spend your time than coloring your favorite verse of Scripture!
These Bible verse coloring pages will keep you and the kids busy for hours!
With these coloring sheets, the word of God comes to life with color and creativity!
​These provide such a creative way to meditate on scripture and have fun at the same time.
​Coloring is such a relaxing activity that can be done to simply pass the time or as a part of your regular Bible study routine.
Whether you want to do them yourself or share them with friends – or even use them for your Sunday school class – you'll find a great selection of free coloring pages here!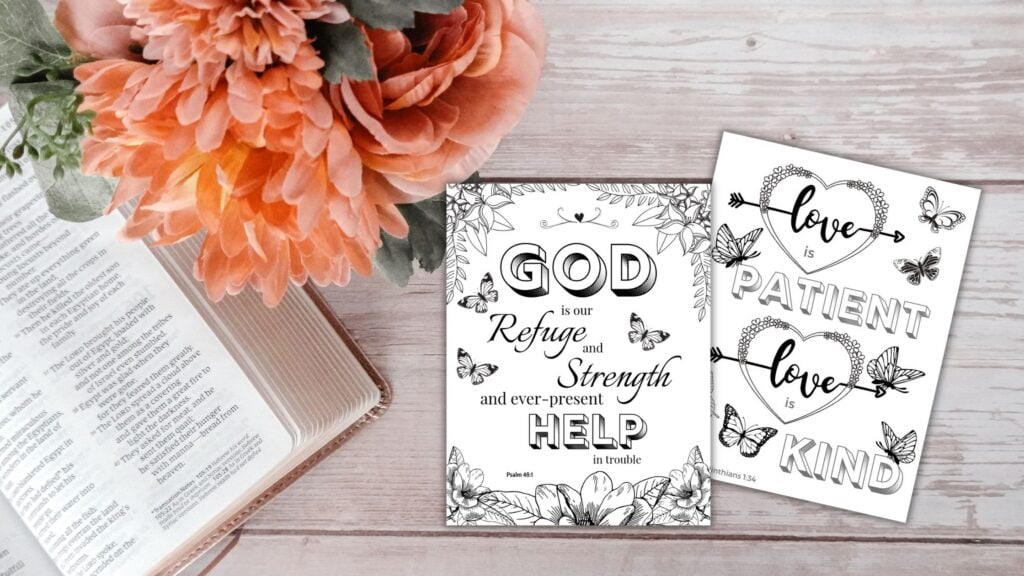 This post may contain affiliate links. Read our full disclosure here.
Free Bible Verse Coloring Pages
A great way to supplement your Bible Study time is to color the verses you are reading. Coloring your favorite verse is quite relaxing and truly helps you to with verse memorization.
Coloring provides an opportunity for creative expression.
You can choose colors and styles that resonate with a meaningful Bible verse, allowing for a personal and artistic interpretation of the verse.
This creative aspect can make Bible study more enjoyable and memorable.
These Scripture coloring pages are great for both adults and for kids! They are also a great way to spend time together while you both color the same verses.
I've been creating these printable Bible verse coloring pages to augment some of my blog posts but thought I'd just create a library to keep them all so others can benefit from and use them.
I do add to the folder often so be sure to check back frequently to check out the latest additions.
You can access the full folder of Christian coloring pages or click on one of the images below to go to the specific one.
Also, if you've ever thought of creating these yourself, it isn't as hard as you might think! Here is a great tutorial on how to create Bible verse coloring pages using Canva.
Printable Bible Verse Coloring Pages – Adults
Last year I started a Bible journaling group with my church where we colored in our coloring Bibles but I started making a variety of Scripture coloring pages to give some of the ladies to take home for later.
I sort of became obsessed with making them so I decided to create a resource library to keep them all to share with others!
Some have a full verse of scripture and others have simple scripture quotes.
AND, these aren't just for adults or women my age! My teenage daughter and her friends love coloring them as well!
You are welcome to print these free Bible coloring pages for yourself or share them with your friends or women's groups.
Be sure to also share this page using the sharing buttons at the end of the post!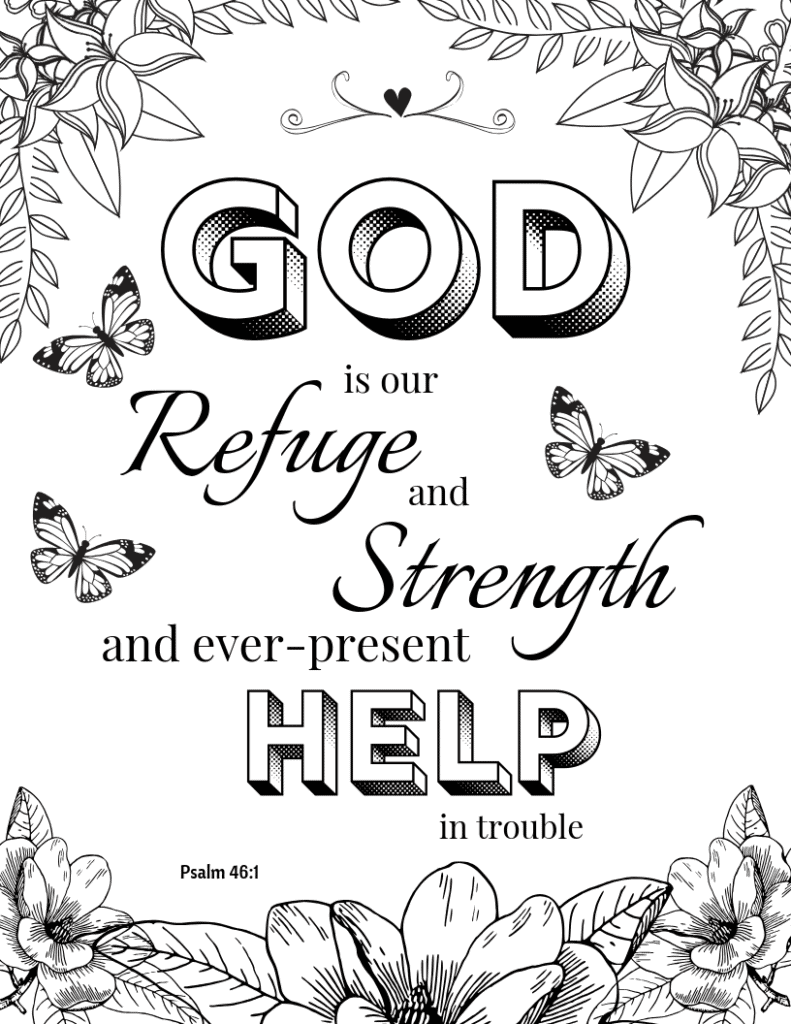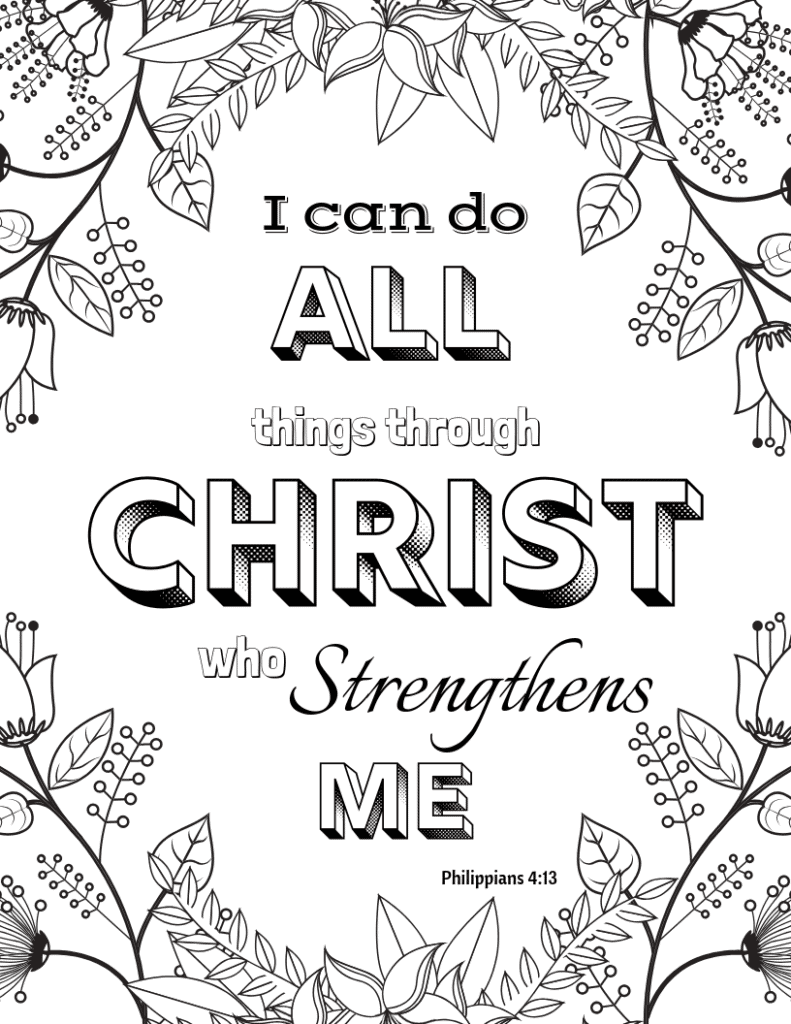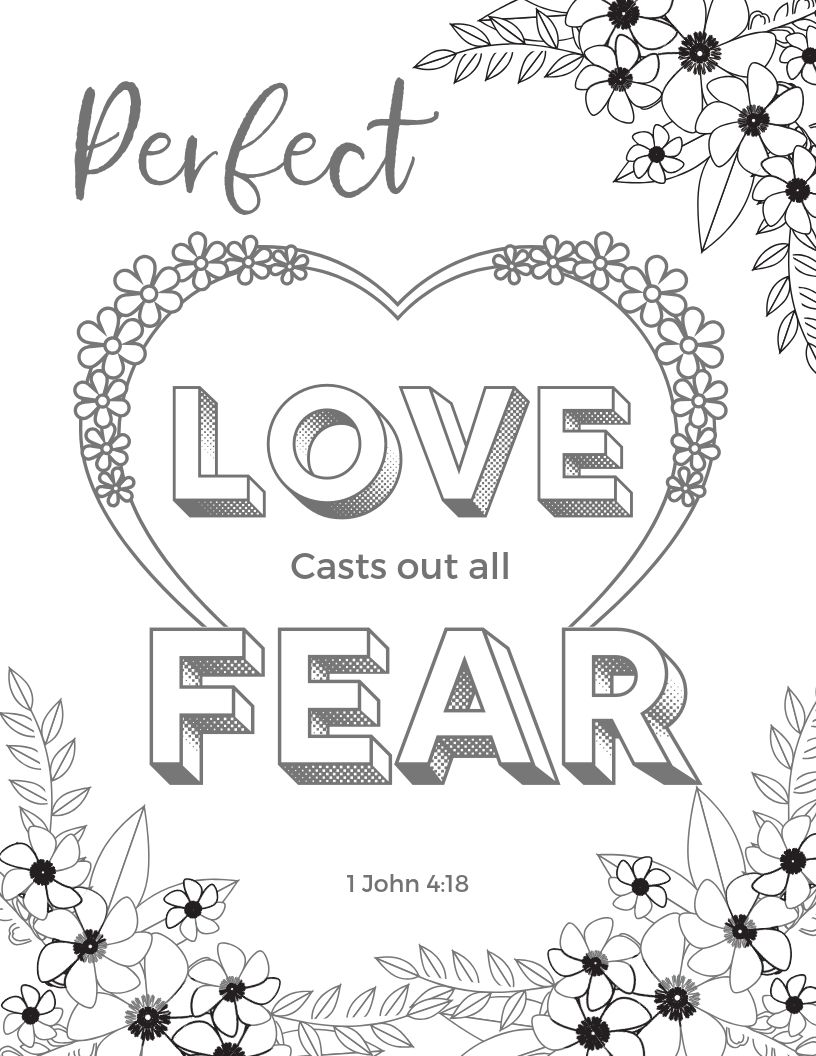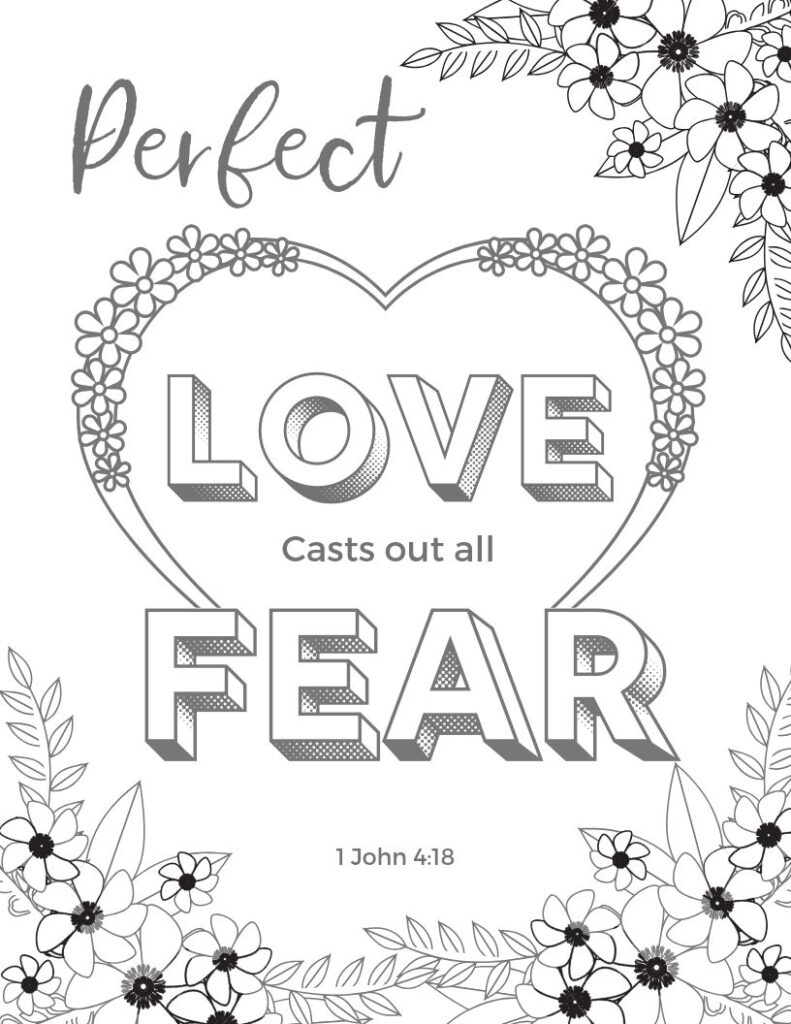 Floral Bible Verse Coloring Pages
When I'm out in nature, I can truly feel God's presence around me. Nature is God's way to show us He is present everywhere we look.
Be encouraged today with your favorite Bible verses while you meditate on God's Word through the images of His creation!
These free printable Bible verse coloring pages are themed around nature with an abundance of floral elements and birds! 
Bible Verse Coloring Pages for Fall
Fall is a festive season and what better way to get in the autumn spirit than by meditating on Fall scriptures! Each of these printable coloring pages features various elements associated with the Autum season for you to color.
Some of my favorite verses to color are:
Enter his gates with thanksgiving and his courts with praise; give thanks to him and praise his name. Psalm 100:4
Give thanks to the Lord, for he is good; his love endures forever. Psalm 107:1
​
Christmas Bible Verse Coloring Pages
​One of my favorite restful activities during the Christmas season is to color scripture!
Some of my favorite Christmas coloring verses are:
For to us a child is born, to us a son is given, and the government will be on his shoulders. And he will be called Wonderful Counselor, Mighty God, Everlasting Father, Prince of Peace. Isaiah 9:6
Therefore the Lord himself will give you a sign: The virgin will conceive and give birth to a son, and will call him Immanuel. Isaiah 7:14
"Glory to God in the highest heaven, and on earth peace to those on whom his favor rest. Luke 2:14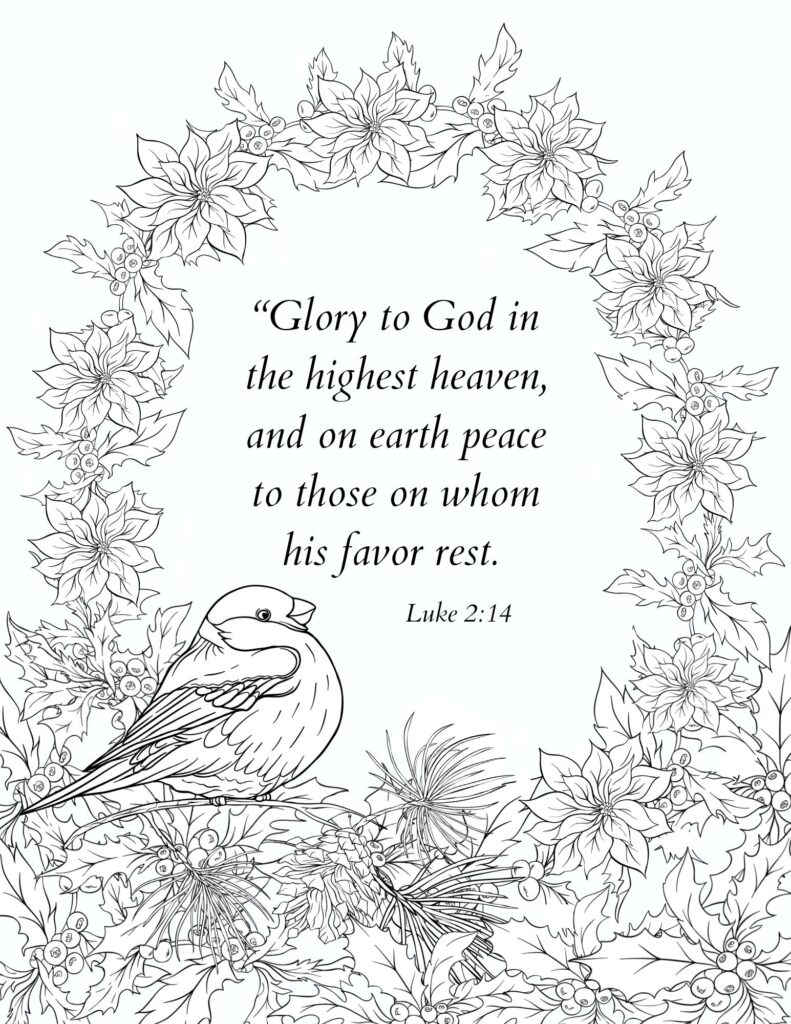 Easter Bible Verse Coloring Pages
Easter provides another opportunity for using Bible verse coloring pages to take a deeper, more meaningful dive into Scripture.
Here is a collection of different Christian Easter and Resurrection coloring pages.
Bible Verse Coloring Pages for Kids
Kids learn more easily through the creative process. And kids love to color!
These kid-friendly memory verse coloring pages have larger pictures to make it easier for them to stay in the lines and include shorter verses or quotes to help them remember how much God loves them!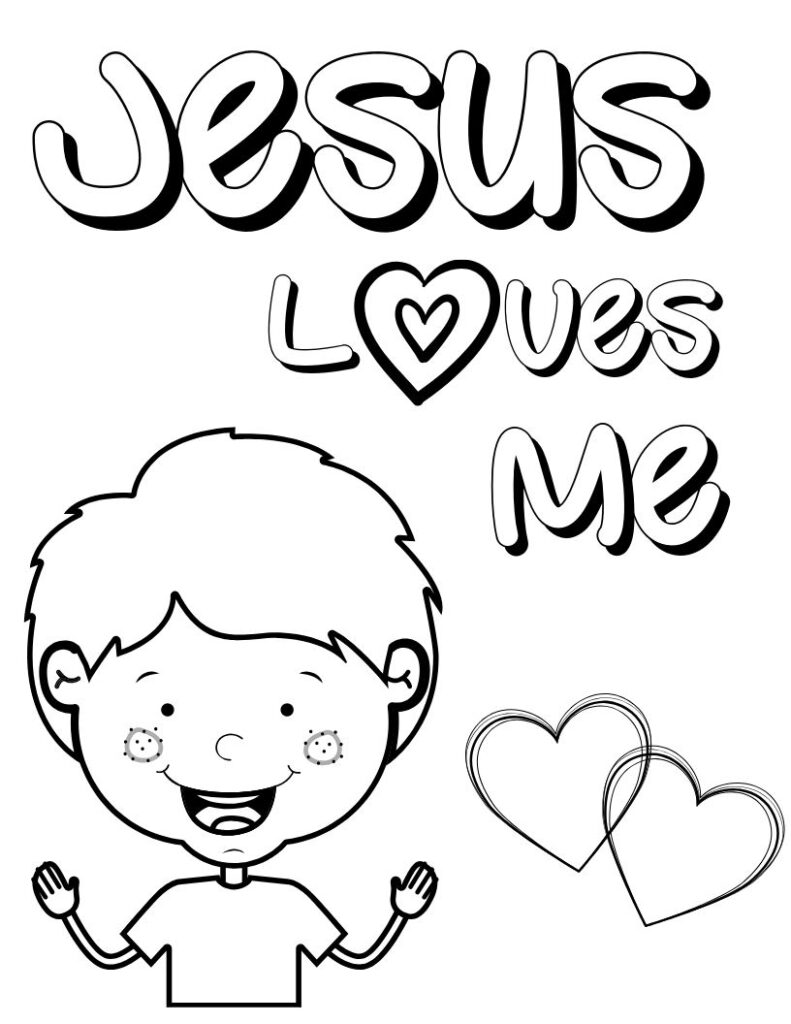 Some are specific to a Bible story and others are just a collection of Bible-themed quotes and verses using kid-friendly Bible translations. They'll never get enough coloring fun with these different designs!
These can be used at home or as a resource for children's ministry. Use them to supplement each Bible lesson so the children get excited about learning it.
Take your scripture verse coloring to the next level with these premium Bible verse coloring book options from my Etsy Shop!
Each book focuses on a specific theme or topic and has multiple pages with different verses on each one.
These also make great gift ideas, as well as grab-bag goodies for your women's retreat or conference. 
More Places to Find Free Printable Scripture Coloring Pages
In addition to what I have in my own printables library, some of our other contributing writers here at Kingdom Bloggers have their own printables resource pages full of printable bible verse coloring pages and other great stuff!
I've also found several other sites that offer free printable bible verses coloring pages. Many of these are some of my fellow Christian women bloggers. Be sure to check out the rest of their site while you are there!
For more Bible Verse Printables, be sure to also check out these resources:
I truly hope you enjoy browing my extensive collection of Bible verse coloring pages. I very much enjoy creating them and finding new ways to bring each verse to life with different flowers and other elements.
You are welcome to download and print them as many times as you like and share them with family and friends.
I pray that, as you meditate on each verse, your heart is moved by the Holy Spirit and you find more meaning in the verse than you did before.