As believers, we are not exempt from the challenges, troubles, and trials of this life. If there's something big coming our way like waiting for test results from the doctor, waiting for a child to recover from addiction, or for marriage restoration we can become anxious and worried.
We worry about tomorrow because it's uncertain and we don't know what it brings. God knew this and that's why he gave us these bible verses about worrying about tomorrow.
The word of God will encourage us and lift our spirits so that we positively look to the future. You may need to read these bible verses regularly so that you become hopeful about the future and what it will bring.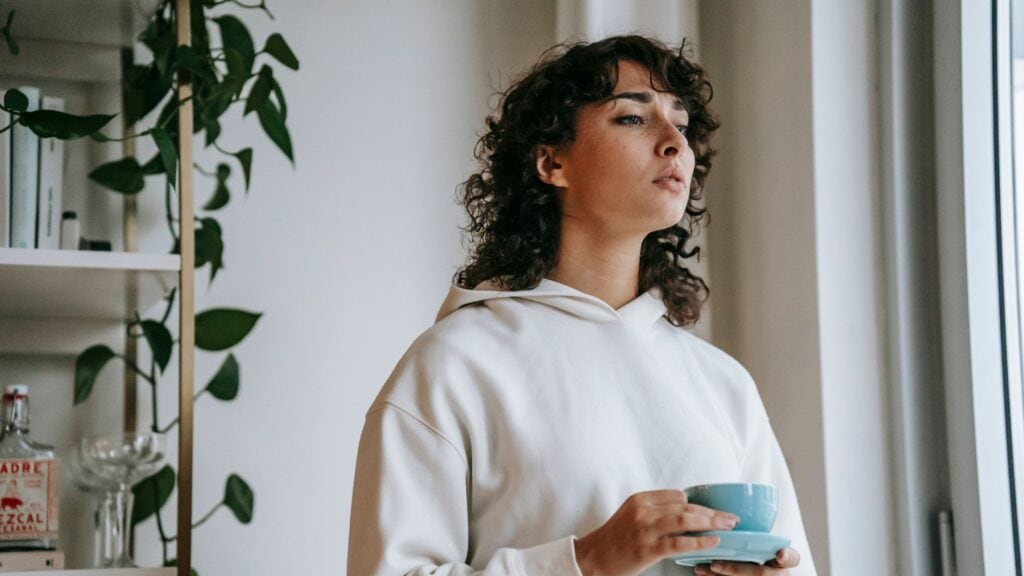 This post may contain affiliate links. Read our full disclosure here.
Bible Verses About Worrying About Tomorrow
Worrying about tomorrow can be draining both physically and emotionally. You can start to imagine all these worst-case scenarios that make you scared and anxious.
But as a child of God, there is another way. Whatever it is you're worried about today, choose to rather focus your mind on what these scriptures about worrying about tomorrow say. It will comfort you and give you hope.
Let's explore what God's word says about worry.
Matthew 6:34
Therefore do not worry about tomorrow, for tomorrow will worry about itself. Each day has enough trouble of its own. Matthew 6:34 NIV
Jesus Christ tells us not to worry about tomorrow. Because the truth is we don't know what the future holds. But we know the God who holds the future.
Our God is loving, gracious, compassionate, and forgiving. So we trust that He will show us the same goodness today and in the future.
Matthew 6:27
Can any one of you by worrying add a single hour to your life? Matthew 6:27 NIV
We don't gain anything by worrying about tomorrow. Except for stress, sleepless nights, wrinkles, headaches, and anxiety. We only lose precious time with loved ones and peace of mind when we worry that's why God tells us not to do it.
Ephesians 5:16
making the very most of your time [on earth, recognizing and taking advantage of each opportunity and using it with wisdom and diligence], because the days are [filled with] evil. Ephesians 5:q6 AMP
The time we have on earth is very limited. God wants us to be wise and take advantage of every opportunity to love him, love others and live our purpose.
When we spend time worrying about the future, we're not choosing to use our time wisely.
1 Peter 5:6-7
Humble yourselves, therefore, under the mighty hand of God so that at the proper time he may exalt you, casting all your anxieties on him, because he cares for you. 1 Peter 5:6-7 ESV
Psalm 55:22
Give your burdens to the Lord, and he will take care of you. He will not permit the godly to slip and fall. Psalm 55:22 NLT
These scriptures about worrying about tomorrow assure us that God cares for us deeply so we can give our burdens and problems to him.
When we humble ourselves before God and admit that we need his help, he comes through for us.
Proverbs 12:25
Anxiety in a man's heart weighs it down, But a good (encouraging) word makes it glad. Proverbs 12:25 AMP
Psalm 94:19
When my anxious thoughts multiply within me, Your comforts delight me. Psalm 94:19 AMP
Matthew 11:28
Then Jesus said, "Come to me, all of you who are weary and carry heavy burdens, and I will give you rest." Matthew 11:28 NLT
The more you worry about tomorrow, the more you become tired and weary and can't focus on the present. When you start thinking of one problem, more problems come to mind and you can end up very stressed.
But God's word comforts, encourages, and inspires us when we're down. We will find delight and joy in worship, prayer, and reading the Bible. The secret is to connect to God and allow his word which is the truth to soothe us.
Jesus invites us to come to him when we are carrying heavy burdens and he will give us the rest we need.
Luke 10:41-42
But the Lord said to her, "My dear Martha, you are worried and upset over all these details! There is only one thing worth being concerned about. Mary has discovered it, and it will not be taken away from her." Luke 10:41-41 NLT
The story of the sisters Mary and Martha is one of the most popular in the Bible. Jesus came to their home and Martha was consumed with serving him and his disciples. Yet her sister Mary chose to sit at Jesus' feet and listen to him teach.
When Martha complained to Jesus that her sister wasn't helping her, Jesus tells her not to worry and be upset about things that were not so important. In order of priority, what Mary chose to do by learning from the King of kings was more important.
As you find yourself worrying about the future and many other things, ask yourself if you're not becoming like Martha and focusing on what's not important at that time.
We miss out on moments with our families, the blessings God has showered us with, and the love and joy around us when we're consumed with worry.
Matthew 6:25
Therefore I tell you, stop being worried or anxious (perpetually uneasy, distracted) about your life, as to what you will eat or what you will drink; nor about your body, as to what you will wear. Is life not more than food, and the body more than clothing? Matthew 6:25 AMP
Luke 12:29
And don't be concerned about what to eat and what to drink. Don't worry about such things. Luke 12:29 NLT
Philippians 4:19
And my God will supply every need of yours according to his riches in glory in Christ Jesus. Philippians 4:19 ESV
As believers in God, he wants us to think, speak and act differently. That's why God wants us to simply give our burdens over to Him.
Life is worth more than material possessions. So we shouldn't be anxious about our needs and how they will be met.
The reason why God tells us not to worry about our needs is that he is our provider. In Jesus Christ, we have everything we need for this present life.
John 14:27
Peace I leave with you; my peace I give to you. Not as the world gives do I give to you. Let not your hearts be troubled, neither let them be afraid. John 14:27 ESV
2 Thessalonians 3:16
Now may the Lord of peace Himself grant you His peace at all times and in every way [that peace and spiritual well-being that comes to those who walk with Him, regardless of life's circumstances]. The Lord be with you all. 2 Thessalonians 3:16 AMP
Colossians 3:15
 Let the peace of Christ [the inner calm of one who walks daily with Him] be the controlling factor in your hearts [deciding and settling questions that arise]. To this peace indeed you were called as members in one body [of believers]. And be thankful [to God always]. Colossians 3:15 AMP
Jesus Christ is the Prince of Peace. He left us with his peace which is an inner calm despite the chaos and circumstances around us.
When we have the peace of Christ at all times we don't worry about tomorrow. The peace we have is not based on having everything in order or having all the material possessions we desire.
It's the kind of peace based on an intimate and deep relationship with God and knowing that he is on our side always.
John 14:1
Don't let your hearts be troubled. Trust in God, and trust also in me. John 14:1 NLT
Psalm 56:3
When I am afraid, I will put my trust and faith in You. Psalm 56:3 AMP
Fears and troubles are part of our daily lives even as children of God. But the Bible says when we trust in God and Jesus Christ as well, we will not be troubled about what the future will bring.
Isaiah 41:10
Don't be afraid, for I am with you. Don't be discouraged, for I am your God. I will strengthen you and help you. I will hold you up with my victorious right hand. Isaiah 41:10 NLT
Luke 12:6-7
Are not five sparrows sold for two pennies? And not one of them is forgotten before God. Why,  even the hairs of your head are all numbered. Fear not; you are of more value than many sparrows. Luke 12:6-7 ESV
Psalm 23:4
Even though I walk through the [sunless] valley of the shadow of death, I fear no evil, for You are with me; Your rod [to protect] and Your staff [to guide], they comfort and console me. Psalm 23:4 AMP
These inspiring bible verses about worry and fear are so powerful. God tells us not to be scared about tomorrow or discouraged because he strengthens us so we can overcome the challenges that lie ahead of us.
God knows every detail of our lives that even the hairs on our heads are numbered. That's some really specific and precise details.
The fact that God knows everything about us to the very last detail gives us the confidence to trust him with our future.
God's presence is always with us because we are valuable to him. The same loving God consoles, comforts, and protects us so we know that whatever comes our way tomorrow he will be there for us.
Philippians 4:6-7
do not be anxious about anything, but in everything by prayer and supplication with thanksgiving let your requests be made known to God. And the peace of God, which surpasses all understanding, will guard your hearts and your minds in Christ Jesus. Philippians 4:6-7 ESV
Hebrews 13:8
Jesus Christ is [eternally changeless, always] the same yesterday and today and forever. Hebrews 13:8 AMP
God has been faithful in our lives. When we remember everything God has done for us, we become humbled. He has given us food, and shelter, healed us, provided for our needs, and most importantly saved our lives.
Remembering all this makes us super grateful. It also makes us certain that the same God who took care of us yesterday will do so again in the future. He never changes.
So when we focus on gratitude to God, we don't become anxious about tomorrow. Rather we experience his peace even amid fierce life storms.
Psalm 121:1-2
I lift up my eyes to the hills. From where does my help come?2 My help comes from the Lord, who made heaven and earth. Psalm 121:1-2 ESV
Matthew 7:7
Ask, and it will be given to you; seek, and you will find; knock, and it will be opened to you. Matthew 7:7 ESV
It's so amazing to think that the creator of the heavens and earth is our helper. We look up to him with the expectation that he will answer us when we're in trouble.
God invites us to ask what we need in prayer and he promises to answer us.
Matthew 17:20
You don't have enough faith," Jesus told them. "I tell you the truth, if you had faith even as small as a mustard seed, you could say to this mountain, 'Move from here to there,' and it would move. Nothing would be impossible. Matthew 17:20 NLT
No matter how big the problem you're facing is, choose to have faith in God. Faith even as small as a mustard seed can move mountains.
Proverbs 3:5-6
Trust in and rely confidently on the Lord with all your heart And do not rely on your own insight or understanding.
In all your ways know and acknowledge and recognize Him, And He will make your paths straight and smooth [removing obstacles that block your way]. Proverbs 3:5-6 AMP
In this inspiring bible verse about worrying about tomorrow, we are encouraged to trust in and rely on God wholeheartedly. When we acknowledge his help and presence he will remove the obstacles that lie ahead of us.
Jeremiah 29:11
For I know the plans I have for you," says the Lord. "They are plans for good and not for disaster, to give you a future and a hope. Jeremiah 29:11 NLT
This is one of the most popular scriptures and for good reason. God promises us that the plans he has for us are to give us a future and hope. He doesn't plan to hurt us because he cares deeply for us.
If studying the Bible better is on your list of things to do this year, be sure to visit our Bible Study Resources page where you'll find everything you need to make Bible study a regular part of your daily routine.
The truth is worry and anxiety about tomorrow will not help us. It doesn't take the problems away and in fact, might make them bigger than they are.
That's why we need to lean on God's word which is full of wisdom on how to handle anxiety. God loves us as his children and promises to take care of us.
When we trust in the Lord and his power and put our confidence in him, he will surely help us. God's character is good and he wants the best for us today and tomorrow. So it's better to focus on the truth of his word than the situation we're worried about.