How do you love people well on their birthday? Instead of spending hours reading hallmark cards, why not send them notes or cards with Bible verses for birthday blessings? I started this practice about a decade ago and find it to be more meaningful and personal.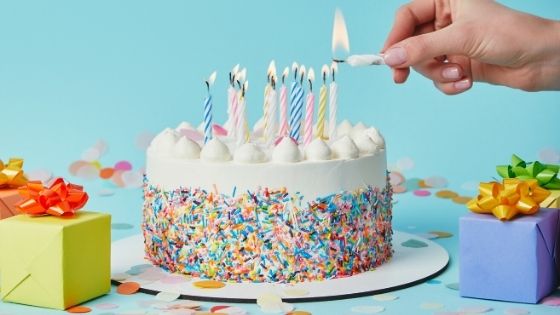 This post may contain affiliate links. Read our full disclosure here.
Why Send Bible Verses for Birthday Blessings?
Why should we send blessings on their birthday from the Bible? Scripture is filled with blessings. God blessed people, people blessed people, parents blessed children, etc. As Christians, blessing others is one of the many perks of our faith.
Bible verses for birthday blessings are a great example of our privilege to be the salt and light in a lost world!
---
Bible Verses Encourage People In Hard Seasons
Think about it, when someone is in a hard season, how can you help them? It's not always possible to fix their problem. Often all we can do is pray for them and encourage them with scripture.
Don't discount prayer as a way to help people in hard seasons! Prayer is a powerful tool we could all learn to use more effectively. Becoming a Prayer Warrior is a calling I believe God has issued to all Christians! But I want to do more than just pray, I want to encourage my loved ones.
It feels the same as a birthday for me. Yes, I can buy a gift, but what better gift than encouragement from scripture. So I keep a list of Bible verses for birthday blessings for just that occasion.
Scripture Can Redeem What Darkness Would Steal
Another reason I love sending inspirational Bible quotes for birthdays is that birthdays are not mentioned in a good light in the Bible.
We see Levitical laws in place to purify women after birth as well as to purify the child (Leviticus 12:1-8)
Then there are laws for dedicating the child to God (Luke 2:22).
After that scripture is almost silent about birthdays among people of faith. We see a few glimpses of birthday celebrations but they are not shown as a godly thing.
While the Bible does not tell us to celebrate birthdays it also does not tell us not to celebrate birthdays. We only see warnings about being set apart from the lost world, not drinking to excess or getting lost in wild parties like the lost.
Sending birthday scriptures is a way to redeem what the enemy will tempt us to turn into sin.
---
What Does the Bible Say About Celebrating Birthdays
As we look at what the Bible says about celebrating birthdays I just want to start with a warning. Be careful not to make an issue where the Bible is silent. God does not say to celebrate birthdays, neither does He say celebrating birthdays is sinful. Scripture gives us very few examples of people celebrating birthdays and all but one are pagan.
Let's look at those now.
Who (of Faith) Celebrated Their Birthday in the Bible
The only reference we see in scripture of a birthday celebration in a family of faith is in Job.
"His sons used to hold feasts in their homes on their birthdays, and they would invite their three sisters to eat and drink with them. When the days of feasting had completed their cycle, Job would send and consecrate them, rising up early in the morning and offering burnt offerings according to the number of them all; for Job said, "Perhaps my sons have sinned and cursed God in their hearts." Thus Job did continually."

Job 1:4-5 NIV
Job did not go to the party, but we assume that he as a righteous man taught his children right from wrong.
He didn't say, "Because I knew they would sin at a birthday party…" What we see is a father making provision in case his children sinned.
Should Christians Celebrate Birthdays?
Since this is the only scripture, is this an isolated example of believers celebrating birthdays when all others abstained? Should people of faith even celebrate birthdays?
I ask, because the question has been put to me on several occasions.
There are many things that we know people did that we have no Bible verses to prove. Washing their clothes and cleaning their house are examples where we know God's people did things we don't see much about in scripture. We should absolutely do those things, even though God didn't say so.
Honestly, I think this is the wrong question. Paul tells us in 1 Corinthians 6:12 that all things are permissible though all are not profitable. Is it profitable to celebrate someone's birthday? God calls us to rejoice and celebrate and live with Joy. Birthdays are a great time to do that! They are also a great time to have over lost relatives and shine God's light all around.
Be careful not to turn the party into something sinful. Shine God's light all around. Laugh, sing, and play together. Birthdays can be very profitable for the Kingdome of God!
Related: Should Christians Celebrate Birthdays
Pagan Birthday Celebrations
The other references to birthday celebrations in the Bible are pagan kings. I would just point out here that God's people often imitated the pagan cultures around them. So we can infer that they probably celebrated birthdays in some way because the cultures around them did.
"On the third day, which was Pharaoh's birthday, he made a feast for all his servants…"

Genesis 40:20-22 ESV
"But when Herod's birthday came, the daughter of Herodias danced before them and pleased Herod"

Matthew 14:6 NASB
We know that the kings celebrated their birthdays with wild parties, feasts, excessive drinking, and extravagant gifts.
As believers, we celebrate many things, a new job, marriage, a new house and our birth. We can celebrate in ways that honor God though there is always the temptation to slip back into that old nature.
Again, I believe using Scriptures for birthday blessings can help remind us to honor God on this special day.
---
The question then becomes how. How can we share Bible verses with birthday blessings?
First, remember that the goal of sharing Bible verses for birthday blessings is to bless the one receiving it not condemn them.
Second, consider the person you want to bless. How well do you know them? If you are casual friends you may just send them a message on social media. If you know them well you may use another method.
Also, depending on what generation they belong to you may consider several ways to get the blessing to them.
Social Media Birthday Blessings
Phone Birthday Blessings
Longer Birthday Blessings
Birthday Blessings Via Social Media
A message on their Facebook page
Send it via SnapChat
Private message or DM on the social media they frequent the most
Each of us is connected to a variety of friends. Some friends are just social media friends, others are casual acquaintances while some are close friends or family.
When deciding how to bless your loved one on their birthday a verse left on their social media could be enough. For people I only know on social media I will share the verse on their page. If they are just a social media friend, but we have connected in a personal way I may send the message by DM.
Phone Birthday Blessings
Text message
Voicemail message
When a person is more than just a casual friend but not someone in my daily life I like to make the birthday blessing more personal. Sending the Bible verse for birthday blessing via text is an easy way to do that.
There are some friends however who still are not very comfortable with texting, so I will call their voice mail and speak the verse over them. Remember to think about the person and how this would best bless them when making your plans.
Longer Bible Verses for Birthday Blessings
Email
E-card
Card sent by mail
Letter sent by mail
Consider going a step farther for your closest friends and family members. An email or e-card can be more fun and personal. Writing the blessing out in a blank card can really touch someone as well.
For my closest friends and family, I love to add a letter to the card for birthdays. Just taking a moment to tell them what they mean to you or even writing the verse out as a prayer can make the day of your loved one.
23 Birthday Blessings from the Bible
In the same way, you want to pick the method of delivery based on the person, you want to pick the specific Bible verses for birthday blessings based on the person. What would bless them most? Avoid those that would condemn or make them feel awkward.
Some of my favorite birthday Scriptures fall into these categories:
Birthday Blessings for their future
Bible verses about God's love
Birthday Scriptures about hope
Birthday Blessings for wisdom
Birthday Scripture for protection
Birthday Blessings for their Future
Sharing a blessing about the future is a wonderful way to speak love to someone on their birthday. Here are a few of my favorite Bible verses about the future.
Jeremiah 29:11 NASB – "For I know the plans that I have for you,' declares the Lord, 'plans for welfare and not for calamity to give you a future and a hope."
Philippians 1:6 NASB – "For I am confident of this very thing, that He who began a good work in you will perfect it until the day of Christ Jesus."
1 Peter 1:3-4 NASB – "Blessed be the God and Father of our Lord Jesus Christ, who according to His great mercy has caused us to be born again to a living hope through the resurrection of Jesus Christ from the dead, to obtain an inheritance which is imperishable and undefiled and will not fade away, reserved in heaven for you,"
2 Corinthians 4:17-18 NASB – "For momentary, light affliction is producing for us an eternal weight of glory far beyond all comparison, while we look not at the things which are seen, but at the things which are not seen; for the things which are seen are temporal, but the things which are not seen are eternal."
Matthew 6:33-34 NASB – "But seek first His kingdom and His righteousness, and all these things will be added to you. "So do not worry about tomorrow; for tomorrow will care for itself. Each day has enough trouble of its own."
Revelation 21:4 NASB – "and He will wipe away every tear from their eyes; and there will no longer be any death; there will no longer be any mourning, or crying, or pain; the first things have passed away."
Bible Verses About God's Love
One topic that is always a blessing to others is the love of God. Bible verses about God's love encourage others no matter what season they are in of life. These are some of the verses I turn to when I need a reminder of God's love.
1 John 4:16 NASB – "We have come to know and have believed the love which God has for us. God is love, and the one who abides in love abides in God, and God abides in him."
1 John 4:10 NASB – "In this is love, not that we loved God, but that He loved us and sent His Son to be the propitiation for our sins."
Romans 5:8 NASB – "But God demonstrates His own love toward us, in that while we were yet sinners, Christ died for us."
Psalm 18:19 NASB – "He brought me forth also into a broad place; He rescued me, because He delighted in me."
Birthday Scriptures About Hope
Scriptures about hope are always a blessing. I use these especially for those I know struggle with their birthday or are going through a period of anxiety and depression.
Lamentations 3:21-23 NASB – "This I recall to my mind, Therefore I have hope. The Lord's loving kindnesses indeed never cease, For His compassions never fail. They are new every morning; Great is Your faithfulness."
Romans 15:13 NASB – "Now may the God of hope fill you with all joy and peace in believing, so that you will abound in hope by the power of the Holy Spirit."
Psalm 119:114 ESV – "You are my hiding place and my shield; I hope in your word."
Jeremiah 17:7 NCV – "But the person who trusts in the Lord will be blessed. The Lord will show him that he can be trusted."
Scripture About Joy
Joy is a topic near to my heart. Christians get a reputation for being sour, gloomy, too serious and all about the rules. The truth is that God called us to live out joyful lives, shining His light to others. Who wants to be around a group of people who don't know how to love and share joy? So Bible verses about joy are a great reminder to rejoice in the life God has blessed you with!
Zephaniah 3:17 NASB – "The Lord your God is in your midst, a victorious warrior. He will exult over you with joy, He will be quiet in His love, and He will rejoice over you with shouts of joy."
1 Peter 1:8-9 NASB – "an although you have not seen Him, you love Him, and though you do not see Him now, but believe in Him, you greatly rejoice with joy inexpressible and full of glory, obtaining as the outcome of your faith the salvation of your souls."
Psalm 30:5 NASB – "For His anger is but for a moment, His favor is for a lifetime; Weeping may last for the night, But a shout of joy comes in the morning."
Birthday Blessings for Wisdom
Who couldn't use a bit more wisdom as they approach a new year of life? I love reminding people that they can turn to God for wisdom at any time. These verses do just that, point our eyes back to the Lord for wisdom!
Proverbs 3:5-6 NASB – "Trust in the Lord with all your heart and do not lean on your own understanding. In all your ways acknowledge Him, and He will make your paths straight."
James 1:5 NASB – "But if any of you lacks wisdom, let him ask of God, who gives to all generously and without reproach, and it will be given to him."
Ephesians 1:15-17 NASB – "For this reason I too, having heard of the faith in the Lord Jesus which exists among you and your love for all the saints, do not cease giving thanks for you, while making mention of you in my prayers; and the God of our Lord Jesus Christi, the Father of glory, may give you a spirit of wisdom and of revelation in the knowledge of Him."
Birthday Scripture for Protection
Lastly, I love to share scriptures for protection as birthday blessings. We all need protection as we walk through a world who's sole aim is to take down Christians. We have a very real enemy who makes it his job to make life difficult for God's children. Protection is a must!
Psalm 18:2 NASB – "The Lord is my rock and my fortress and my deliverer, My God, my rock, in whom I take refuge; My shield and the horn of my salvation, my stronghold."
Psalm 103:1-5 NASB – "Bless the Lord, O my soul, and all that is within me, bless His holy name. Bless the Lord, O my soul, and forget none of His benefits; Who pardons all your iniquities, who heals all your diseases; and Who redeems your life from the pit, Who crowns you with lovingkindness and compassion; Who satisfies your years with good things, So that your youth is renewed like the eagle."
Isaiah 40:31 NASB – "Yet those who wait for the Lord will gain new strength; They will mount up with wings like eagles, They will run and not get tired, and they will walk and not become weary."
Which Bible Verses for Birthday Blessings Will You Send?
Sending loved ones bible verses for birthday blessings is a great way to show the love of God. Over the years as I've sent cards with verses or shared verses on social media the response has been great.
People love to be reminded that God loves them, protects them and has a future planned for them. Birthday Scriptures encourage people to keep hope and joy alive as they continue to lean into God for the coming year.
Which of these Bible verses for birthday blessings will you share?
in HIM, Tiffany