Instead of spending hours reading hallmark cards, why not send them notes or cards with birthday Bible verses? I started this practice about a decade ago and find it to be more meaningful and personal.
Using happy birthday scripture to bless your loved one on their birthday is a great way to say Happy Birthday and to pour God's blessings over them on their special day!
Be sure to download and share our birthday Bible verse images (found at the very end of this post)!
What is a Good Bible Verse for Birthdays
A good Happy Birthday Bible verse is one that both encourages the person and celebrates the fact that God created them! I mean, birthdays are all about celebrations, right?
Two of my favorite Happy Birthday Bible verses are these:
This is the day the Lord has made. We will rejoice and be glad in it. Psalm 118:24 NLT
The Lord bless you and keep you; the Lord make his face shine on you and be gracious to you; the Lord turn his face toward you and give you peace."' Numbers 6:24-26 NIV
The best part about birthday Bible verses is that they can be used to wish anyway a very Happy Birthday – even if they aren't a Christian! Why? Because God's blessings apply to everyone! And I'm sure you know at least a few people who could definitely benefit from them!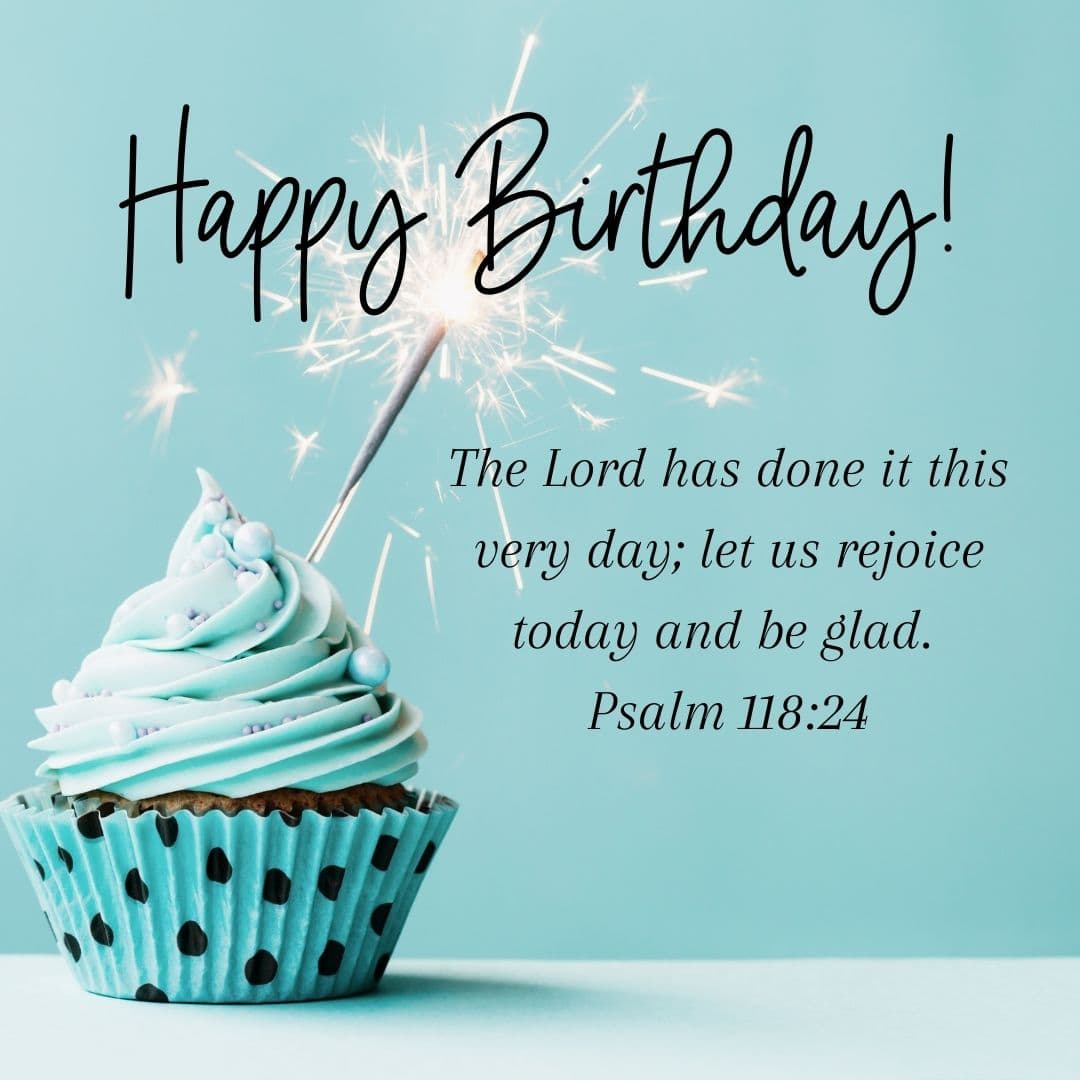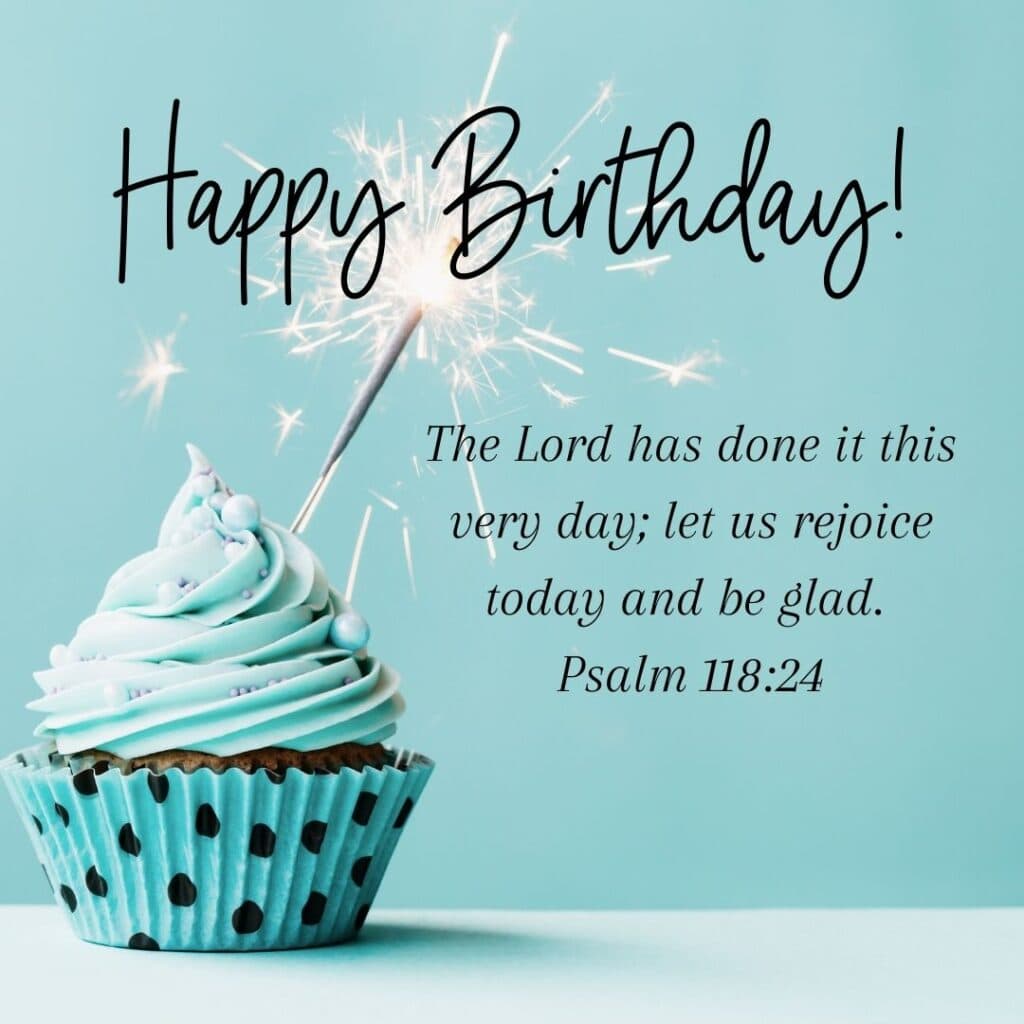 How to Use Birthday Bible Verses
So, how exactly do you use birthday blessing scriptures?
There isn't a right or wrong way to use them. Actually, your individual creativity is the limit on the many ways to use them in wishing someone a very happy birthday!
A few ways that I like to use birthday scriptures include:
Social Media
Phone
Physical or Digital Cards
Birthday Scripture Via Social Media
A message on their Facebook page
Send it via SnapChat
Private message or DM on the social media they frequent the most
Each of us is connected to a variety of friends. Some friends are just social media friends, others are casual acquaintances while some are close friends or family.
When deciding how to bless your loved one on their birthday a verse left on their social media could be enough. For people I only know on social media I will share the verse on their page. If they are just a social media friend, but we have connected in a personal way I may send the message by DM.
Birthday Scripture via Phone
Text message
Voicemail message
When a person is more than just a casual friend but not someone in my daily life I like to make the birthday blessing more personal. Sending the Bible verse for birthday blessing via text is an easy way to do that.
There are some friends however who still are not very comfortable with texting, so I will call their voice mail and speak the verse over them. Remember to think about the person and how this would best bless them when making your plans.
Birthday Bible Verses in a Card
Email
E-card
Card sent by mail
Letter sent by mail
Consider going a step farther for your closest friends and family members. An email or e-card can be more fun and personal. Writing the blessing out in a blank card can really touch someone as well.
For my closest friends and family, I love to add a letter to the card for birthdays. Just taking a moment to tell them what they mean to you or even writing the verse out as a prayer can make the day of your loved one.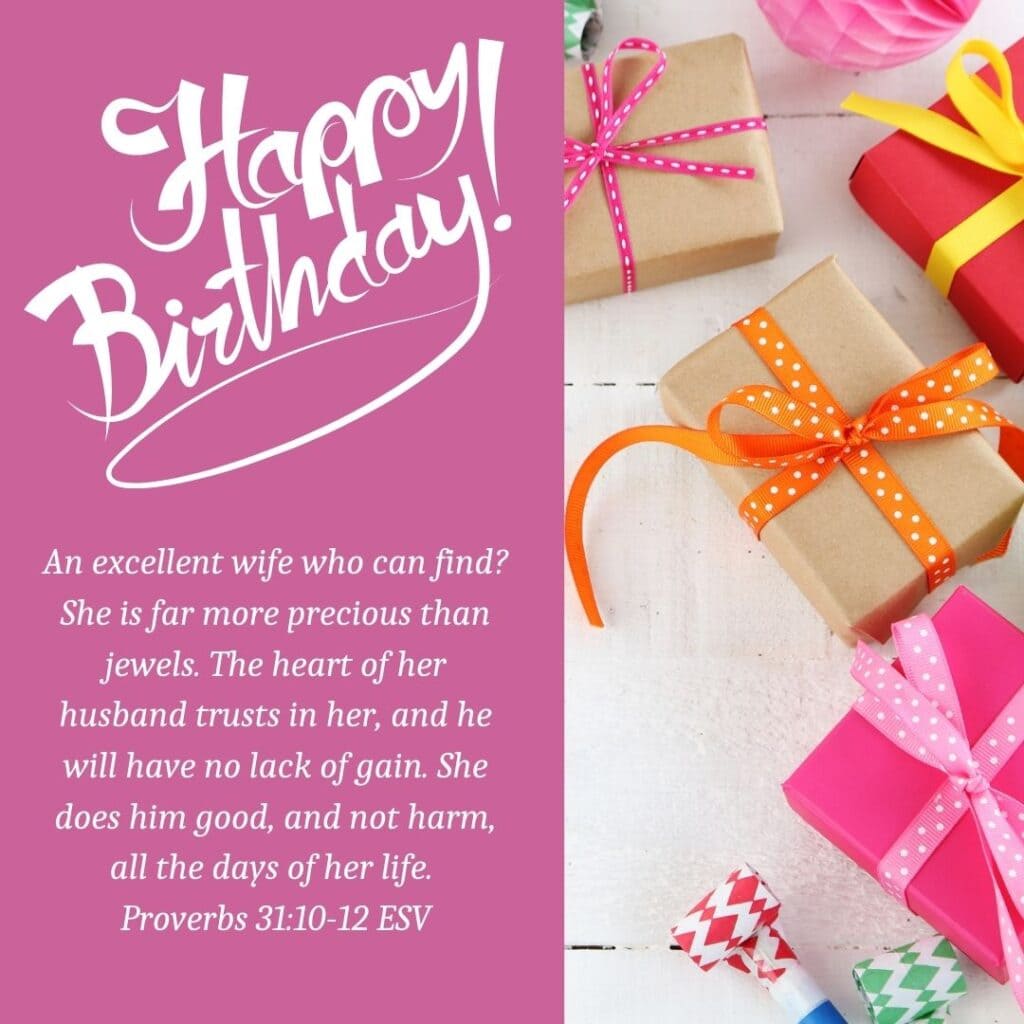 Bible Verses for Birthdays
Why should we send birthday blessings from the Bible? Because Scripture is filled with blessings. God blessed people, people blessed people, parents blessed children, etc. As Christians, blessing others is one of the many perks of our faith.
Use these birthday Bible verses to wish someone a very happy birthday today!
If any of you lacks wisdom, you should ask God, who gives generously to all without finding fault, and it will be given to you. James 1:5 NIV
"But blessed is the one who trusts in the Lord, whose confidence is in him. Jeremiah 17:7 NIV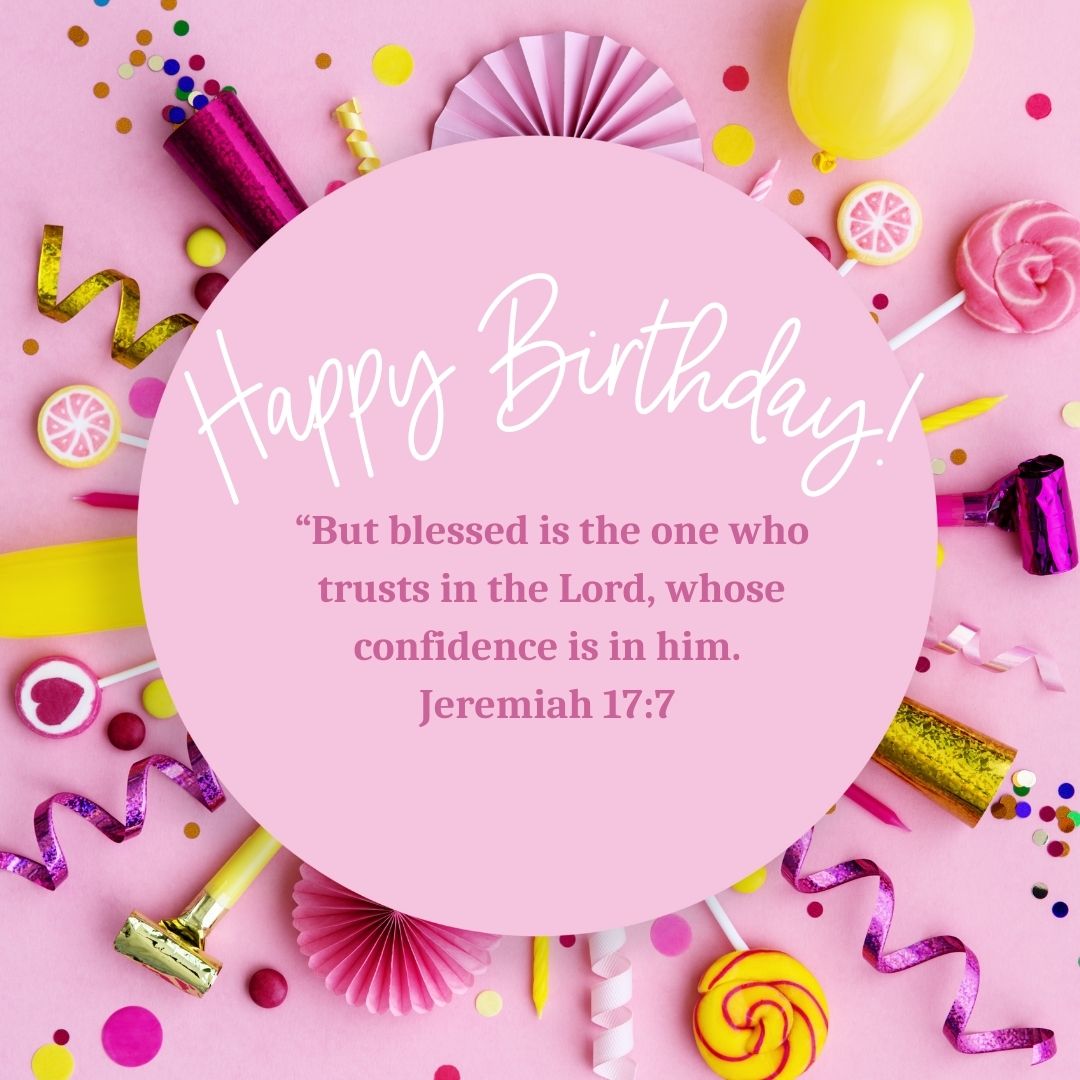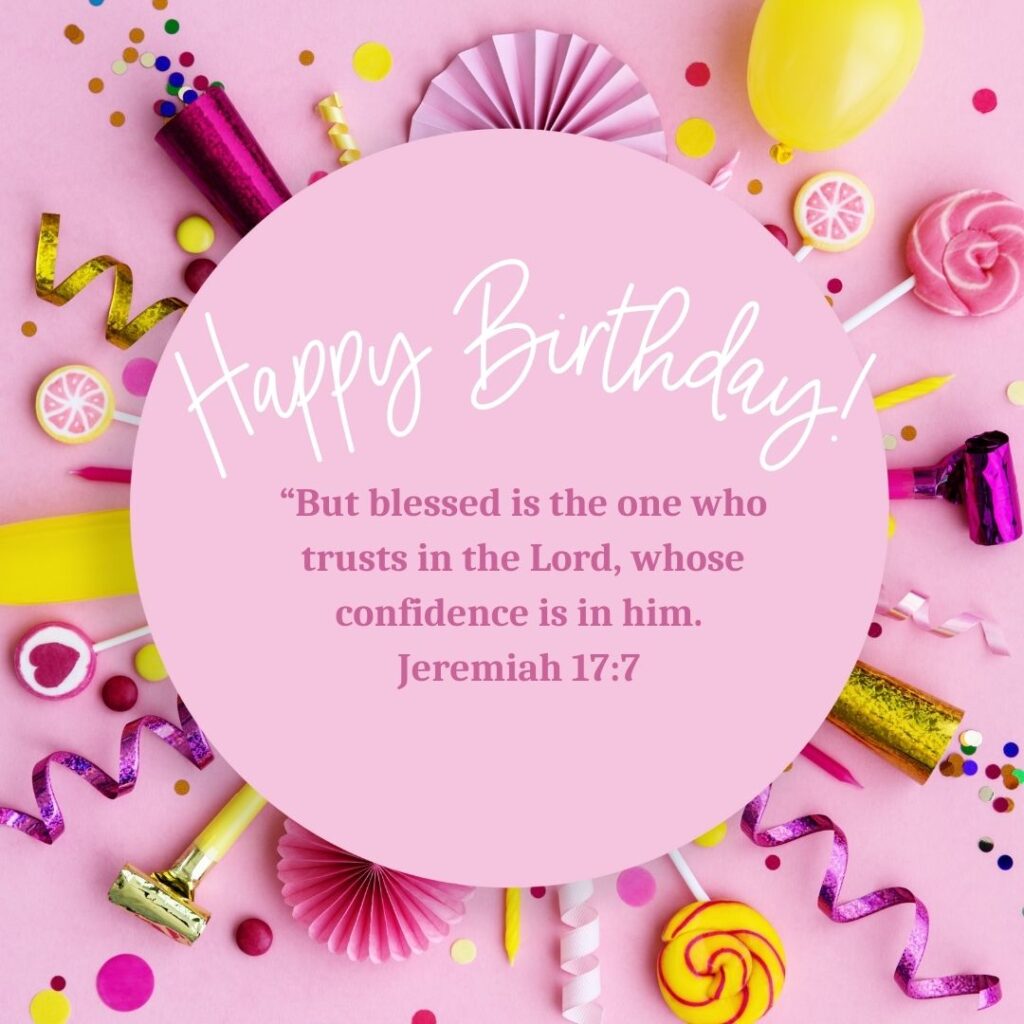 "This I recall to my mind, Therefore I have hope. The Lord's loving kindnesses indeed never cease, For His compassions never fail. They are new every morning; Great is Your faithfulness." Lamentations 3:21-23 NASB
Every good and perfect gift is from above, coming down from the Father of the heavenly lights, who does not change like shifting shadows. He chose to give us birth through the word of truth, that we might be a kind of firstfruits of all he created. James 1:17-18
I pray that out of his glorious riches he may strengthen you with power through his Spirit in your inner being, so that Christ may dwell in your hearts through faith. And I pray that you, being rooted and established in love, Ephesians 3:16-17
Birthday Bible Verses for Myself
Birthday scripture isn't just to wish OTHER people birthday blessings! When you first wake up on your birthday, speak these birthday Bible verses over yourself to be encouraged as you embark upon another year here on Earth!
May he give you the desire of your heart and make all your plans succeed. Psalm 20:4 NIV
For I know the plans I have for you," declares the Lord, "plans to prosper you and not to harm you, plans to give you hope and a future. Jeremiah 29:11 NIV
I praise you because I am fearfully and wonderfully made; your works are wonderful, I know that full well. Psalm 139:14 NIV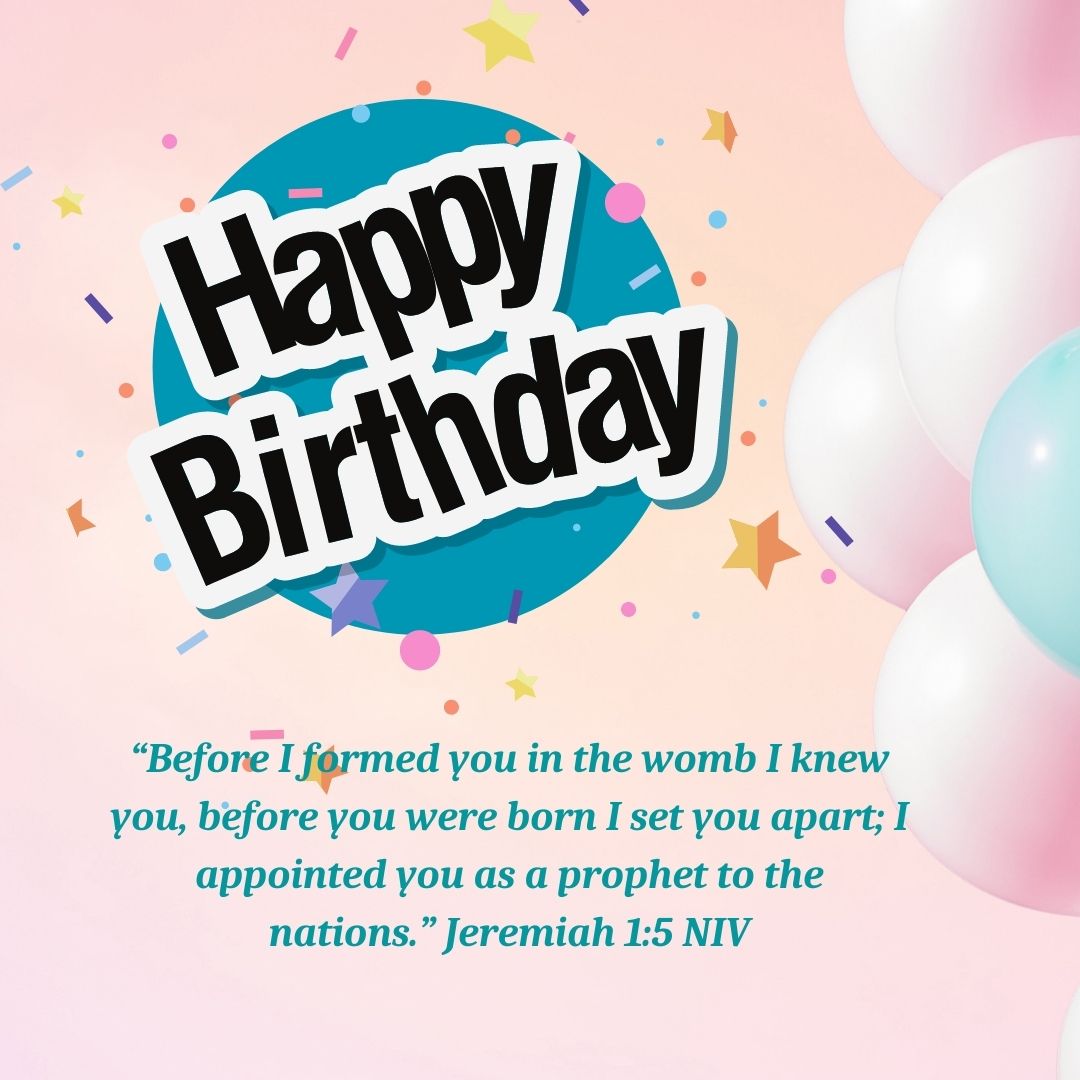 Birthday Bible Verses for Son
If you have a son, you most definitely want to see him grow and prosper into a strong man of God. Use these birthday scriptures to encourage him on his special day and to give him the hope that only comes in having a relationship with Jesus!
And we know that in all things God works for the good of those who love him, who have been called according to his purpose. Romans 8:28 NIV
For we are God's handiwork, created in Christ Jesus to do good works, which God prepared in advance for us to do. Ephesians 2:10 NIV
"and although you have not seen Him, you love Him, and though you do not see Him now, but believe in Him, you greatly rejoice with joy inexpressible and full of glory, obtaining as the outcome of your faith the salvation of your souls." 1 Peter 1:8-9 NASB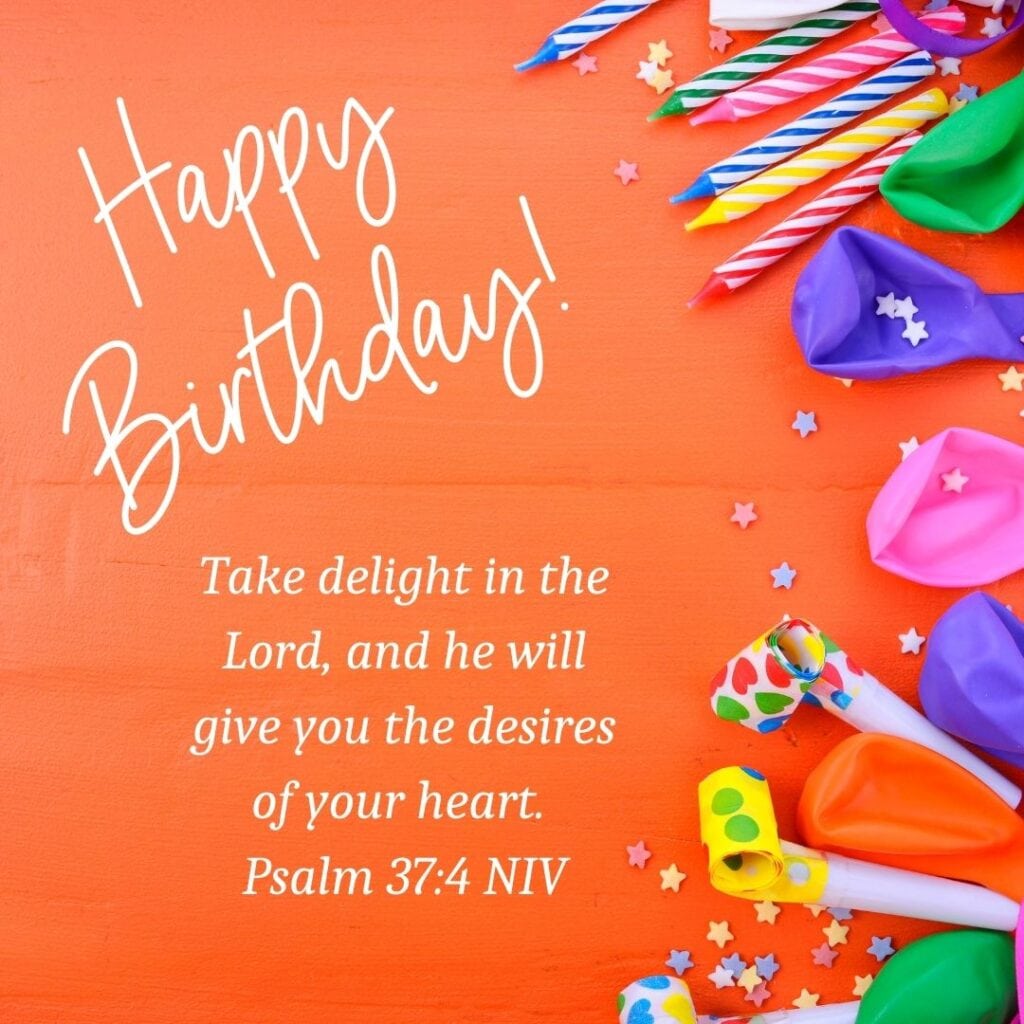 Birthday Bible Verses for Daughter
Use these birthday scriptures as birthday blessings for your daughter to give her the confidence and courage she needs as she embarks upon another year with new obstacles and challenges. They will reassure her that God is with her through it all!
Take delight in the Lord, and he will give you the desires of your heart. Psalm 37:4 NIV
"Before I formed you in the womb I knew you, before you were born I set you apart; I appointed you as a prophet to the nations." Jeremiah 1:5 NIV
"The Lord is my rock and my fortress and my deliverer, My God, my rock, in whom I take refuge; My shield and the horn of my salvation, my stronghold." Psalm 18:2 NASB
Birthday Bible Verses for Husband
Use these birthday Bible verses to shower birthday blessings over your husband today!
But seek first his kingdom and his righteousness, and all these things will be given to you as well. Matthew 6:33 NIV
Blessed is the one who perseveres under trial because, having stood the test, that person will receive the crown of life that the Lord has promised to those who love him. James 1:12 NIV
He has told you, O man, what is good; and what does the Lord require of you but to do justice, and to love kindness, and to walk humbly with your God? Micah 6:8 ESV
Beloved, I pray that all may go well with you and that you may be in good health, as it goes well with your soul. 3 John 1:2 NIV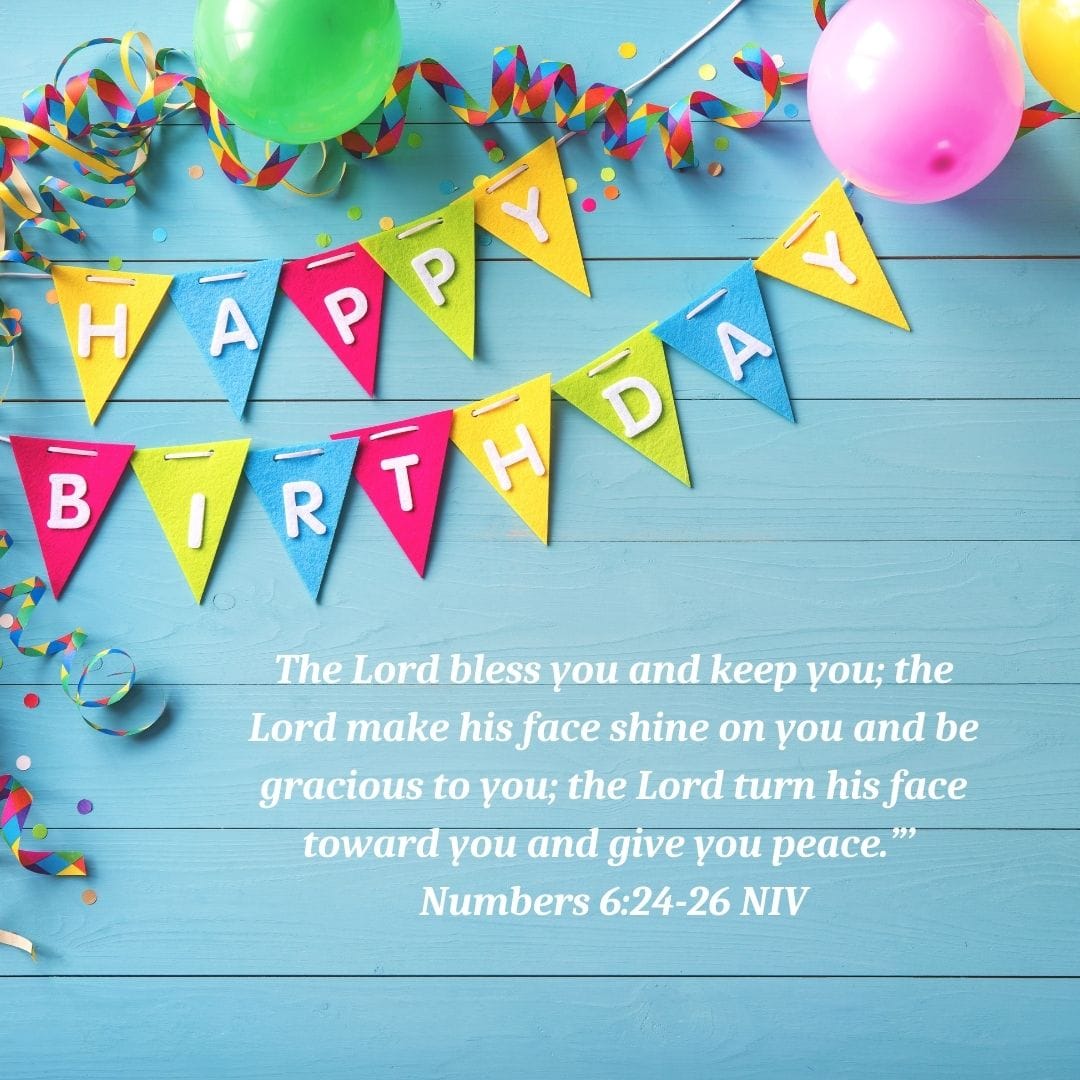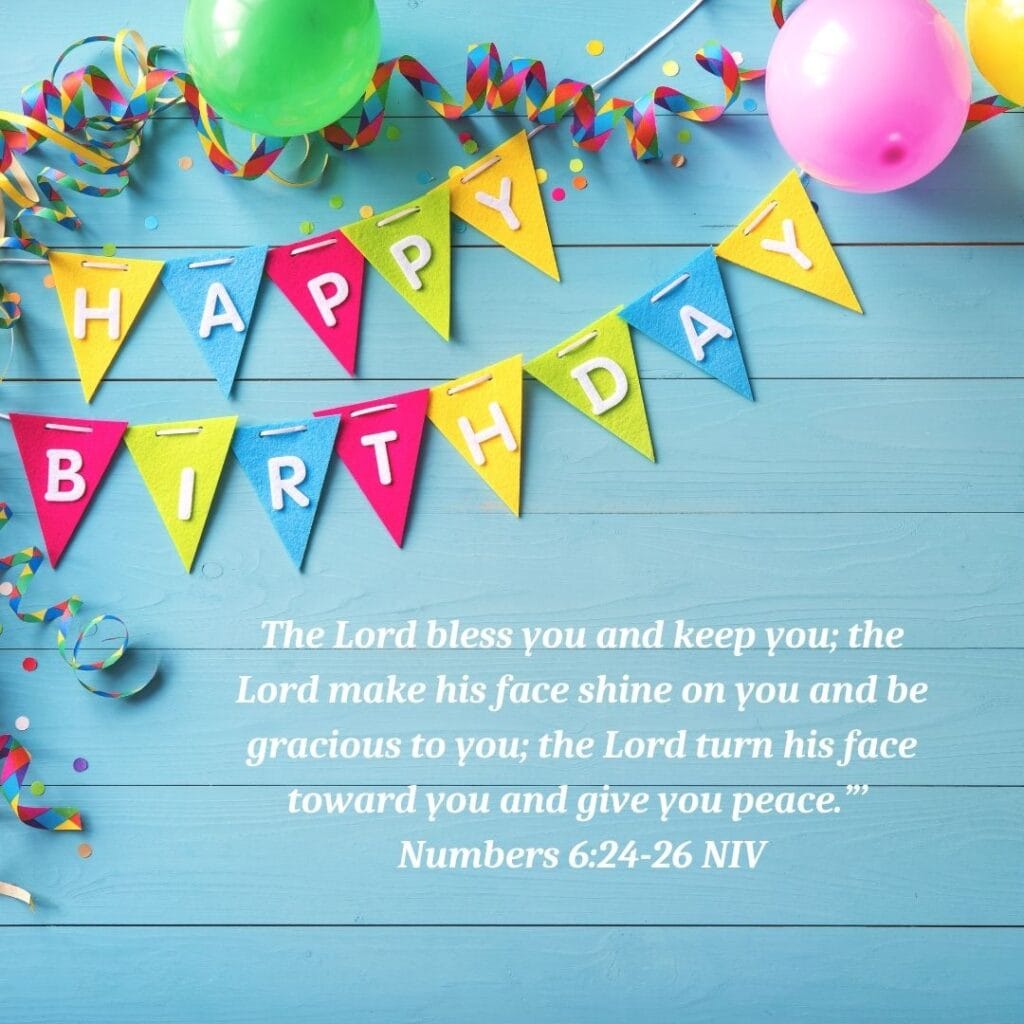 Birthday Bible Verses for Wife
For your wife and mother of your children, use these Bible verses as birthday blessings to pour over her and to encourage her that God is always with her.
Her children rise up and call her blessed; her husband also, and he praises her:. Proverbs 31:28 ESV
An excellent wife who can find? She is far more precious than jewels. The heart of her husband trusts in her, and he will have no lack of gain. She does him good, and not harm, all the days of her life. Proverbs 31:10-12 ESV
"Yet those who wait for the Lord will gain new strength; They will mount up with wings like eagles, They will run and not get tired, and they will walk and not become weary." Isaiah 40:31 NASB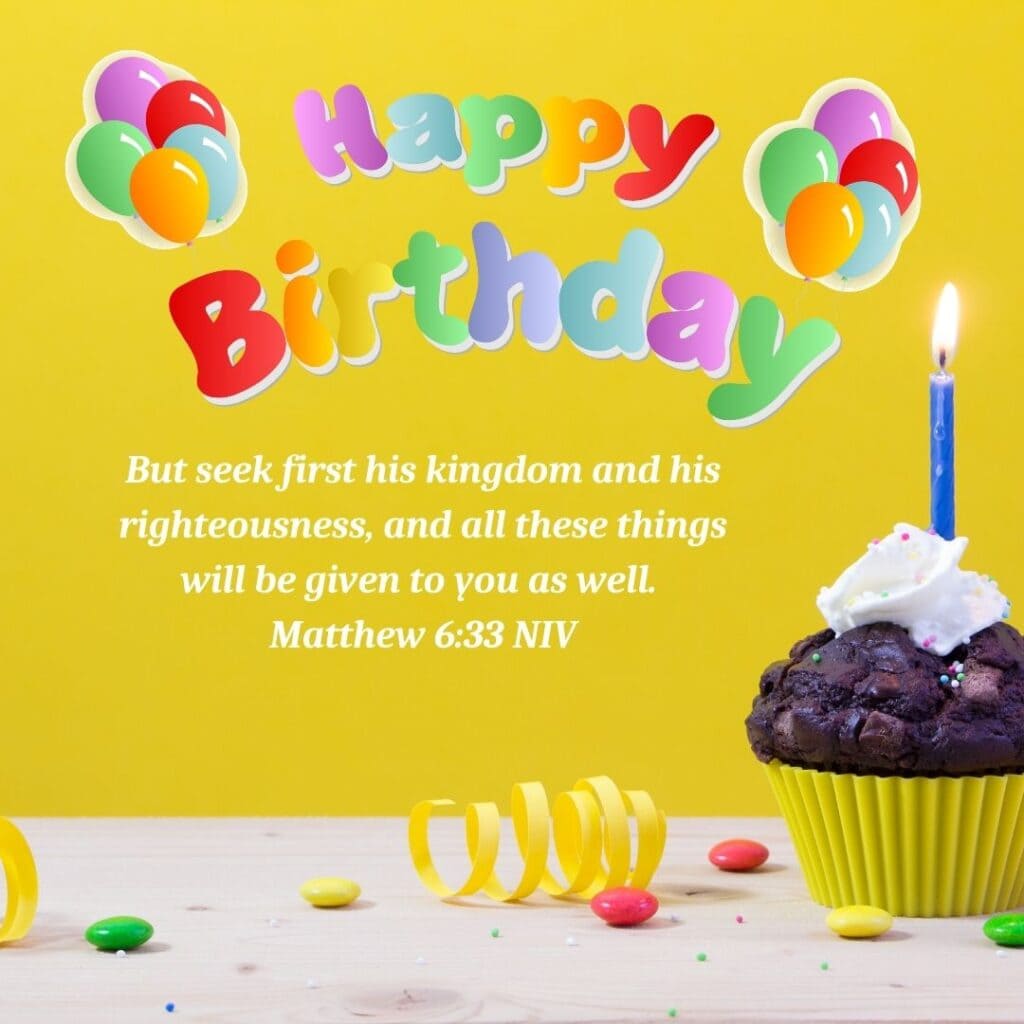 Birthday Bible Verses for Sister
Sisters enjoy a special bond and, as such, should enjoy a special blessing on their birthdays! Use these birthday scriptures to shower blessing upon blessing over your sister on her special day!
Ecclesiastes 6:9-10 – Two are better than one, because they have a good return for their labor: If either of them falls down, one can help the other up. But pity anyone who falls and has no one to help them up.
Ruth 1:16-17 – But Ruth replied: Do not persuade me to leave you or go back and not follow you. For wherever you go, I will go, and wherever you live, I will live; your people will be my people, and your God will be my God. Where you die, I will die, and there I will be buried. May Yahweh punish me, and do so severely, if anything but death separates you and me.
You will show me the path of life; In Your presence is fullness of joy; At Your right hand are pleasures forevermore. – Psalm 16:11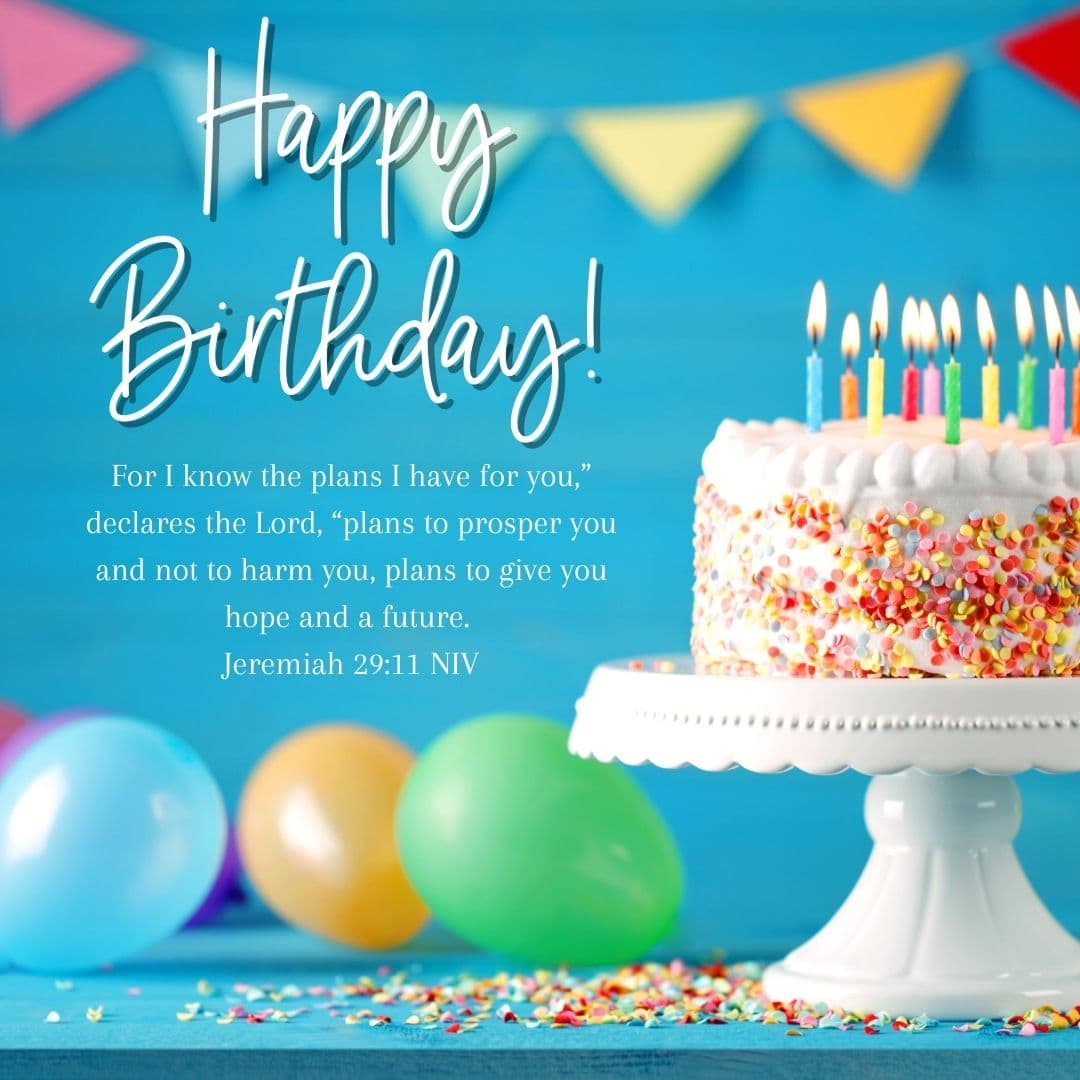 Birthday Bible Verses for Brother
Our brothers mean so much to us! They can be the protector of the younger siblings and more! Use these birthday Bible verses to bless your brother on his birthday!
For he will command his angels concerning you to guard you in all your ways. Psalm 91:11 NIV
The Lord your God is in your midst, a mighty one who will save; he will rejoice over you with gladness; he will quiet you by his love; he will exult over you with loud singing. Zephaniah 3:17 ESV
Have I not commanded you? Be strong and courageous. Do not be frightened, and do not be dismayed, for the Lord your God is with you wherever you go." Joshua 1:9 ESV
Birthday Bible Verses for Friends
Where would we be without our friends? Are friends are there at our high and low points and are often our go-to for help with important decisions in life. Use these Bible verses for birthday wishes to let your friends know just how much you love and appreciate them!
As iron sharpens iron, so a friend sharpens a friend. Proverbs 27:17 NLT
Wisdom will multiply your days and add years to your life. Proverbs 9:11 NLT
For he will order his angels to protect you wherever you go. Psalm 91:11 NLT
Dear friend, I hope all is well with you and that you are as healthy in body as you are strong in spirit. 3 John 1:2 NLT
Use these Bible Verses for Birthday Wishes Today!
The best birthday wishes are backed by the blessings that only God can offer! Use these birthday Bible verse images to shower your friends and family with birthday blessings from the Bible to let them know how cherished they are!