A Godly leader is a great leader! Scripture is filled with Bible verses for leaders to reflect on as they take on the responsiblity of leading others.
The Word of God has a great to say about being a leader and being a good shepherd over others.  Great leaders follow Jesus' example and are servant leaders.  They are led by the Holy Spirit and find their wisdom in God's Truth.
Whether leading thousands of followers or shepherding small flocks, God calls Christian leaders to possess certain leadership qualities.
These qualities include humility, determination, teachability, compassion, and more. By learning to grow in these qualities, Christian leaders exemplify Christ and point others to his sovereign leadership.
This post may contain affiliate links. Read our full disclosure here.
Bible Verses for Leaders
The Bible teaches us that leaders are to put the needs of others ahead of their personal needs.
Godly leaders are able to cast vision, but they also know how to submit to God's plans when God redirects the vision. They are skilled at delegation and helping other people uncover their giftings.
Let's look at 30 of the best Bible verses for leaders.
Philippians 2:3
"Do nothing from selfish ambition or conceit, but in humility count others more significant than yourselves."  Philippians 2:3, ESV
A true leader puts the needs of others above his or her personal needs. This doesn't mean that leaders ignore self-care or don't prioritize rest. However, strong leaders know how to balance self-care and care for others.
Good leaders don't try to promote themselves or allow conceit to drive their plans. Instead, they consider others more significant than themselves.
Matthew 20:25-27
"But Jesus called them to him and said, 'You know that the rulers of the Gentiles lord it over them, and their great ones exercise authority over them. It shall not be so among you. But whoever would be great among you must be your servant, and whoever would be first among you must be your slave . . .'" Matthew 20:25-27 ESV
The world esteems leaders who pursue success, greatness, and popularity. Jesus calls leaders to serve others and reject the temptation to pursue popularity and greatness.
This is a high and challenging calling. However, following Jesus is often counter-cultural.
Matthew 20:28
"Even as the Son of Man came not to be served but to serve, and to give his life as a ransom for many." Matthew 20:28 ESV
Ultimately, Jesus laid down his life for humankind. Jesus' death on the cross was the ultimate act of servant leadership. He suffered and died so that we might find life.
It's important to note that Jesus laid down his life many times before going to the cross.  He consistently set aside his agenda, embraced interruptions, and served the people who came to him.  
In the same way, we are called to look for the needs around us and meet those needs.
There is no better leader than Jesus, and he sets the ultimate example for us to follow.
Galatians 6:9
"And let us not grow weary of doing good, for in due season we will reap, if we do not give up." Galatians 6:9 ESV
Good leaders press forward when the work becomes wearisome.  The bounce back after any setbacks. They know that their work will bear fruit at the proper time—God's appointed time—if they press on.
This resilience and determination inspires others and sets an example to follow.
Proverbs 11:14
"Where there is no guidance, a people falls, but in an abundance of counselors there is safety." Proverbs 11:14 ESV
God did not call us to lead others in isolation.  As this verse points out, all leaders need support systems to help them make wise decisions and hold them accountable.
Sadly, many Christian leaders fall into sin because leadership can be isolating.  Wise leaders surround themselves with godly counsel and strong support systems.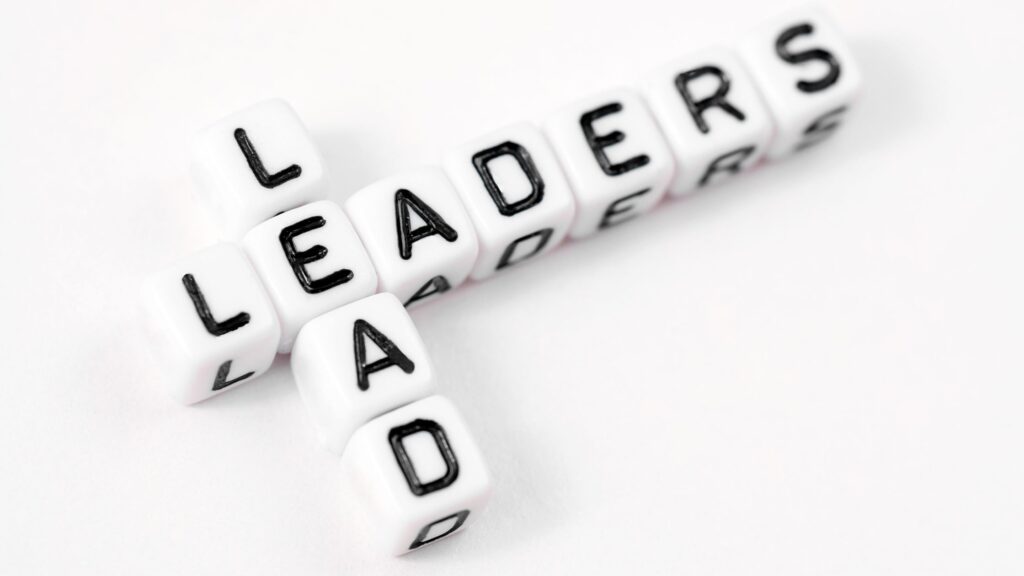 2 Timothy 2:15
"Do your best to present yourself to God as one approved, a worker who has no need to be ashamed, rightly handling the word of truth." 2 Timothy 2:15 ESV
In his second letter to Timothy, Paul challenged Timothy to rightly handle the word of truth. In other words, good leaders need to be careful to handle God's Word with care and caution.
Teachers are held accountable for their words, and God warns leaders against misleading others. Christian leaders and teachers need to study God's Word and handle it with care as they share it with others.
Hebrews 13:7
"Remember your leaders, those who spoke to you the word of God. Consider the outcome of their way of life, and imitate their faith." Hebrews 13:7 ESV
We learn and mature by imitating others. For this reason, the writer of Hebrews encouraged God's people to remember their leaders and imitate their faith.
Good leaders have mentors. They imitate the faith of those who have gone before them and aim to walk in a manner worthy of the calling of God.
Isaiah 41:10
"Fear not, for I am with you; be not dismayed, for I am your God; I will strengthen you, I will help you, I will uphold you with my righteous right hand." Isaiah 41:10 ESV
Most leaders face the temptation to rely on human strength to bring outcomes to pass. Instead of relying on their own strength, God calls leaders to rely on him.
Strong leaders are dependent upon God. They recognize that they have nothing to offer anyone else apart from God's strength. They rely on God's righteous right hand to direct and uphold them.
Philippians 2:4
"Let each of you look not only to his own interests, but also to the interests of others." Philippians 2:4 ESV
Godly leaders remember that the interests of others matter deeply. Instead of caring only for their personal needs, they watch for opportunities to serve and help others—even when it requires sacrifice.
Colossians 1:10
"So as to walk in a manner worthy of the Lord, fully pleasing to him: bearing fruit in every good work and increasing in the knowledge of God." Colossians 1:10 ESV
God's Word teaches that true followers of Christ are known by their fruit. Just as a bad tree cannot bear good fruit, a leader whose life produces good fruit is rooted in the Lord.
This kind of good fruit comes when leaders commit to continue growing in the knowledge of God.  Godly leaders have strong relationships with the Lord and are not stagnant in their faith.   They are always increasing in the knowledge of God.
Acts 20:28
"Pay careful attention to yourselves and to all the flock, in which the Holy Spirit has made you overseers, to care for the church of God, which he obtained with his own blood." Acts 20:28 ESV
Regardless of the type of leadership position, God calls his leaders to pay careful attention to themselves and to the people they are leading. Good leaders always remember that Jesus died for them and for the people they are leading.
Exodus 18:21
"Moreover, look for able men from all the people, men who fear God, who are trustworthy and hate a bribe, and place such men over the people as chiefs of thousands, of hundreds, of fifties, and of tens."
Godly leaders are trustworthy. Exodus 18:21 ESV
It can be tempting to cut corners or tell white lies; however, leaders are to walk with integrity at all times. They are to fear God and live honorable lives—even behind closed doors.
1 Timothy 4:12
"Let no one despise you for your youth, but set the believers an example in speech, in conduct, in love, in faith, in purity." 1 Timothy 4:12 ESV
Timothy was a young pastor when Paul wrote to him. Paul encouraged Timothy not to let others look down on him because of his youth.
By setting an example in speech, conduct, love, faith, and purity, Timothy would be a strong leader, despite his age. This is true today, too. When we aim to lead by example, others will follow, regardless of our age.
Romans 12:3
"For by the grace given to me I say to everyone among you not to think of himself more highly than he ought to think, but to think with sober judgment, each according to the measure of faith that God has assigned." Romans 12:3 ESV
Good leadership flows from a humble heart.  Strong leaders recognize that they are no better than the people they serve.  They don't think of themselves more highly than they should.
By serving others from a place of humility, these leaders create spaces where others feel safe to make mistakes. This is an environment where creativity and growth expand exponentially.
Ephesians 4:11-12
"And he gave the apostles, the prophets, the evangelists, the shepherds and teachers, to equip the saints for the work of ministry, for building up the body of Christ." Ephesians 4:11-12 ESV
God assigns leaders to build up the body of Christ.  For this reason, he calls some people to spread the gospel to the ends of the earth.  Others are called to be prophets, evangelists, shepherds, and teachers.
All of these roles are a part of God's leadership. Regardless of your role, embrace it, and use it to build up the body of Christ.
James 4:6
"God opposes the proud but gives grace to the humble." James 4:6 ESV
Lowliness of mind is an important characteristic of a godly leader. As James teaches, God does not promote the proud. Instead, he humbles them.
However, God gives grace to the humble and raises them up in his timing.
Do you want to be a powerful leader? Humble yourself under God's righteous right hand. He will raise you up when the time is right.
Psalm 78:72
"With upright heart he shepherded them and guided them with his skillful hand." Psalm 78:72 ESV
King David set a good example for godly leadership.
David had faults and made horrible mistakes; however, he had a contrite and humble heart. He willingly received God's correction. He also guided God's people with a skillful hand.
Godly leaders follow this example and willingly receive correction. As a result, people follow them.
Proverbs 4:23
"Keep your heart with all vigilance, for from it flow the springs of life." Proverbs 4:23 ESV
Strong leaders know how to guard their hearts. They recognize that all other parts of life flow from the heart. For this reason, they guard their hearts against deceit, lust, greed, and sins of all kinds.
They regularly ask God to search their hearts and confess their sins to God.
1 Corinthians 12:12
"For just as the body is one and has many members, and all the members of the body, though many, are one body, so it is with Christ." 1 Corinthians 12:12 ESV
Some leaders succumb to envy when they look at other leaders and desire the same talents and skills.  Part of Christian leadership is realizing that God equips different people with different gifts and talents.
Good leaders help other people grow in their talents and lead them to share their gifts with the world.
2 Timothy 2:2
"And what you have heard from me in the presence of many witnesses entrust to faithful men, who will be able to teach others also." 2 Timothy 2:2 ESV
Part of godly leadership is learning to train others into leaders. Paul reminded Timothy that he was called to find other men to carry on his teaching.
Good leaders recognize when it's time to train others to become leaders. In this way, they multiply their leadership and expand God's kingdom.
Luke 6:31
"And as you wish that others would do to you, do so to them." Luke 6:31 ESV
Effective leaders don't use their position to wield power over others or get their way. Instead, they remember to treat others the way they want to be treated.
John 3:30
"He must increase, but I must decrease." John 3:30 ESV
John the Baptist recognized that it was time for him to become "less" when Jesus began preparing for public ministry.  
In the same way, godly leaders don't try to make names for themselves.   They live to proclaim the name and truth of Jesus Christ.  
1 Timothy 3:2
"Therefore an overseer must be above reproach, the husband of one wife, sober-minded, self-controlled, respectable, hospitable, able to teach. . ." 1 Timothy 3:2 ESV
God is looking for people who are willing to live above reproach. This includes avoiding behaviors that aren't sinful but could cause others to stumble.
Living above reproach includes being the same person behind closed doors and in public.
Deuteronomy 1:13
"Choose for your tribes wise, understanding, and experienced men, and I will appoint them as your heads." Deuteronomy 1:13 ESV
When Moses felt burdened by the needs of the people, God commanded him to choose wise, understanding, and experienced men to lead the tribes.
This lesson in delegation served Moses well, and it is a lesson for us today.
When the burdens of leadership become too heavy to bear alone, good leaders appoint others to help carry the burden.
Luke 22:26
"But not so with you. Rather, let the greatest among you become as the youngest, and the leader as one who serves." Luke 22:26 ESV
The world tells us that leaders should be served. God's Word teaches that the greatest leaders are those who willingly serve others.
God's Word also teaches that age is not a requirement for leadership. Instead, God looks for humble and willing hearts.
Matthew 5:37
"Let what you say be simply 'Yes' or 'No'; anything more than this comes from evil." Matthew 5:37 ESV
Effective leaders know how to make decisions and stick with them.
A good leader keeps his or her word and doesn't falter. Instead of making promises that cannot be kept, a trustworthy and godly leader is direct and follows through.
Proverbs 25:28
"A man without self-control is like a city broken into and left without walls." Proverbs 25:28 ESV
Self-control is an important characteristic for leaders. Good leaders maintain self-control regarding their emotions, attitudes, and desires. They are not given to bouts of anger, lustful indulgences, or impulsive decisions.
Proverbs 16:9
"The heart of man plans his way, but the Lord establishes his steps." Proverbs 16:9 ESV
The wisest leaders know that planning is prudent. They also recognize that God can thwart even the best plans when those plans don't align with his will.
Effective leadership includes casting a vision and following through with clear plans. It also includes redirecting plans when God sends detours.
1 Samuel 8:3
"But his sons did not walk in his ways; they turned aside after dishonest gain, took bribes, and perverted justice." 1 Samuel 8:3 NKJV
Samuel was a priest who pursued God's heart. God used him to anoint the first king of Israel, Saul.
Samuel was a strong leader in many ways; however, his sons were dishonest and ungodly.  Scripture tells us that they took bribes and perverted justice. For this reason, even though they were in line to follow Samuel's leadership, God did not allow them to become leaders.
We learn a valuable lesson from Samuel's sons: God looks at every person individually as he calls us to follow him. We cannot count on the efforts of our parents or elders.
2 Timothy 4:3
"For the time will come when people will not put up with sound doctrine. Instead, to suit their own desires, they will gather around them a great number of teachers to say what their itching ears want to hear."  2 Timothy 4:3, NIV
Many leaders feel tempted to tell people what they want to hear.  This verse reminds us that godly leadership must flow from the Truth.
An effective leader speaks God's Truth even when other people don't want to hear it.
If studying the Bible better is on your list of things to do this year, be sure to visit our Bible Study Resources page where you'll find everything you need to make Bible study a regular part of your daily routine.
Jesus consistently defies the world's ideas about good leadership and being a good shepherd to the people He leads. He calls leaders to be humble and serve others.
Jesus calls leaders to die to themselves and lay down their lives for the ones they lead.
Furthermore, godly leadership includes staying rooted in God's Word and growing in the knowledge of God.  God calls leaders to continue pursuing a close relationship with him.
From this relationship, God equips leaders to bring his kingdom to earth.   When leaders carry God's hope and love into the world, God's kingdom comes.
Learn how to pray for our church leaders because the entire church benefits from these powerful and mighty prayers.