What does the Bible say about stress and worry?
Stress can come from anywhere at any time. It can be work, family, finances, health, relationships, school – just about anything can pop up unexpectedly and become a source of anxiety and stress in your life.
We are constantly trying to keep a dozen plates spinning and look good while doing it. Sometimes we get swept off of our feet and everything comes crashing down.
The more stressful a situation is, the more we try to distract ourselves from the current circumstance. We turn to alcohol, drugs, food, tv, social media, etc. to cope with the stress. We allow these things to take control of our lives.
Or we try to figure out the answers and rely on our own strengths. This way just perpetuates our stress because we simply can't do it all on our own.
Instead, we should turn to scripture and meditate on the Bible verses about stress and worry and see how God wants us to deal with things.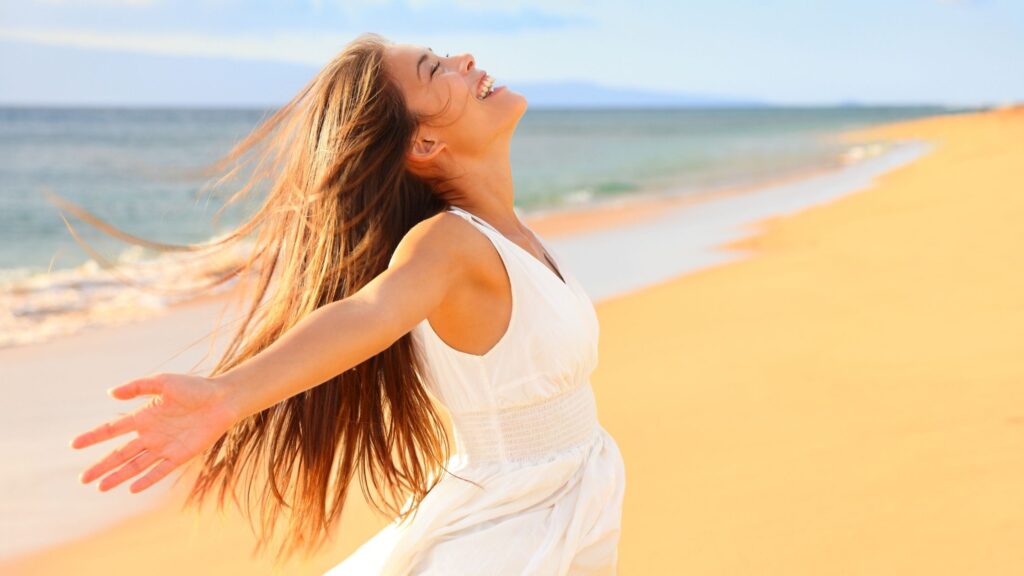 This post may contain affiliate links. Read our full disclosure here.
What Does God Say About Stress and Worry
There is nothing wrong with stress, in fact, it can be a healthy part of our lives.
However, it is how we respond to stress that can become sinful. And by that I mean, you have to do some level of introspection to see what the root cause of your stress is – are you not trusting God? Are your priorities out of alignment? Is it leading to anger and bitterness? Is it causing you to put other things above God?
Our stress and worry don't come from God. It is a direct result of Satan trying to remind us of our limits, distract us from God and cause us to go down a negative spiral.
A biblical response to stress fosters a complete dependence on God. He doesn't say our life will be easy or free from struggle, but he does offer hope and help and peace in the midst of trying circumstances. He is our Rock and Provider during stressful situations.
God tells us to come to him with all our worries. There is nothing too great or too little to bring before God. He is there to comfort you and give you peace.
True strength comes from God himself. Our individual human limitations are amazing and beautiful ways for God's grace to shine through.
Bible Characters Who Were Stressed
There are tons of examples of bible characters who were stressed. What set these people apart, especially Jesus, is how they reacted to stressful situations. They each put their trust and faith in God in the midst of difficult situations.
Job
Job had everything – a good family, a good name and plenty of wealth. Suddenly it was all stripped away because Satan asked for permission to alter Job's good fortune to test his faith. He lost everything – his children, his wealth, his health and even his relationships with his wife and friends.
And what did Job do? He did the exact opposite of what Satan wanted him to do – He praised the name of God.
At this, Job got up and tore his robe and shaved his head. Then he fell to the ground in worship and said: "Naked I come from my mother's womb, and naked I will depart. The Lord gave and the Lord has taken away; may the name of the Lord be praised." (Job 1:20-21).
While Job did question God and why he was suffering, he eventually repented and humbly knelt before God in faith.
David
He was anointed by God to rule over Israel. Yet he was tormented by King Saul as a result of jealousy. King Saul chased David for many years which meant that David was constantly on the run and hiding in caves.
He was fleeing from death and in great anguish and despair. Yet he cried out to the Lord to help him from his affliction. Similarly to Job, he turned to praise the name of the Lord and ask for his mercy.
Paul
Paul underwent many stressful situations. He experienced a shipwreck, a snakebite, persecution and jail time. He did it all for the glory of God because he knew that in his weakness God's grace was made powerful.
Paul admonishes his followers that while there may be stressful situations here on earth we can hold onto the hope that we have something eternal to look forward to. Jesus will come again and we will no longer suffer from stress.
Jesus
One of the beautiful things about Jesus is that he experienced stress just like us. He was sent into the world in human form and came across a lot of challenges.
He was also beaten and hung on a cross for something he did not do.
It was how he chose to react that set him apart. For one, he would often take time of solitude in times of stress to spend with God. And two, on the cross he cried out to God and praised his name. His eyes and his focus were always on God and being in his presence.
Bible Verses about Stress
The best way to cope with stress is to turn to the Bible and remind yourself of who God is. The Bible is a great source of wisdom and insight on how we can deal with stressful situations. With these Bible verses about stress, you can be reminded that God is there watching over you and is an ever-present help in time of need.
Bible Verses for Stress Relief
The best part about God is that He is always right there next to you waiting to take your worries and cares upon himself. He promises to supply you with your every need.
When you are in need of stress relief, always remember that He is there waiting for you to hand it over to Him to work out for you!
"Do not be anxious about anything, but in every situation, by prayer and petition, with thanksgiving, present your requests to God. And the peace of God, which transcends all understanding, will guard your hearts and your minds in Christ Jesus." – Philippians 4:6-7
Here are some additional scriptures to help you find stress relief by simply trusting in the Lord.
"Trust in the Lord with all your heart and lean not on your own understanding; in all your ways submit to him, and he will make your paths straight." – Proverbs 3:5-6 NIV
"Come to me, all you who are weary and burdened, and I will give you rest. Take my yoke upon you and learn from me, for I am gentle and humble in heart, and you will find rest for your souls. For my yoke is easy and my burden is light." Matthew 11:28-30
"God is our refuge and strength, an ever-present help in trouble." – Psalm 46:1
"Anxiety weighs down the heart, but a kind word cheers it up." – Proverbs 12:25
Bible Verses for Stress and Worry
God will guide you and give you wisdom during times of stress and worry. The Bible literally tells us not to worry or get stressed out over anything:
"Therefore do not worry about tomorrow, for tomorrow will worry about itself. Each day has enough trouble of its own." – Matthew 6:34
I often breathe over these Bible verses to help me calm down and focus on God instead of the present circumstance.
"Cast your cares on the Lord and he will sustain you; he will never let the righteous be shaken." – Psalm 55:22
"Cast all your anxiety on him because he cares for you." – 1 Peter 5:7
Bible Verses for Stress at Work
The times I get most stressed at work are when I am focusing on what I can and can't accomplish. It's by my own strength that I am trying to do it all. But God reminds me that He is present in my work and He can do things I never thought possible.
He is able to give us wisdom, provide others to assist us, and direct us to the next right step. He gives us everything we need.
When we are stressed at work, we simply need to meditate on these verses of scripture to remind us that God's got this and no amount of worry will ever be productive!
"I can do all this through him who gives me strength." – Philippians 4:13
"For I know the plans I have for you," declares the Lord, "plans to prosper you and not to harm you, plans to give you hope and a future." – Jeremiah 29:11
"Commit to the Lord whatever you do, and he will establish your plans." – Proverbs 16:3
"but those who hope in the Lord will renew their strength. They will soar on wings like eagles; they will run and not grow weary, they will walk and not be faint." – Isaiah 40:31
Prayer for Stress Relief
Like you see above, we have great examples of others in the Bible who called out to God in times of stress. We have the same access to the Father who wants to hear our needs and listens to us. You can trust that no matter what he will work out everything for your good and His glory.
"Dear Lord, I am stressed and worried and having trouble staying calm. I need to be revived and restored. Grant me peace and calm during this stressful season. Help me to continuously keep my eyes on you and depend on your strength. I will take comfort in your loving arms and trust in your Word. In Jesus' Name, Amen."
When you are stressed or worried about something, always remember that God has a plan in all of it – and no amount of worry on your part will change what He has in store for you!
Be sure to also read: