My kids and I were learning about Christmas around the world a few years ago and I was surprised at the number of countries in which Christmas is a non-religious holiday. It is celebrated as a secular event with no mention of the Savior of the world.
We have always read the Biblical account of Jesus's birth during this time, but I wanted to find additional Christmas scripture to mediate on with my family this year.
If you are ready to step away from the commercialism and greedy attitudes prompted by today's customs or if the sappy Hallmark Christmas movies have proved to be a little (ok, a lot!) unrealistic, I invite you to sit down with your favorite hot drink and study these Christmas Bible verses with me.
May you be refreshed in the wonder of the miraculous birth of Jesus as foretold by the prophets and eagerly awaited for.
This post may contain affiliate links. Read our full disclosure here.
The Meaning of Christmas in the Bible
To Christians around the world, Christmas is the day that marks the birth of Jesus, Son of God, Savior of the world. Our faith revolves around Jesus and his coming to the earth as well as his death and resurrection.
Is Christmas mentioned in the Bible? There is a great deal of controversy over when Jesus was actually born (why were the shepherds out in the middle of winter?) and why is the exact date not given in the Bible if it was meant for us to celebrate?
To answer this question plainly, no, Christmas is not mentioned in the Bible. There is no record of the early church celebrating Jesus's birth.
The first recorded celebration of Jesus's birth was in the fourth century when Pope Julius 1 chose December 25th. At that time it was called the Feast of the Nativity and spread as a tradition throughout the Christian world.
Over the years various traditions, both religious and pagan, were added to this feast which brings us to this point today.
It is customary to celebrate Jesus's birth as Christmas on December 25th. This post is less for teaching you how that tradition came about and more for sharing Bible verses about Christmas and how to bring Christ into your home during this very popular season.
Bible Verses about Christmas
In my mind, Bible verses about Christmas begin long before the actual birth of Christ as there were countless prophecies. Let's look at a few now as a way to begin our collection of Bible verses to celebrate Christmas.
The first prophecy of Christ is found in Genesis 3 just after Adam and Eve sin. God is speaking to the serpent.
And I will put enmity between you and the woman, and between your offspring and hers; he will crush your head, and you will strike his heel." Genesis 3:15 NIV
Isaiah tells us that Jesus would be born of a virgin.
Therefore the Lord himself will give you a sign: The virgin will conceive and give birth to a son, and will call him Immanuel. Isaiah 7:14
Isaiah records a long and beautiful prophecy of the coming Messiah. Here we get a glimpse of what he will go through for us and removes any doubt that Jesus was who he said he was.
Surely he took up our pain and bore our suffering, yet we considered him punished by God, stricken by him, and afflicted. But he was pierced for our transgressions, he was crushed for our iniquities; the punishment that brought us peace was on him, and by his wounds, we are healed. We all, like sheep, have gone astray, each of us has turned to our own way, and the Lord has laid on him the iniquity of us all. He was oppressed and afflicted, yet he did not open his mouth; he was led like a lamb to the slaughter, and as a sheep before its shearers is silent, so he did not open his mouth. Isaiah 53:4-7
The prophet Micah foretold of the birthplace of the Messiah.
But you, Bethlehem Ephrathah, though you are small among the clans of Judah, out of you will come for me one who will be ruler over Israel, whose origins are from of old, from ancient times. Micah 5:2
Bible Verses about the Christmas Story
Bible verses about the Christmas story are found in Matthew and Luke. The gospels of Mark and John begin with John the Baptist and his ministry as well as when Jesus first comes on the scene as Messiah.
My favorite portion of this part of the story is when the angel appears to Mary.
The angel went to her and said, "Greetings, you who are highly favored! The Lord is with you."
Mary was greatly troubled at his words and wondered what kind of greeting this might be. But the angel said to her, "Do not be afraid, Mary; you have found favor with God. You will conceive and give birth to a son, and you are to call him Jesus.  He will be great and will be called the Son of the Highest. The Lord God will give him the throne of his father David,  and he will reign over Jacob's descendants forever; his kingdom will never end."
"How will this be," Mary asked the angel, "since I am a virgin?"
The angel answered, "The Holy Spirit will come on you, and the power of the Highest will overshadow you. So the holy one to be born will be called[b] the Son of God. Even Elizabeth your relative is going to have a child in her old age, and she who was said to be unable to conceive is in her sixth month. For no word from God will ever fail."
"I am the Lord's servant," Mary answered. "May your word to me be fulfilled." Then the angel left her. (Luke 1:28-38)
Mary's heart was humble and obedient and when we really listen, there is so much she can teach us!
Luke continues the story of Mary with the decree from Caesar Augustus commanding all subjects to journey to their birthplace and be counted.
Matthew tells a little bit more about Joseph and the position he is in. After all, the young woman he is engaged to turns up pregnant. He knows he is not the father. Should he believe her outlandish story about the angel that visited her?
Because Joseph her husband was faithful to the law, and yet did not want to expose her to public disgrace, he had in mind to divorce her quietly.
But after he had considered this, an angel of the Lord appeared to him in a dream and said, "Joseph son of David, do not be afraid to take Mary home as your wife, because what is conceived in her is from the Holy Spirit. She will give birth to a son, and you are to give him the name Jesus, because he will save his people from their sins."
All this took place to fulfill what the Lord had said through the prophet: "The virgin will conceive and give birth to a son, and they will call him Immanuel"(which means "God with us").
When Joseph woke up, he did what the angel of the Lord had commanded him and took Mary home as his wife. But he did not consummate their marriage until she gave birth to a son. And he gave him the name Jesus. (Matthew 1:19-25)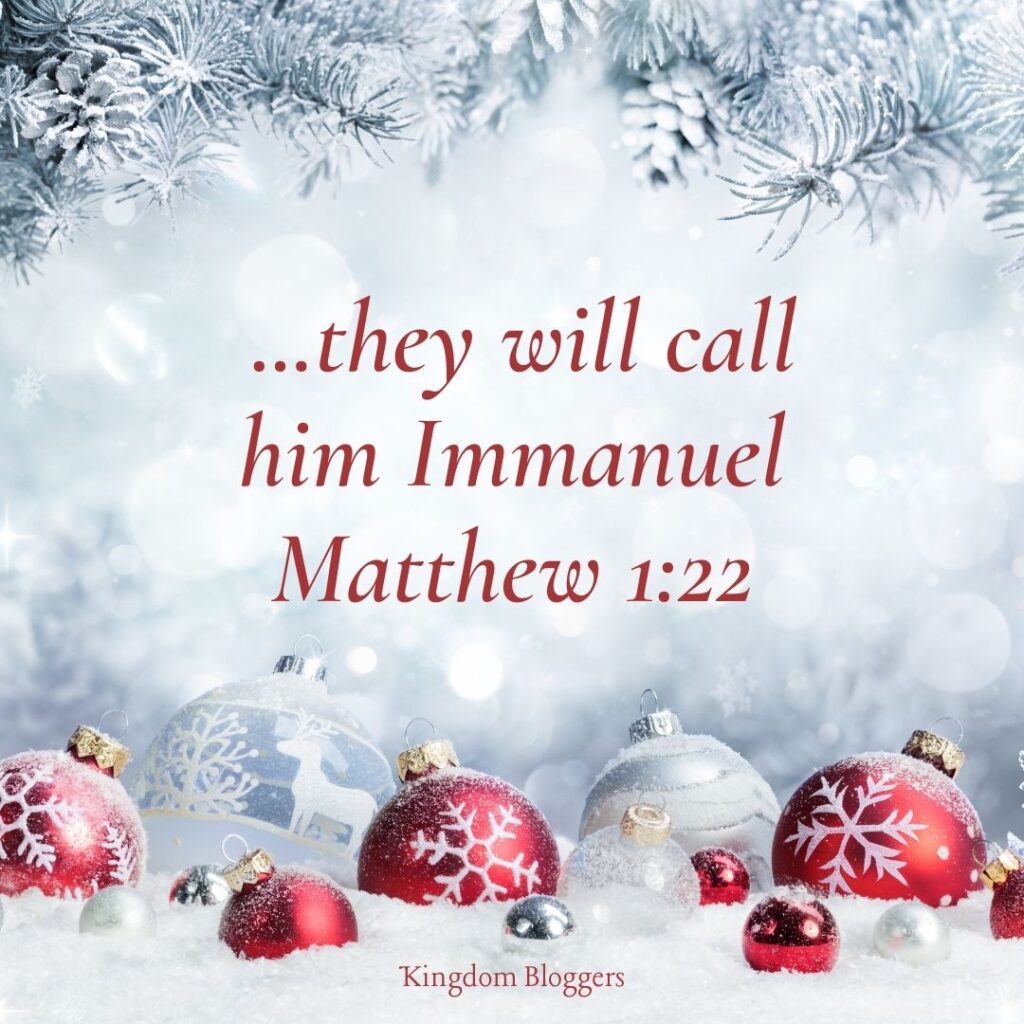 Bible Verses about the Birth of Jesus
By far, Luke gives us the most detailed Bible verses about the birth of Jesus.
So Joseph also went up from the town of Nazareth in Galilee to Judea, to Bethlehem the town of David, because he belonged to the house and line of David. He went there to register with Mary, who was pledged to be married to him and was expecting a child.
While they were there, the time came for the baby to be born, and she gave birth to her firstborn, a son. She wrapped him in cloths and placed him in a manger, because there was no guest room available for them.
And there were shepherds living out in the fields nearby, keeping watch over their flocks at night. An angel of the Lord appeared to them, and the glory of the Lord shone around them, and they were terrified.
But the angel said to them, "Do not be afraid. I bring you good news that will cause great joy for all the people. Today in the town of David a Savior has been born to you; he is the Messiah, the Lord. This will be a sign to you: You will find a baby wrapped in cloths and lying in a manger."
Suddenly a great company of the heavenly host appeared with the angel, praising God and saying,
"Glory to God in the highest heaven, and on earth peace to those on whom his favor rests."
When the angels had left them and gone into heaven, the shepherds said to one another, "Let's go to Bethlehem and see this thing that has happened, which the Lord has told us about." (Luke 2:4-15)
Bible Verses about Christmas Blessings
Our traditions of giving gifts, Christmas trees, big family dinners, and Santa Claus are a far cry from those humble events in Bethlehem 2,000 years ago.
I hear a lot of talk about the "Christmas spirit" and "peace on earth" as well as "the joy of giving". Do these come from scripture? Are there really Bible verses about Christmas blessings?
You are not going to find the term "Christmas blessing" in scripture, but let's break down what happened on the night of Christ's birth.
The son of God was born, Immanuel, God with us.
Prophecy was fulfilled, the period of waiting for the Messiah was over.
The angels filled the sky and sang of the good news.
The Prince of Peace had come.
The shepherds visited Jesus.
The wealthy wise men brought gifts.
A Christmas blessing would then be one of peace and joy. The giving of ourselves just as God gave us His son.
Now may the Lord of peace himself give you peace at all times and in every way. The Lord be with all of you. (2 Thessalonians 3:16)
Finally, brothers and sisters, rejoice! Strive for full restoration, encourage one another, be of one mind, live in peace. And the God of love and peace will be with you. (2 Corinthians 13:11)
Though you have not seen him, you love him; and even though you do not see him now, you believe in him and are filled with an inexpressible and glorious joy, for you are receiving the end result of your faith, the salvation of your souls. (1 Peter 1:8-9)
May the God of hope fill you with all joy and peace as you trust in him, so that you may overflow with hope by the power of the Holy Spirit. (Romans 15:13)
The magnitude of that night along with the death and resurrection of Jesus is life-changing, one I fear we often take for granted. May you step back for a moment, reach across the centuries, and unite with the one who lived and died for you.
I pray these Bible verses to celebrate Christmas have refreshed your spirit and fed your soul in a way commercialized Christmas never could. And if you'd like to dive a bit deeper into Christmas Scripture, check out Jesus Calling for Christmas!
Be sure to also read: