Are you overwhelmed with feelings of inadequacy? Maybe past mistakes have left you feeling unworthy, unloved, and unnecessary for God's kingdom. You don't feel you deserve to be happy.
I'm here to tell you – whatever situation you find yourself in – remember, there are SO many reasons why God's grace is sufficient for YOU! God is enough!
This post may contain affiliate links. Read our full disclosure here.
What is the Sufficient Grace of God
The Greek word 'charis' is translated as "grace" and is used 155 times in the New Testament.
While the words Grace and Mercy seem to be used interchangeably, the have different meanings.
Grace's definition is simply a favor given generously and freely. In other words, the meaning includes a favor bestowed by God through His power to transform a person's life.
The transformation of a person's life starts at salvation and continues through the present and future.
Let's look at some female heroes in the Bible we can use as an example for God's grace. After losing her husband in an ungodly culture and land, Ruth didn't deserve to carry any blessings from God. She had worshiped pagan idols along with her pagan family and culture.
However, she made one wise choice – she decided to travel with her mother in law to worship the true God in the land of Israel with God's people. She left everything behind – everything she was comfortable with, yet, she walked right out of her comfort zone and into the promised land.
And, boy, did God bless and deliver His promises! But I digress…let's get back to the story.
Ruth worked hard to glean from the fields in Jerusalem, listened to God through her mother n law, and ultimately met a man named Boaz of great spiritual and physical wealth. She went on to become part of Jesus' lineage. Wow, now that's a huge blessing!
While the Jewish law may have excluded her, God's grace included her.
Are you basking in the light of God's grace?
Reasons God's Grace Sufficient
Why is God's grace so powerful? He takes someone who seems so insignificant and turns them into an amazing part of history. That's why He is so wonderful and deserves to be praised.
Do you feel insignificant? If so, that's ok – He has grace for you too!
Remember, Ruth was not placed in those fields of Boaz by accident. It's all part of God's plan. And, likewise, YOU are part of God's plan too. YOU are not in your current circumstance just by chance. No matter how impossible it seems, God is using these difficult times for His purpose.
So, embrace it, my friend, God's Grace is sufficient for you, yes, even you.
How many times have we been in dire situations and then looked back later and realized that we miraculously got through only by His sufficient grace?!! Don't forget that, friend. Don't forget Ruth's story.
There are many reasons why God's Grace covers a bunch of sins and stammers. Let's look to HIs word to find out why it's enough for us.
God is Good
God is good, all of the time. Not some of the time, but every single second of the day. Unlike us. Would we give grace to someone who hurt our kids or ruined our lives? Probably not, but God does.
His goodness means not only His generosity, but His infinitely generous attitude toward us. He actually desires to bring abundance and blessing to all His creatures.
The Bible repeatedly presents the goodness of the Lord, that's why we always know that God is Good to ALL.
The Lord is good to all, and His tender mercies are over all His works. Psalm 145:9 NIV
God is Powerful
God is powerful and reveals himself in our weaknesses. We must accept our weakness for two reasons. Why? First, our struggle is obvious. We can't deny it, we see it every day and all have some form of personal issues as we are not perfect.
Second, God uses our weakness as an asset. In 2 Corinthians 12, Paul wrote about the thorn in his flesh which could have been an illness or spiritual struggle. He asked God to take it away from him, but God said no. Why? In verse 9, Paul wrote, "And He said to me, 'My grace is sufficient for you, for My strength is made perfect in weakness.'"
You might think you don't have the grit to go on. Yet, you're wrong. Think about your deepest fear. Can you imagine going through it? Maybe you think about your reaction – you'd faint, curl up in a ball, or run as far as possible.
Yet, while we tell God, "I can't!". God says, "Yes, you can!" He has given us all the grace tools we need, we just have to pick them up.
Reach down and grab those gracious gifts of grace, my friend! His Word is living and powerful.
Think about it – when all is good and life is going well, do you think of God? Do you think of God's Grace? Or, do your thoughts tend to be, "God, I've got this…no worries! I don't need you right now."
God is Enough
Speaking of relying on ourselves, remember, all we need is God. Be content with your situation, circumstances, and even being on the sideline. Maybe you got passed up for a promotion, your finances are dwindling, or your health is on the decline – it doesn't matter.
God promises that He will meet ALL of your needs, not some of them, ALL of them.
And my God will meet all your needs according to his glorious riches in Christ Jesus." Philippians 4:19 (NIV)
God is Light
Are you deep in despair with darkness and depression? Get out of the black and get back into the brightest light. God's Grace is sufficient as He provides the light to your path, position, and prosperity.
Darkness represents sin and suffering, light represents salvation and strength. Reach out to the sun's everlasting rays of spiritual light. God's Word is the light you're looking for in this wicked world.
This is the message we have heard from him and declare to you: God is light; in him there is no darkness at all. 1 John 1:5 NIV
When Jesus spoke again to the people, he said, "I am the light of the world. Whoever follows me will never walk in darkness, but will have the light of life." John 8:12
God is Love
The Bible tells us that 'God is Love', so we know to look for Him for perfect Love. God claims His love for us in the Bible a huge number of 310 times in 280 verses. Because of His strong love for us, He gives us a lot of grace.
According to 1 Corinthians 13:4-7, here's the Bible's definition of love:
Love suffers long
Love is kind
Love has no envy
Love has no pride
Love behaves itself
Love is selfless
Love isn't offended
Love doesn't want evil toward others
Love doesn't rejoice about sinful behavior
Love handles all things
Love hopes for all of it
Love bears everything
Can you love like God can? In addition, the actual word 'love' can be found 131 times in the Old Testament and 179 times in the New Testament. That's a lot of 'love', don't you think?!!
Wondering when Jesus says about His 'love' in the Bible? In the gospel of John, the word 'love' is mentioned a whooping 57 times in the Gospel of John. It's actually the most ever spoken in all gospels together.
For the grace of God has appeared that offers salvation to all people. It teaches us to say "No" to ungodliness and worldly passions, and to live self-controlled, upright and godly lives in this present age, while we wait for the blessed hope—the appearing of the glory of our great God and Savior, Jesus Christ, who gave himself for us to redeem us from all wickedness and to purify for himself a people that are his very own, eager to do what is good. Titus 2:11-14 NIV
If studying the Bible better is on your list of things to do this year, be sure to visit our Bible Study Resources page where you'll find everything you need to make Bible study a regular part of your daily routine.
God is Compassion
While we are undeserving recipients of God's mercy and compassion, we tend to not show the same type of compassion for others. When someone offends us, we turn our backs instead of having compassion for them.
We are commanded in the Bible to be merciful just as God is merciful! The Bible actually talks about compassion and care for animals. Compassion is really the ability to share the pain and suffering of others, but it takes one step further. We should actively working to help others.
Take Jesus as our greatest example. He could have stayed in beautiful Heaven, yet he had compassion upon us and took on human form, sacrificing His sin-free life.
But you, Lord, are a compassionate and gracious God, slow to anger, abounding in love and faithfulness. Psalm 86:15 NIV
A great grace story when Jesus revealed His compassion is during the time after He fed the five thousand. Jesus was probably very tired when He got off the boat! Yet, He saw a large crowd coming toward Him and recognized they were lost without a shepherd.
He was overwhelmed with feelings of compassion. Aren't you thankful for a God of Compassion?!!
When Jesus landed and saw a large crowd, he had compassion on them, because they were like sheep without a shepherd. So he began teaching them many things. Mark 6:34 NIV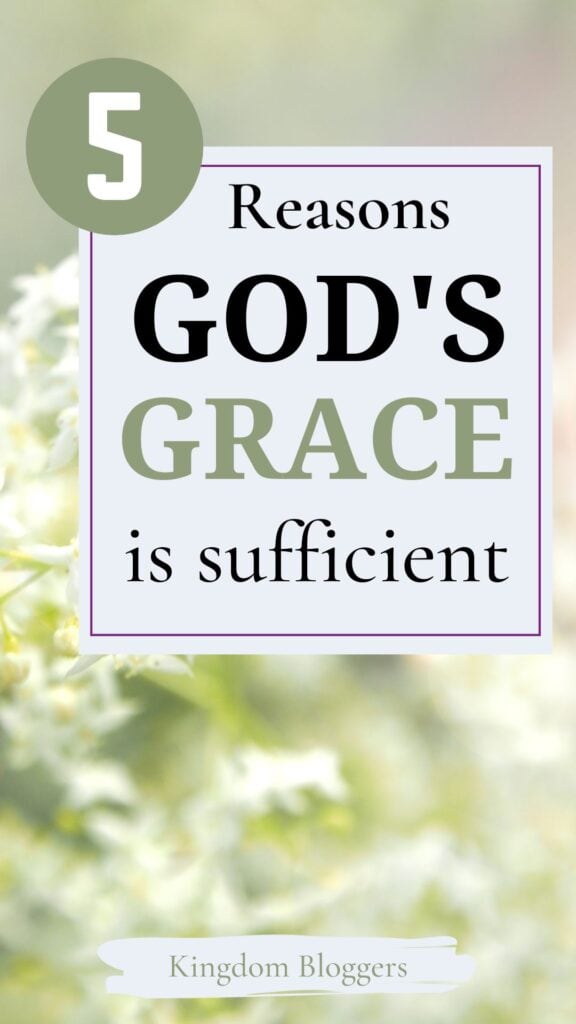 God's Grace is Enough!
Are you convinced that God is enough in your life? As we discovered, the Bible has plenty to say about His Magnificent Grace.
Next time your mind runs through a bunch of reasons why life is TOO hard, instead, reach out to Him with prayer.
God's Grace is sufficient for you too. What's standing in your way to accepting rest in His unfailing love?