The best gift to give anyone on your holiday shopping list is something that helps them grow stronger in their faith. And shopping for the men in your life is no different!
What are the best Christian gifts for men? What gifts to guys like most?
I've scoured the internet and have come up with these wonderful religious gift ideas for men to help make your holiday shopping much easier!
This post may contain affiliate links. Read our full disclosure here.
The Best Christian Gifts for Men
Whether you are shopping for a loved one or a member of your church leadership, these Christian gifts for men are a great way to show your appreciation by giving them something they'll truly cherish and love.
Maybe you are looking for the best Man of God gifts or simply a Christian gift for your husband?
Most of these are things that men, regardless of religious affiliation, would need such as a drink tumbler or a keychain. Whichever you choose, any man on your list will be excited to find one of these under the tree!
---
Man of God Gifts
Of all the Christian gifts for men, these take the lead!
As you work through your holiday shopping list, I'm sure you have at least a few men that would absolutely enjoy a Man of God gift to celebrate his faith.
Whether is it your husband, uncle, or pastor, a true man of God enjoys receiving gifts that reflect his faith. These Man of God gifts offer a variety of ideas to complete your Christmas shopping list this year! These are great as a single gift, but even better when paired together for a sort of "Man of God" gift basket!
Divinity Boutique Man of God Journal
This beautiful black, faux leather Man of God journal has a cross charm attached and has an encouraging Bible verse on every page. This would be the perfect gift for the Man of God in your life.
---
Man of God 2 Piece Metal Woodgrain Ballpoint Pen and Leatherette Keychain Gift Boxed Set
This Pen and Keychain Gift Set features Jeremiah 17:7 on the inside cover and has 'Man of God' design on a 2-ring keychain. Carefully packaged in a woodgrain gift box with fitted foam interior.
---
Man Of God Arms with Strength Psalm 18:32 Insulated Travel Mug
This Man of God insulated travel mug is perfect for your man-on-the-go! The graphic art wraps around the entire mug and features scripture from Psalm 18:32.
---
Man of God Pewter Keyring
This Man of God keyring is made of pewter and has a cross engraved on one side and Phillipians 4:13 engraved on the other side.
---
Unique Christian Gifts for Men
Looking for the best religious gifts for men that are also cool and maybe even fashionable? These unique Christian gifts for men are exactly what you need!
Instead of the traditional man of God gifts, these offer a little more personality that you man will love and appreciate!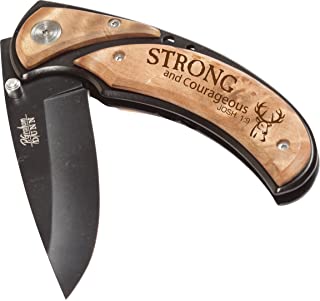 Strong and Courageous Inspirational Pocket Knife
The Strong and Courageous pocket knife has a beautiful wooden finish with a 3″ blade. Make the perfect religious gift for your favorite Christian guy!
---
---
---
Christian Guitar Picks
Shopping for members of your worship team? These Christian guitar picks would make an excellent gift!
---
There you have it! My top picks for Christian gifts for men! These Godly gifts for him will surely make an impression this holiday season!
If you are looking for faith-inspired stocking stuffers, be sure to check out The Best Bibles and Devotions for Men! These are a must-read for any man and are small enough to fit in a stocking!