Do you struggle with your prayers being answered? Or are you one of those prayer warriors that, as quickly as the words leave your mouth, God is already answering your prayer?
We can all agree that God answers prayers, but some of us may have little faith when it comes down to our own personal prayers getting answered.
Sometimes we may struggle to get our prayers past the ceiling or wonder if somehow we are praying wrong. Perhaps after some time, you still have some unanswered prayers.
The good news is that God answers prayers but the answers don't always look like what we are expecting nor are they answered in our own time.
This post may contain affiliate links. Read our full disclosure here.
Bible Verses About God Answering Prayers
Scripture is filled with Bible verses that reveal how God answers our prayers. And as we look into these verses, we'll see that the will of God becomes our guiding light, shaping our prayers to align with His purpose for our lives.
And in those moments of surrender and alignment, we get to experience the fullness of God's promises and the joy of walking in His divine plan.
It is important to note if the desires of your heart have wrong motives and do not align with God's will, the answer to these prayers won't look like what we want them to. God answers prayers according to His will and not our own selfish desires.
God's perfect plan involves only the best for us. Why? Because He is the God of love. He doesn't want bad things to happen to us.
Let us meditate on the word of God as we fully submit to the will of the Father in our prayers. The we will have the peace of God in knowing the He will go to the ends of the earth to answer our prayers!
Psalm 34:17
The righteous cry out, and the Lord hears them; He delivers them from all their troubles. Psalm 34:17 (NIV)
So, who are the righteous? We are! If you have made a conscious decision to follow Christ and allow Him to be Lord of your life, then His blood covers your sin, and you become righteous.
This verse tells us that when the righteous cry out to God, He listens and delivers us from trouble. Not because we are somebody special but because we have received a special gift from Somebody special.
He will always be there in our time of need.
Accepting Christ as Savior makes us co-heirs with Him and daughters of the Creator of the Universe! God cares about us and tells us through His Word that He wants to help us in our times of need.
When we feel scared or worried, we can pray to God, knowing that He will hear us and answer our prayers.
Psalm 50:15
Sacrifice thank offerings to God, fulfill your vows to the Most High, and call on me in the day of trouble; I will deliver you, and you will honor me. Psalm 50:14-15 (NIV)
This verse encourages us to offer thanksgiving to God, keep our promises to Him, and call on Him during times of trouble. In response, God promises to deliver us, and through His faithfulness, we will honor and glorify Him.
We can trust that God will respond when we cry out to Him in our moments of need.
1 Peter 3:12
For the eyes of the Lord are on the righteous and his ears are attentive to their prayer, but the face of the Lord is against those who do evil. 1 Peter 3:12 (NIV)
This verse shows that God does not answer the prayers of unbelievers. The first prayer God hears from the wicked is when they cry out for salvation.
But we can be confident that His eyes are upon the righteous, and He pays attention when we pray. As we live in righteousness, we can trust that God is watching over us and is eager to answer our prayers.
Psalm 138:3
When I called, you answered me; you greatly emboldened me. Psalm 138:3 (NIV)
David wrote most of the Psalms and continually testified of God's provision for him and His glory. Here David testifies that God answers when we call upon Him.
He not only responds to our prayers but also strengthens and encourages us. Through answered prayers, God empowers us to face challenges and walk confidently.
Psalm 88:1-3
Lord, you are the God who saves me; day and night I cry out to you. May my prayer come before you; turn your ear to my cry. For my soul is full of troubles and my life draws near to the grave. Psalm 88:1-3 (NIV)
These verses from Psalm 88 were written by Heman, a well-known musician back in the day–the only psalm attributed to him. We experience the heartfelt plea Heman made to God for salvation and deliverance.
The psalmist acknowledges God as the One who saves, and he cries out to Him day and night, seeking His intervention. It is a raw and honest expression of reliance on God's ability to answer prayer and relieve distress.
If you ever feel like you can't put your hurt into words, I encourage you to read Psalm 88. And then, when you finish, go back up to the first verse and realize the message the psalmist was relaying.
He truly is the God of our salvation!
Romans 8:26
In the same way, the Spirit helps us in our weakness. We do not know what we ought to pray for, but the Spirit himself intercedes for us through wordless groans. Romans 8:26 (NIV)
This verse reminds us that the Holy Spirit comes to our aid when we struggle to find the right words in prayer. The Spirit intercedes for us in our weakness, expressing our deepest needs and desires to God.
The Holy Spirit speaks for us so we know that God understands our hearts even when we can't fully articulate our prayers.
Matthew 6:6
But when you pray, go into your room, close the door and pray to your Father, who is unseen. Then your Father, who sees what is done in secret, will reward you. Matthew 6:6 (NIV)
Jesus advises us to pray privately, in the quiet sanctuary of our room, away from the eyes of others, to connect intimately with our unseen but ever-present Father. When we seek Him in secret, God acknowledges our genuine devotion and rewards us openly.
He emphasizes that showy prayers and eloquent words don't impress our heavenly Father. Instead, He desires sincerity, humility, and authenticity. We should come before Him with a broken spirit and a contrite heart, recognizing our need for His grace and guidance.
James 5:16
Therefore confess your sins to each other and pray for each other so that you may be healed. The prayer of a righteous person is powerful and effective. James 5:16 (NIV)
James encourages us to confess our sins to one another and pray for each other's healing. He highlights the power and effectiveness of the prayer of a righteous person.
When we live righteously and pray on behalf of others, our prayers hold great power and can bring about transformation.
When we open up and share our struggles with another believer, we create a bond of trust and understanding. It's like shining a light on the stuff we're not so proud of and letting God's love and grace heal those places in our hearts.
Confession helps us find healing and restoration in our relationships with God and others and opens up the door for God to answer our prayers.
Isaiah 59:1-2
Surely the arm of the Lord is not too short to save, nor his ear too dull to hear. But your iniquities have separated you from your God; your sins have hidden his face from you, so that he will not hear. Isaiah 59:1-2 (NIV)
These verses from Isaiah highlight the importance of righteousness and a right relationship with God in receiving answers to our prayers.
Although God's arm is not too short to save nor His ear too dull to hear, Isaiah emphasizes that our sins and iniquities can hinder our connection with God and prevent Him from answering our prayers.
It serves as a reminder to seek forgiveness and live in righteousness, enabling a closer relationship with God and opening the pathway for our prayers to be heard.
James 1:17
Every good and perfect gift is from above, coming down from the Father of the heavenly lights, who does not change like shifting shadows. James 1:17 (NIV)
God is the source of every good gift and every perfect gift that comes from above. The phrase "Father of the heavenly lights" highlights God's role as the Creator and Sustainer of the universe.
It emphasizes His unchanging nature, contrasting it with the shifting shadows that represent instability. This verse reminds us that all the blessings of God are all good things from our generous heavenly Father.
1 John 5:14-15
This is the confidence we have in approaching God: that if we ask anything according to His will, He hears us. And if we know that He hears us—whatever we ask—we know that we have what we asked of Him. 1 John 5:14-15 (NIV)
When we seek His will in our prayers, we are assured that He will answer us and provide what we need. But we can only know His will by reading His Word.
As we grow in our understanding of the Bible and allow the Holy Spirit to guide us, our desires and intentions start to align with God's desires and intentions.
And like Jesus, we begin to echo the cry of our hearts, saying, "For I seek not to please myself but Him who sent me." (John 5:30-NIV)
John 15:7
If you remain in me and my words remain in you, ask whatever you wish, and it will be done for you. John 15:7 (NIV)
Jesus teaches us that when we remain in Him, and His words dwell in us, we can ask for anything, and it will be done for us.
Our relationship is consistent; we remain devoted to doing what's right and don't chase after every "new" truth but rely on what the Scriptures say is true.
When we align ourselves with Christ and His teachings, our prayers become aligned with the will of God, and He delights in granting our requests.
Jeremiah 33:3
Call to me and I will answer you and tell you great and unsearchable things you do not know. Jeremiah 33:3 (NIV)
This verse has been referenced many times as God's phone number. Jeremiah was encouraged to call upon the Lord to discover great things. And we can claim this promise too.
As child of God, we have all authority to step up to the throne of grace and call out for wisdom, guidance, and instruction from our heavenly Father.
When we call out to God, He will answer us and reveal amazing things that we couldn't even imagine. God's knowledge and understanding surpass our own, and He delights in sharing His wisdom with us.
Mark 11:24-25
Therefore I tell you, whatever you ask for in prayer, believe that you have received it, and it will be yours. And when you stand praying, if you hold anything against anyone, forgive them, so that your Father in heaven may forgive you your sins. Mark 11:24-25 (NIV)
Jesus teaches us the importance of faith and forgiveness in prayer. When we pray, we should believe we have already received what we have asked for.
Additionally, Jesus emphasizes the significance of forgiving others, as it opens the pathway for God's forgiveness and answers to our prayers. God answers our prayers, but we can hinder that communication if we hold onto unforgiveness.
Forgiveness has been offered to us by our Creator, and God makes it very clear in His Word that He expects us to be forgivers also.
Matthew 18:19-20
Again, truly I tell you that if two of you on earth agree about anything they ask for, it will be done for them by my Father in heaven. For where two or three gather in my name, there am I with them. Matthew 18:19-20 (NIV)
Jesus shares an incredible promise that when two or more believers come together in unity and agreement in prayer, our requests will be granted by our loving Father. It shows us that there is real power in praying together with our brothers and sisters in Christ.
Our collective faith and agreement create a strong bond of unity before God, and He listens attentively to our petitions and promises to answer prayers.
When we pray together, we are not alone. We have the assurance that Jesus is there, listening, comforting, and guiding us. His presence brings peace and reassurance, knowing that we are not left to face life's challenges on our own.
Psalm 10:17
You, Lord, hear the desire of the afflicted; you encourage them, and you listen to their cry. Pslam 10:17 (NIV)
This verse assures us that God hears the desires of your heart when you are afflicted or in need. He not only listens to your cries but also provides encouragement.
When we are going through challenging times, it's a comforting reminder that no matter what we're going through, God is attentive and caring, ready to give us comfort and strength. When we pray, we can be sure that God listens to our needs and offers His loving care.
Psalm 66:19
But God has surely listened and has heard my prayer. Praise be to God, who has not rejected my prayer or withheld his love from me! Pslam 66:19 (NIV)
In this verse, the writer confidently proclaims that God pays attention to our prayers and listens to them. It's like a strong reassurance that our heavenly Father is always there, ready to hear and respond to our needs and requests.
And it also reminds us that we give glory to God for the prayers He has answered, no matter the outcome.
Psalm 145:18-19
The Lord is near to all who call on him, to all who call on him in truth. He fulfills the desires of those who fear him; he hears their cry and saves them. Psalm 145:18-19 (NIV)
God is near to all who sincerely call upon Him.He is a good Father to His children.
He listens, fulfills their desires, and rescues them. When we approach God with truth and reverence, we can expect His close presence and attentive response to our prayers.
When we cry out to Him, He hears us and brings salvation, showing His love and faithfulness to His people. These verses reassure us that God answers the prayers of those who seek Him with sincerity and respect.
Psalm 34:15
The eyes of the Lord are on the righteous, and his ears are attentive to their cry. 34:15 (NIV)
Isn't it comforting to know that no matter what we go through, our heavenly Father watches over us, ready to help and listening for us to call out to Him?
Just like a new momma with a baby monitor, He is there, waiting, watching, and eager to help when we need Him.
1 Peter 5:7
Cast all your anxiety on him because he cares for you. 1 Peter 5:7 (NIV)
Peter encourages believers to entrust all their worries and anxieties to God in this verse. We are urged to cast our burdens upon Him, knowing He deeply cares for us.
It's a reminder that we don't have to carry the weight of our concerns alone; instead, we can rely on God's love and compassion.
This verse offers comfort and assurance that God is willing and able to take care of us, providing a source of peace and hope in times of trouble.
As we surrender our anxieties to Him, we can experience the freedom and support that comes from placing our trust in the One who cares for us unconditionally.
Prayer to Thank God for Answering Your Prayers
O God of our Salvation, You have been so faithful in answering my prayers and showering me with Your love and blessings. I am in awe of Your goodness, and watch care over me.
I'm grateful for the times You've provided for my needs. Your provision has been a testimony of Your abundant grace and mercy.
Thank You, O Lord, for the times You brought healing and comfort when I felt lost and broken and for being my rock and refuge in times of trouble.
You are the God of my salvation! You are a God who answers prayers, and I'm thankful for Your faithfulness to Your children.
I don't need an immediate answer because I trust in Your perfect wisdom and timing, knowing that all things are done for my good and Your glory. In the name of the Lord. Amen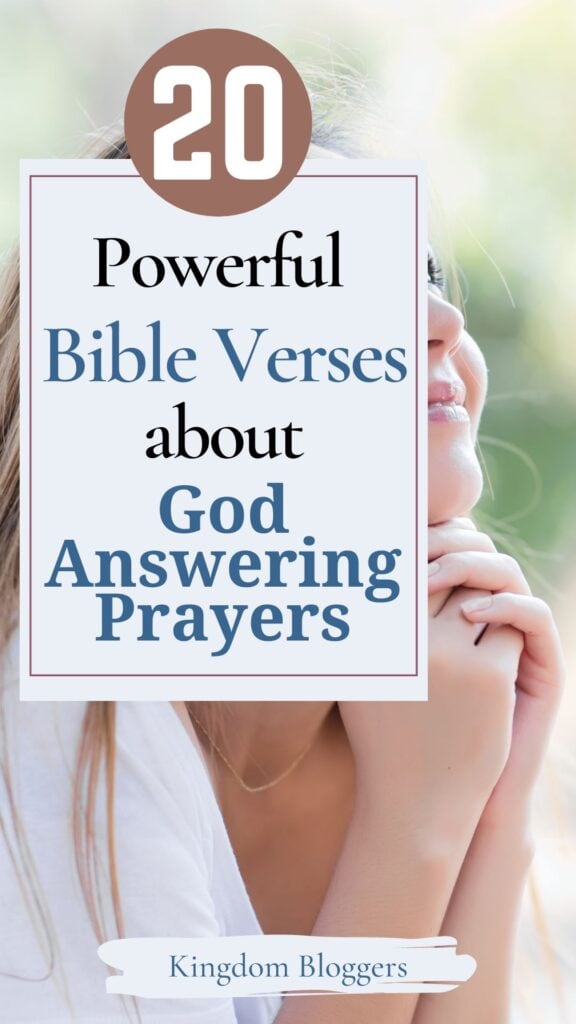 These 15 Bible verses about God answering prayers reveal our heavenly Father's unending love and unwaivering faithfulness.
Throughout the Scriptures, we see God's heart for His people, attentively listening and responding to their heartfelt pleas.
From the comforting words of the Psalms to the powerful teachings of Jesus, we see God answering prayers according to His perfect will and timing.
Dear friends, It's important to remember that God's plans are better than ours. When we read the Bible and ask the Holy Spirit to help us, our desires start to match God's desires. We learn to trust Him and follow His path for us.
Praying together with other believers is powerful. When we come together in prayer, our unity creates a strong bond. Jesus promised to be with us when we pray in His name, so we're never alone.
Let us take heart in the truth that our prayers are not in vain, knowing that God always listens and wants the best for us. Our prayers matter, and God's love and presence surround us whenever we talk to Him.
God's promises are real! So, let us confidently approach the throne of grace, knowing that our God is always near, ready to respond to the cries of His beloved children.