The Bible is filled with scriptures about seeking God above everything else in life.
The Bible makes it clear that God longs for a relationship with each of his children.  God also possesses the characteristics of a gentleman, which means that he gently pursues his children but does not force us to seek him.
The Lord longs for his children to seek him wholeheartedly. The Bible has a great deal to say about seeking God and drawing near to him. For example, James 4:8 promises that when we draw near to God, he draws near to us.
It's easy to allow the distractions of everyday life to pull us away from God. When this happens, we forget the importance of pursuing God, and our relationship with him suffers.
Meanwhile, God waits for us to return to his loving arms. He is always ready and willing to receive us and spend time with us.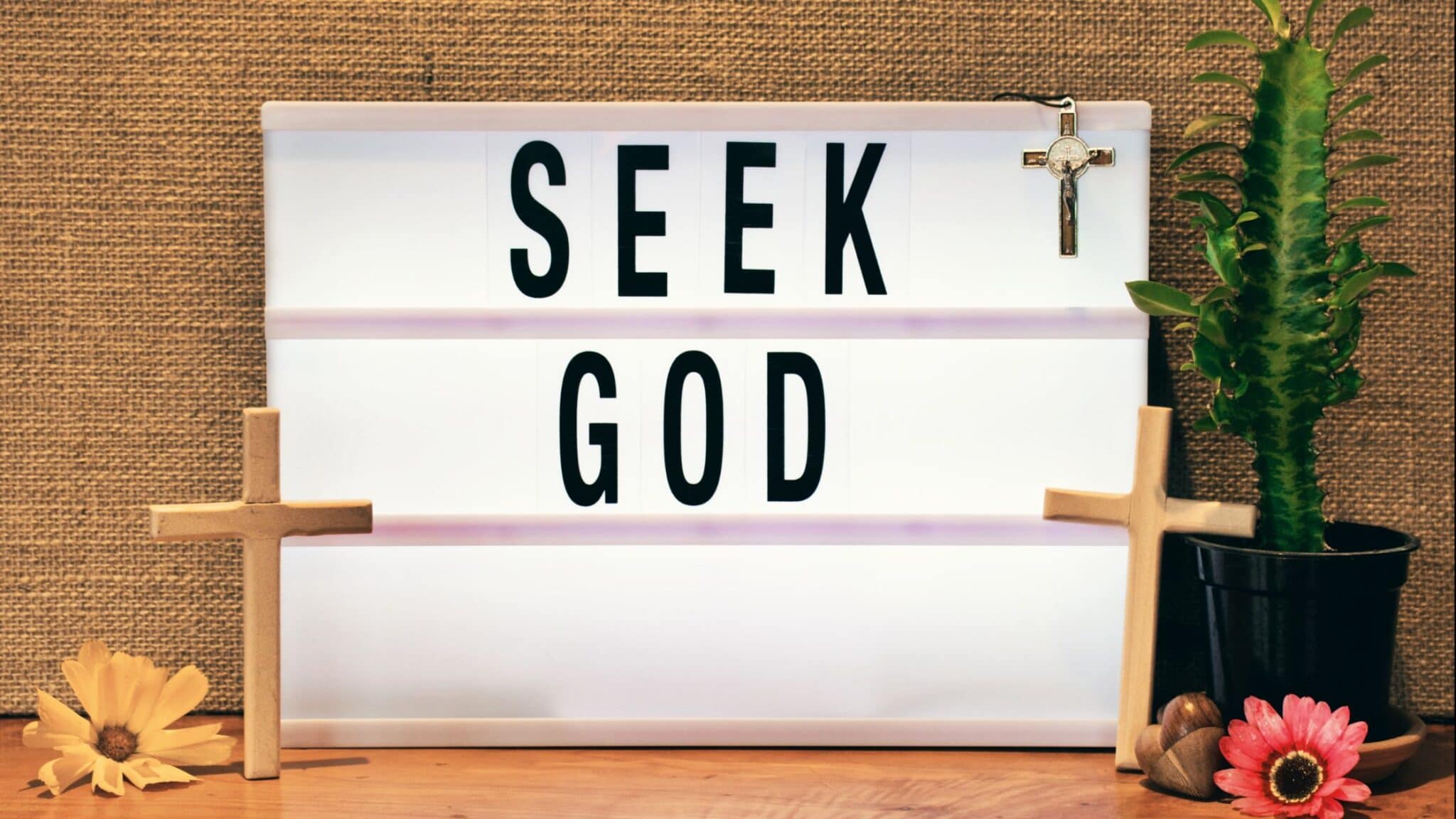 This post may contain affiliate links. Read our full disclosure here.
Seek God With All Your Heart
Before sin entered the world through Adam and Eve, humans were designed to live in unbroken fellowship with God. However, sin separated humankind from God, and we now experience incomplete fellowship with him.
God stirs our hearts to search for him because he wants to restore our fellowship. Like any relationship, this fellowship is two-way. We seek God, and he also seeks us.
Seeking God Scriptures
The Bible teaches us that seeking God will lead us to lives of fruitfulness, joy, fulfillment, and abundance. When we seek God, we find him, and he reveals himself to us. What wonderful promises!
Today, let's look at 30 Scriptures about seeking God. Soak in the words of these bible verses and allow them to stir your heart with a passion for the Lord.
Romans 12:1
"I appeal to you therefore, brothers, by the mercies of God, to present your bodies as a living sacrifice, holy and acceptable to God, which is your spiritual worship." Romans 12:1 ESV
In his letter to the Roman church, Paul encouraged the believers to worship God by presenting their bodies as living sacrifices. In other words, they were to honor God with their words, attitudes, and actions.
Similarly, we are called to honor God with our bodies. This is a foundational step for seeking God.
When we aim to honor God with our bodies—our thoughts, words, and deeds—God reveals himself to us. However, when we refuse to live in a way that honors God, our sinful behavior often creates a barrier.
Romans 12:2
"Do not be conformed to this world, but be transformed by the renewal of your mind, that by testing you may discern what is the will of God, what is good and acceptable and perfect." Romans 12:2
As we learn to offer our bodies as living sacrifices—obeying God in all we do—God's will becomes apparent to us. God renews our minds and directs us.
Seeking God includes pursuing God through prayer, worship, Bible reading, and traditional spiritual disciplines. However, it also includes living in such a way that our lives worship God.
Psalm 27:8
"My heart says to you, 'Your face, Lord, do I seek.'" Psalm 27:8
Psalm 27 is a beautiful description of David's desire to draw close to God. David speaks of seeking God's face, which refers to his longing for God's presence.
We were all designed to long for God's manifest presence in our lives.
Until we see him face-to-face, this desire will remain. We can cultivate the desire for God's presence by praying with David, "Your face, Lord, do I seek."
Psalm 27:4
"One thing have I asked of the Lord, that will I seek after: that I may dwell in the house of the Lord all the days of my life, to gaze upon the beauty of the Lord and to inquire in his temple." Psalm 27:4
David longed to experience the beauty of God. This longing fueled many of the Psalms David wrote and has been inspiring believers for many centuries.
Do you long to experience God's holiness and beauty?
Ask him to stir your desire for his presence and your longing for face-to-face communion with him. This prayer aligns with his desire for you, and he will answer it.
Psalm 42:2
"My soul thirsts for God, for the living God. When shall I come and appear before God?" Psalm 42:2
God wants his children to thirst for him. He wants our desire for him to be so strong that we are like thirsty travelers traversing desert lands.
When we thirst for God, he promises to meet us and fulfill our thirst (see Matthew 5:6).
Are you thirsty for God, or have you been satiating your thirst with things of this world? God wants you to leave space for your thirst for him to arise from within your soul.
Psalm 63:1
"O God, you are my God; earnestly I seek you; my soul thirsts for you; my flesh faints for you, as in a dry and weary land where there is no water." Psalm 63:1
In this Psalm, David again writes about a longing for God that compares to physical thirst. When was the last time your desire for God matched your greatest physical thirst?
When our longing for God becomes the most intense longing in our lives, we open the door to experience him in ways that can transform our lives forever.
Exodus 3:6
"And he said, 'I am the God of your father, the God of Abraham, the God of Isaac, and the God of Jacob.' And Moses hid his face, for he was afraid to look at God." Exodus 3:6
God revealed himself to Moses at the famous burning bush. He offered his name and identity to Moses and then called Moses to an assignment that felt insurmountable—freeing his people from Egyptian slavery.
This verse reminds us that God wants to reveal himself to us and empower us for the work he sets before us. Are you facing an overwhelming task today? Call on the God of Abraham, Isaac, and Jacob, and he will guide you.
Proverbs 18:10
"The name of the Lord is a strong tower; the righteous man runs into it and is safe." Proverbs 18:10
Where do you turn when you long for a sense of safety and strength? Do you call a friend, talk to your spouse, or visit with an older relative?
It's not wrong to turn to trustworthy people for strength and courage; however, God also wants us to learn to run to him as our strong tower and safe place.
He is able to protect us from life's storms, and his presence is the safest place on Earth.
Matthew 6:33
"But seek first the kingdom of God and his righteousness, and all these things will be added to you." Matthew 6:33
Do you ever feel overwhelmed by the needs surrounding you or worry that God is not going to provide for you?
In this verse, spoken by Jesus during the Sermon on the Mount, he reminds us that when we seek God's kingdom first, everything else is provided for us.
God's kingdom refers to a life in which God reigns and all decisions are brought to him first. When we learn to live in this way, the kingdom of heaven comes to Earth.
We also begin to seek God above all other things, and, as a result, God provides for all of our needs.
Psalm 34:10
"The young lions suffer want and hunger; but those who seek the Lord lack no good thing." Psalm 34:10
When life isn't going well, it often feels like God is holding out on us. Psalm 34:10 reminds us that God doesn't hold out on those who seek him.
Perhaps it feels like God is ignoring you or disregarding your requests. Never forget that God's ways aren't our ways. You might not understand what God is doing right now, but you can trust that he isn't holding out on you.
Psalm 40:5
"You have multiplied, O Lord my God, your wondrous deeds and your thoughts toward us; none can compare with you! I will proclaim and tell of them, yet they are more than can be told." Psalm 40:5
God wants us to seek him, and he also wants us to tell others about his goodness. Often, we ask God to bless us, but we forget to watch for him to answer our prayers.
The next time you ask God for something, watch for him to answer. Keep a sense of hopeful expectation, and when he does answer, tell others about it! Seeking God in this way brings him great glory.
2 Chronicles 7:14
"If my people who are called by my name humble themselves, and pray and seek my face and turn from their wicked ways, then I will hear from heaven and will forgive their sin and heal their land." 2 Chronicles 7:14
This famous passage of Scripture was originally written to the people of Israel as a reminder of how to experience God's blessings. These words are true for us today, too.
God wants us to humble ourselves and admit that we need him. He wants us to pray and seek his presence. He asks us to turn away from sin and turn toward him, and if we take these steps, he will hear us from heaven and heal us.
Jeremiah 29:13
"You will seek me and find me, when you seek me with all your heart." Jeremiah 29:13
After promising that his plans for Israel were good—plans for hope and a future—God speaks through Jeremiah and tells his people that they will find him if they seek him with their whole hearts.
This is a promise for us today, too. If we seek God with our whole hearts, we will encounter him. Have you been seeking God with your whole heart? What is stopping you?
1 Kings 8:6
"Then the priests brought the ark of the covenant of the Lord to its place in the inner sanctuary of the house, in the Most Holy Place, underneath the wings of the cherubim." I kings 8:6
Before Jesus came to Earth, the presence of God dwelled in the holy place within the temple (or tabernacle).
This sanctuary of the Lord God was often referred to as the Holy of Holies. Only priests were allowed to enter this space, and God's glory dwelled there.
When Jesus died on the cross, the veil that separated this holy room from the rest of the temple was torn in two. God was revealing that anyone who followed Jesus had free access to his presence.
This is a wonderful promise for us today, too: We can freely access the presence of the Most Holy God!
John 17:3
"And this is eternal life, that they know you, the only true God, and Jesus Christ whom you have sent." John 17:3
Before he was crucified, Jesus prayed for his disciples—and for everyone who would follow him after his death and resurrection. He asked for these followers to enter into eternal life.
Interestingly, he also redefined eternal life. Eternal life is more than just eternity in heaven with God. It begins the moment we start a relationship with God through Jesus—and we access this eternal life on Earth every time we draw near to God.
Hebrews 10:22
"Let us draw near with a true heart in full assurance of faith, with our hearts sprinkled clean from an evil conscience and our bodies washed with pure water." Hebrews 10:22
Because the veil of the temple was torn in two—thanks to Jesus' sacrifice on the cross—we can freely access God's presence. Unlike the Old Covenant regulations, we don't have to atone for our sins by sacrificing animals.
Jesus' death on the cross paid the price for our sins, and we have been washed clean by his blood. God's Word continually reminds us that we can boldly seek God with assurance, confidence, and pure hearts.
Deuteronomy 4:29
"But from there you will seek the Lord your God and you will find him, if you search after him with all your heart and with all your soul." Deuteronomy 4:29
God reveals himself to those who search for him with their whole hearts. He is not distant, and he is eager to make his presence known.
Seek God with your whole heart, and he will reveal himself to you, too. He might not reveal himself in the way you expect, but he is waiting to show you his glory.
Psalm 17:7
"Wondrously show your steadfast love, O Savior of those who seek refuge from their adversaries at your right hand." Psalm 17:7
God wants us to turn to him for refuge when other people stand against us. When Scripture refers to his right hand, it refers to his ability to act on our behalf.
Have you turned to God as your refuge? If not, turn to him today. He will prove himself trustworthy regardless of the situation you are facing.
Genesis 6:8
"But Noah found favor in the eyes of the Lord." Genesis 6:8
Noah found favor with God because he sought him and obeyed him. Similarly, when we seek and obey God, we usher his favor into our lives.
Seek God by obeying him, and his favor will rest upon you.
2 Chronicles 22:19
"Now set your mind and heart to seek the Lord your God. Arise and build the sanctuary of the Lord God, so that the ark of the covenant of the Lord and the holy vessels of God may be brought into a house built for the name of the Lord." 2 Chronicles 22:19
After years of wandering through the desert and using a large tent as a tabernacle for the Lord, God called his people to build him a temple—a place where his glory would dwell.
King David had visions for this temple, but because his life was marked by war and bloodshed, God did not choose David to build the temple.
Instead, his son, Solomon, built the temple. God's people were pleased to have a permanent place to seek God. Similarly, God wants us to seek his presence today, and we can seek him from wherever we happen to be at any given moment.
Isaiah 55:7
"Let the wicked forsake his way, and the unrighteous man his thoughts; let him return to the Lord, that he may have compassion on him, and to our God, for he will abundantly pardon." Isaiah 55:7
God's mercy and forgiveness are unending. In this verse, Isaiah challenges God's people to turn away from their sinful ways and seek the Lord.
God is compassionate toward those who turn away from sin and seek him today, too. He loves us so much that he sent his only Son to die in our place.
1 Chronicles 28:9
"And you, Solomon my son, know the God of your father and serve him with a whole heart and with a willing mind, for the Lord searches all hearts and understands every plan and thought. If you seek him, he will be found by you, but if you forsake him, he will cast you off forever." 1 Chronicles 28:9
When King David passed his reign to his son, Solomon, he prayed this prayer over Solomon. David reminded his son that God knows all of our thoughts. He also reminded Solomon that he would find God if he sought him.
Those who seek God today also find him. This is a wonderful encouragement for us.
Deuteronomy 5:22
"These words the Lord spoke to all your assembly at the mountain out of the midst of the fire, the cloud, and the thick darkness, with a loud voice; and he added no more. And he wrote them on two tablets of stone and gave them to me." Deuteronomy 5:22
God met with Moses on Mount Sinai and gave him the Ten Commandments. As followers of Christ under the New Covenant, we no longer live under the law; however, like Moses, God still wants to meet with us.
Just as Moses went to the mountain to receive the Ten Commandments, Jesus often went to quiet places to pray to his Father. God wants us to seek him by going away to quiet places to pray, too (see Matthew 6:6).
Genesis 11:5
"And the Lord came down to see the city and the tower, which the children of man had built." Genesis 11:5
Early in the book of Genesis, we read about the Tower of Babel. Mankind built a tall tower that reached upward into the heavens. They grew proud of their strength and accomplishments and began to become less dependent upon God.
In response, God confused their languages so that they could no longer understand one another and dispersed them across the Earth.
God loves us so much that he pursues us and even allows troubles to come so that we will change our ways and continue to seek him.
Hebrews 13:8
"Jesus Christ is the same yesterday and today and forever." Hebrews 13:8
When it comes to seeking God, it's helpful to remember that God does not change (see Malachi 3:6). Jesus Christ has always been One with God (see John 1:1), and Jesus does not change either.
This truth can help us to trust in Jesus when we don't understand his ways. It also helps us to trust that he wants us to seek his face at all times. Even when Jesus seems distant, he loves us and wants us to draw near to him.
James 1:2-4
"Count it all joy, my brothers, when you meet trials of various kinds, for you know that the testing of your faith produces steadfastness. And let steadfastness have its full effect, that you may be perfect and complete, lacking in nothing." James 1:2-4
God wants us to turn to him in difficult times. When we trust that trials are meant to help us become more mature, we are less likely to be offended by trials.
Some people turn away when life is difficult. They take offense because God permitted the difficulty. Meanwhile, God wants us to keep soft hearts and continue to seek him—because he is our only source of healing and lasting strength.
John 14:26
"But the Helper, the Holy Spirit, whom the Father will send in my name, he will teach you all things and bring to your remembrance all that I have said to you." John 14:26
Before Jesus ascended into heaven, he promised that God would send the Holy Spirit to guide and help his followers.
Today, the Holy Spirit dwells in the hearts of every follower of Christ. We don't need to drive to church buildings or go anywhere special to seek God because he lives within us.
The next time you feel distant from God, remind yourself that he has sent the Holy Spirit to dwell inside of you. He is with you wherever you go, and he is always ready to listen to you and help you.
Hebrews 11:6
"And without faith it is impossible to please him, for whoever would draw near to God must believe that he exists and that he rewards those who seek him." Hebrews 11:6
Faith is an important part of seeking God. Faith is believing in what we cannot see, and it is necessary if we are going to experience God's work in our lives.
When you seek God, believe that he is with you and that he is listening. This takes faith, and faith grows with time and experience. Continue seeking God, and your faith will grow.
1 Chronicles 16:11
"Seek the Lord and his strength; seek his presence continually!" 1 Chronicles 16:11
God's strength is available to everyone who calls on him. He wants us to seek his presence at all times—and not just when crises strike.
We can seek God's presence continually by reminding ourselves to turn to him throughout our days.
This might include listening to Christian music, writing notes to remind ourselves to look toward God, setting timers to remind ourselves to stop and pray, or even wearing jewelry to remind ourselves to pause and look toward the Lord.
Proverbs 8:17
"I love those who love me, and those who seek me diligently find me." Proverbs 8:17
Lastly, this short Proverb tells us that God loves those who love him. He also loves those who reject him, but in this verse, he is making the point that when a person loves him and pursues him, he will reveal himself.
Has God revealed himself to you lately? Why not take a few moments to close your eyes and seek him right now?
Prayer for Seeking God
Here is a prayer to help you seek God.
"Heavenly Father, thank you that you are always present with me—even when I cannot sense your presence. Please help me to become more aware of your presence.
If anything is hindering me from seeking and finding you, please reveal it to me so that I can draw near to you with a pure heart. Fill my heart with a burning passion for your presence and a longing to see you face-to-face.
I want to live from the overflow of the love I experience in my relationship with you, and I ask you to reveal yourself to me in new ways today. In Your Holy Name, Amen."
God is pleased when his children seek his face and turn toward him in prayer. Spend some time pondering these verses, memorizing them, and talking to God about his love for you.
He is waiting to meet with you and lead you to new heights in your faith and in your relationship with him.
It's also important to realize that we sometimes seek God without a sense of his presence or a response from him. If this happens to you, don't give up. Try to seek God for the joy that will fill his heart instead of seeking him with hopes to receive something from him.
If studying the Bible better is on your list of things to do this year, be sure to visit our Bible Study Resources page where you'll find everything you need to make Bible study a regular part of your daily routine.
Here are a few creative ways to seek God:
Take a long walk and talk to God about whatever is on your mind while you walk;
light a candle and listen to a worship mix;
start a habit of spending ten minutes reading your Bible each morning;
commit to one minute of resting quietly with the Lord beside a window (or in your bed) every morning or every evening;
begin your day by thanking God for five gifts from the previous day and writing about these gifts in a journal.
You might also talk to God while you cook, paint, jog, or pursue your favorite hobby. The options for connecting with God are endless.
Above all else, remember this: God loves you more than you can fathom, and he longs to spend time with you. When you seek him, you will find him.