In the hustle and bustle of our fast-paced lives, finding dedicated time for spiritual nourishment often feels like an elusive dream. The demands of work, family, and social commitments can leave us feeling spiritually parched, longing for deeper connections with God. Yet, amid our hectic schedules, there exists a simple yet profound solution that can transform our spiritual lives – short, powerful devotions.
These bite-sized moments of reflection, though brief, have the potential to unlock a wealth of spiritual growth, enabling us to draw closer to God and cultivate a meaningful relationship with Him.
Let's explore how short devotions can become your new best friend to help you spend more time in God's Word, leading us towards a deeper understanding of His truth and allowing us to experience the fullness of His presence even in the busiest of days.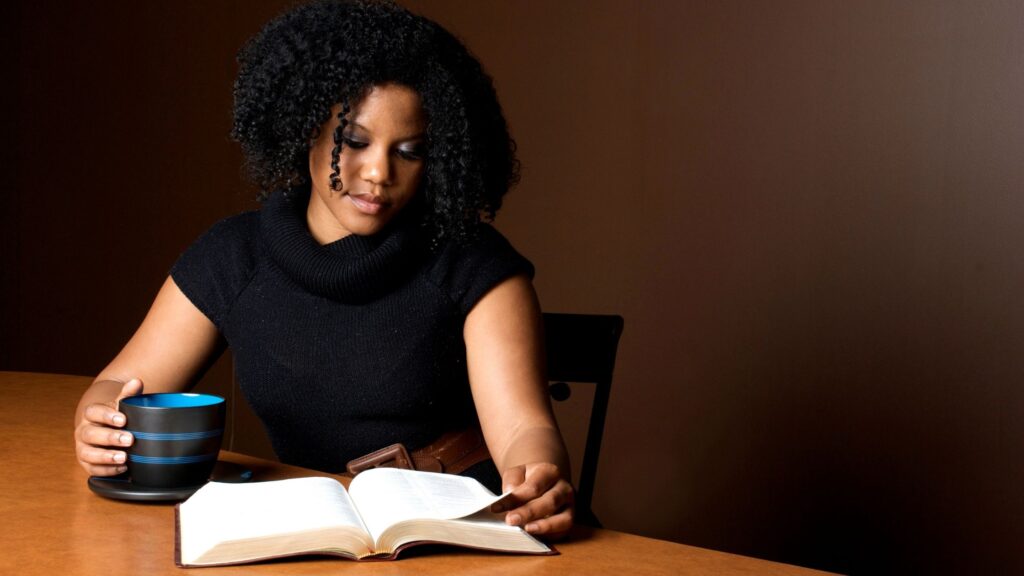 This post may contain affiliate links. Read our full disclosure here.
Short Powerful Devotions
Ensure God is the focus on your morning so He will be on your mind all day!
For many people, finding enough time to sit quietly and study God's Word is a struggle.
We live in a busy world! Sure, it would be nice to commit a full hour to Bible Study first thing in the morning, but for many people, this just isn't feasible.
So, you may be wondering: "What should I do for a daily devotion?"
You can find a variety of online devotionals for women or you can find a variety of book-style devotions to keep handy.
These short sections of powerful Godly wisdom give you a short verse of Scripture to meditate on for just a few minutes. They are powerful and speak directly to the issues you might be facing (as a woman/mom, husband/dad, or even a teenager.
These pocket devotions are small so they can often fit in a purse, briefcase, or backpack. Aside from reading them in the morning, it helps to have them handy for any downtime during the day (waiting at a doctor's office, etc).
They are the perfect way to take the Good News of Jesus Christ with you as you tackle the day!
Short Powerful Devotions 3-Minute Devotions
For women, the short but powerful daily devotionals are packed with hope and encouragement to tackle the day!
I love to read these short yet powerful devotions because they are simple, yet applicable to my life. They offer much easier access to powerful bits of scripture than trying to sift through the whole Bible to find what I need in the moment.
I keep one in my purse so I can pull it out when standing in line at the grocery store, while pumping gas, or while waiting at a doctor's office.
Short Powerful Devotions for Moms
Let's be honest! Moms have the least time for themselves of any person on earth! Finding time to spend in the Word can seem near impossible with little ones needing constant attention and care.
These 3-minute devotions for moms are created to provide just the right encouragement and hope in powerfully small doses!
Short Powerful Devotions for Men
When pressure rises from the expectations of life, men need to know that they can stand strong in the power of the Lord. They need to know that they can accomplish what God has planned for their lives.
These short, yet quick daily devotions for men will help them be prepared to tackle all the world has to throw at them!
Short Powerful Devotions for Teen Girls
Teenage girls often face societal pressures related to body image, relationships, and academic performance. Short devotionals can provide biblical perspectives and guidance, helping them navigate these challenges with a faith-centered approach. They teach young girls a more important focus of spiritual blessings and not to conform to the world's plan but to God's plan. And they help to remind them that they are a Child of God above all else! 
If studying the Bible better is on your list of things to do this year, be sure to visit our Bible Study Resources page where you'll find everything you need to make Bible study a regular part of your daily routine.
Short Powerful Devotions for Teen Boys
Regular exposure to God's Word through these brief messages can plant seeds of faith and lead to deeper exploration of the Bible. These short devotional readings can address relevant topics and teach important lessons that resonate with teenage boys. When the content is relatable and applicable to their daily experiences, they are more likely to connect with the message and see how faith intersects with their lives.
These short devotions for teen boys are geared to help young tween and teen boys apply the Bible to the struggles of the teenage years and becoming a man.
3-Minute Devotions for Boys – Created for pre-teen boys, these short but powerful daily devotions speak directly to the interests, needs, and dreams of "men under construction" with plenty of fun references to sports, video games, machines, and all those things you enjoy.
3-Minute Devotions for Guys – Short readings offering good moral lessons for young men.
Walk in Faith Devotion for Teen Guys – This devotional bridges scripture with the everyday challenges of being a teenage boy, from dealing with peer pressure to dating.
Short Powerful Devotions for Families
The wisest parents know that children need to hear the Word of God and understand God's love for them.These short but powerful family devotions are written specifically to help parents teach Biblical principles to younger children. They serve as a valuable tool for the whole to grow spiritually together. By incorporating these devotionals into their daily lives, families can draw closer to God and to one another, enriching their spiritual journey as a united and faith-filled family unit.
Short devotionals offer a practical and effective way to spend more time in God's Word. They provide time-efficient, focused, and accessible opportunities for spiritual growth, making it easier to integrate regular moments of reflection and prayer into your daily life. Through consistent engagement with God's Word, you can deepen your relationship with Him, gain insights into His truth, and experience transformational growth in your faith journey.
Of course, these short powerful devotions should not completely replace more focused time in the Word. Reading your Bible daily, along with more in-depth Bible studies is important for truly absorbing all God has to say.
But these short Bible devotions can definitely fill in between those times, as well as get some scripture on the go.
Another way to get powerful daily Bible devotions is by using a daily devotional app and/or listening to a Biblical podcast. You can simply listen while you do yard work, go for a walk, or hit the gym!
Looking for a new Bible and not sure which one to get? Be sure to check out our recommendations for Bibles and Devotionals.