The story of Naomi in the Bible has long been one that fascinated me, as a woman of the Bible her story stands out in the midst of others.
Not because of her leadership skills like Ester, or Deborah, not because of her prayers like Hannah's prayers for a child in 1 Samuel.
We know Naomi's story because of her great loss, and how despite the pain and bitterness that take over her life for a time she remains faithful to God.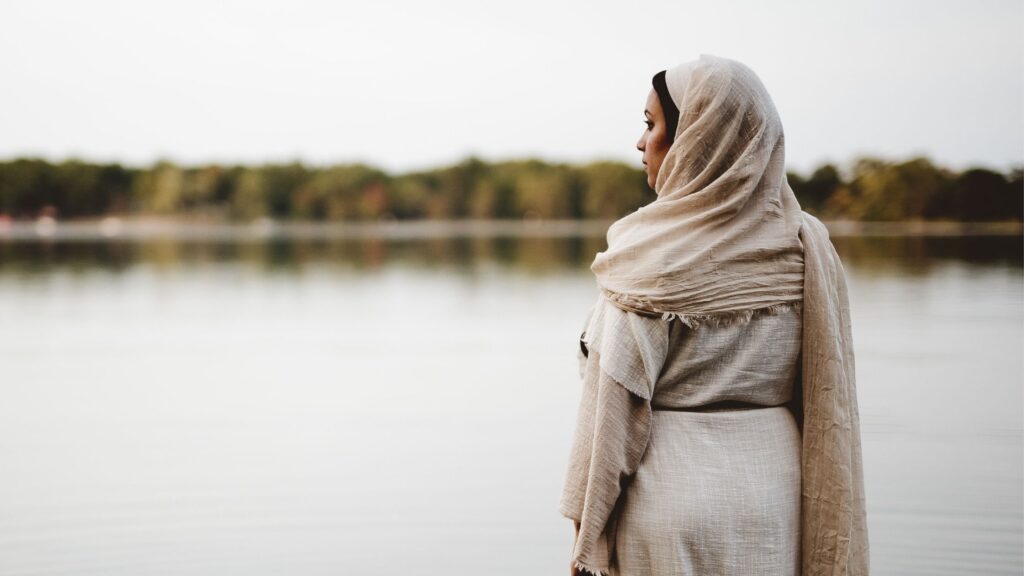 This post may contain affiliate links. Read our full disclosure here.
Who Was Naomi in the Bible
Naomi was an Israelite woman in the Old Testament book of Ruth, she was a wife and a mother, and a mother-in-law. Because Bethlehem was going through a terrible drought her family chose to leave and find a place where the drought had not touched. They settled in the land of Moab.
Through tragic events she lost her husband and both of her sons, leaving her alone in a foreign land with her two daughters-in-law.
What is the Biblical Meaning of Naomi
The name Naomi is from the Hebrew name נָעֳמִי which means "pleasantness". Which makes the changing of her name to Mara which means bitterness later in this story all the more poignant.
This is a woman who left her homeland full of life only to return alone and broken. Her life has changed from pleasant to bitter and she's to broken to bother trying to hide it. Have you ever felt like that?
I know I have, you are raw and tired and too weary to even attempt to cover the scars you'd never let the world see normally- but you can't pretend anymore.
And yet I love how by the end of this story we find a woman not consumed by circumstances but a woman resting in the knowledge that God works all things together for good. Even when we don't understand the why, God has a plan in the midst of our pain.
Read more about 19 Praying Women of the Bible who literally changed the world!
How is Naomi Related to Jesus
Naomi is not directly related to Jesus. However, her husband is through his close relative Boaz, her daughter-in-law Ruth's second husband and kinsman-redeemer. But without Naomi returning to Bethlehem, and bringing Ruth with her neither one could fulfill their destiny.
It's so important to remember that sometimes God calls us to places we may not understand, we may walk down roads we would never choose for ourselves because we have to prepare someone else for the role He has called them to.
Interesting Facts About Naomi in the Bible
Naomi in the Bible is an interesting figure, we get a picture into her life that we don't often get with some of the other Bible characters. This picture draws us through a large portion of her life so we can see God's hand at work in her life throughout her story. Let's take a look at some interesting facts about Naomi:
Naomi in the Bible was married to a man named Elimelek.
Naomi had two sons named Mahlon and Kilion.
Naomi from the Bible left her home town of Bethlehem with her husband and sons because of the famine.
While living in Moab Naomi's husband and sons died leaving her and her two daughters-in-law alone.
Naomi in the Bible returned to her homeland after the death of her family with Ruth one of her daughters-in-law.
In the end Naomi's story in the Book of Ruth, sorrow and bitterness are turned to joy, as the Lord provides for both she and her daughter-in-law Ruth.
What Can We Learn from Naomi in the Bible
There are so many valuable lessons we can take away from the story of Naomi in the Bible, and deeply impact our lives and walk with Christ. Her story is a wonderful picture of who God is during the hard times and how we should react to life's storms.
Naomi In The Bible Shows Us God Is In Control
If you get only one thing out of the story of Naomi in the Bible, it should be that God is always in control. No matter how out of control life feels, or how much we don't understand. This story of one woman in the Bible is a powerful reminder that God always has a plan for our life.
Naomi's Story Tells Us God Can Redeem Every Situation
A key aspect of the story of Naomi in the Bible is how God redeems the loss in Naomi's life and brings and through her faithfulness and love for in daughter-in-law impacts our lives. If hardship hadn't driven her family to Moab, she never would have met Ruth, and if loss hadn't sent her back to her homeland Ruth never would have met Boaz and entered the lineage of Christ. Never underestimate what God can do with your faithfulness.
Naomi's Story Shows Us That God Is At Work In The Hard Times
Another of the big takeaways from the story of Naomi in the Bible is that God is still at work in the hard times. We may not be able to see it, we may not be able to feel His hand at work but He is there. This story shows us that He is God in the storm as well as when life is smooth sailing. God's power doesn't stop when a storm gets on our radar.
Naomi Reminds Us Who We Need To Go To In Times Of Trouble
The story of Naomi in the Bible reminds us of who we need to call on when life is hard, people and things will not always be there for us. But even at our darkest hour, God is with us directing our steps. We need to lean on God when life feels like it's going to break us and let Him see us through.
Naomi In The Bible Reminds Us To Be Honest With God
Naomi in the Bible is raw and honest with God –it's not as if He didn't already know what was in her heart- and yet there is power in vocalizing how you are feeling, and what's going on in your heart to your heavenly father.
Naomi Is What Faith During The Hard Times Looks Like
Finally, Naomi shows us what faith looks like on the hard days. Even though life had hurt her and made her bitter, her faith in God remained unbroken.
The hard places are where our Faith is either broken and uprooted like a towering tree in a storm, or forced to go deep and strengthen so we remain unshaken.
Naomi Bible Study
The story of Naomi in the Bible is such a powerful testimony of trusting that God has a plan for you – even when you feel like He has forgotten you or left you behind. If you'd like to dive even deeper into her life, be sure to check out this Naomi Bible Study!
Women played such an important role in biblical history. Read more about them in our Women of the Bible series!