What does the Bible say about flowers? Scripture is literally filled with Bible verses about flowers and the beauty they offer!
I Love Flowers. As in obsessed love. If I could show you my photos on my phone, you would see half of them are flowers! They bring me joy whenever I look at them.
I'm in awe of God's creative power to bring such beauty into creation, His intricate crafting of their details, and the little creatures that pay visits to them (hummingbirds, bees, and bugs!)
Let's dive in see why flowers are so important from a biblical perspective.
This post may contain affiliate links. Read our full disclosure here.
What Does the Bible Say About Flowers?
Flower gardens, as we know them, didn't exist in Biblical times. Most flowers were wildflowers that grew near homes, groves of trees, or in fields. As in most climates, the spring rains brought an abundance of flowers.
The Bible mentions only a handful of flower species by name (rose, crocus, and lilies in various forms) even though there may have been hundreds (thousands?) more. It mentions many plants that produced flowers as well.
People in biblical times appreciated flowers for their beauty. They used them as many features in Biblical architecture and decorative works. The golden lampstand of the Tabernacle had cups shaped like almond blossoms.
God gifted Solomon with great wisdom, and that extended into an extensive knowledge of plant life. "He described plant life, from the cedar of Lebanon to the hyssop that grows out of walls." (1 Kings 4:33) No wonder he decorated God's temple with a botanical theme!
It also mentioned flowers many times in analogies and illustrations to help us understand the concepts that were being presented. They can also represent His people- just as flowers bloom and grow with His care, so do we.
What is the symbolic meaning of flowers in the Bible?
Flowers hold many symbolic meanings in the Bible. Their wide scope of colors, shapes, and sizes point us to the amazing creative power of our God. They symbolize beauty, growth, and the fragility of life.
Descriptions of flowers also give us beautiful word pictures of blessings, joy, and a thriving abundance. They can also show us God's judgment and wrath against the unholy.
If studying the Bible better is on your list of things to do this year, be sure to visit our Bible Study Resources page where you'll find everything you need to make Bible study a regular part of your daily routine.
Bible Verses about Flowers
The Bible uses flowers to show us the fragility of our lives here on earth. In the grand scheme of eternity, our time on earth resembles flowers- beautiful, but short-lived and delicate.
God uses the example of the "best dressed" lily of the field to show us He is our Jehovah-Jireh: The God who provides. He also used flowers to show us His righteous judgment and what happens when we live outside of God's will and teachings.
He even used His mighty power to produce flowers and fruit from Aaron's staff (a dead stick!) He wanted everyone to know this flowering miracle was from His hand and will.
Matthew 6:28-29
"And why do you worry about clothes? See how the flowers of the field grow. They do not labor or spin. Yet I tell you that not even Solomon in all his splendor was dressed like one of these. Matthew 6:28-29 NIV.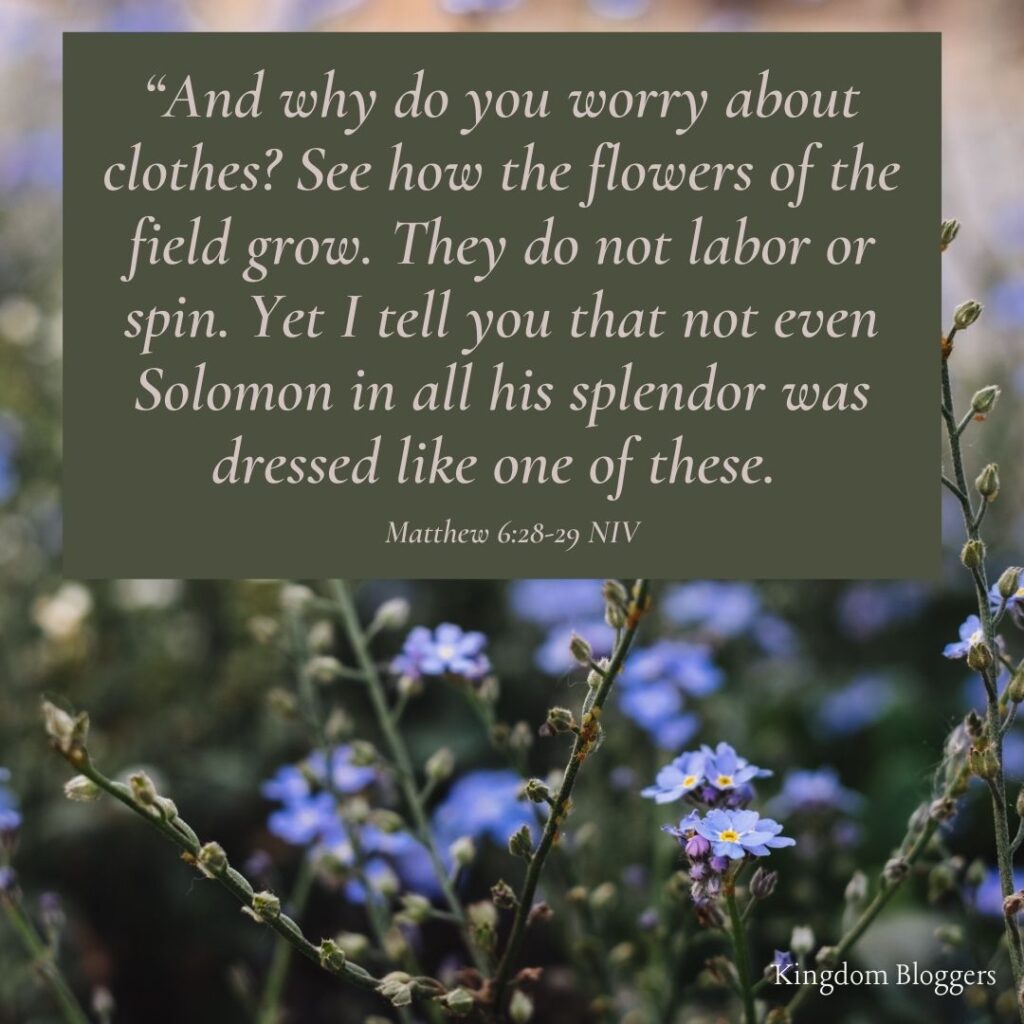 Isaiah 40:6-7
"All people are like grass, and all their faithfulness is like the flowers of the field. The grass withers and the flowers fall, because the breath of the Lord blows on them. Surely the people are grass. Isaiah 40:6-7 NIV
Job 14:1-2
"Mortals, born of woman, are of few days and full of trouble. They spring up like flowers and wither away; like fleeting shadows, they do not endure. Job 14:1-2 NIV.
James 1:10-11
But the rich should take pride in their humiliation—since they will pass away like a wildflower. For the sun rises with scorching heat and withers the plant; its blossom falls and its beauty is destroyed. In the same way, the rich will fade away even while they go about their business. James 1:10-11 NIV.
Nahum 1:4
He rebukes the sea and dries it up; he makes all the rivers run dry. Bashan and Carmel wither and the blossoms of Lebanon fade. Nahum 1:4 NIV.
Isaiah 5:24
Therefore, as tongues of fire lick up straw and as dry grass sinks down in the flames, so their roots will decay and their flowers blow away like dust; for they have rejected the law of the Lord Almighty and spurned the word of the Holy One of Israel. Isaiah 5:24 NIV.
Job 15:33
He will be like a vine stripped of its unripe grapes, like an olive tree shedding its blossoms. Job 15:33 NIV.
Numbers 17:8
The next day Moses entered the tent and saw that Aaron's staff, which represented the tribe of Levi, had not only sprouted but had budded, blossomed and produced almonds. Numbers 17:8 NIV.
1 Kings 6:18
The inside of the temple was cedar, carved with gourds and open flowers. Everything was cedar; no stone was to be seen. 1 Kings 6:18 NIV.
1 Kings 6:32
And on the two olive-wood doors he carved cherubim, palm trees and open flowers, and overlaid the cherubim and palm trees with hammered gold. 1 Kings 6:32 NIV.
1 Kings 7:20
On the capitals of both pillars, above the bowl-shaped part next to the network, were the two hundred pomegranates in rows all around. 1 Kings 7:20 NIV.
1 Kings 7:26
It was a handbreadth in thickness, and its rim was like the rim of a cup, like a lily blossom. It held two thousand baths. 1 Kings 7:26 NIV.
After everything fades and dies during the winter, we wait expectantly for the season when flowers bloom again. They bring joy, comfort, and wonder just as God brings care, transformation, healing, and redemption to His people.
Related: What Does the Bible Say About Spring
He compares His love and care for us to blossoming flowers coming up from the wilderness and parched land.
He brings beauty into our lives just as he does with the wildflowers- not only with their colorful forms but with a sweet fragrance.
Here are some Bible verses about flowers blooming:
Hosea 14:5
"I will be like dew to Israel; he will blossom like a lily. Like a cedar of Lebanon, he will send down roots." Hosea 14:5 NIV.
Isaiah 35:1
"The wilderness and the dry land shall be glad; the desert shall rejoice and blossom like the crocus." Isaiah 35:1 ESV.
Song of Solomon 2:13
"The fig tree forms its early fruit; the blossoming vines spread their fragrance." Song of Solomon 2:13 NIV.
Spring brings fresh growth, revival, and renewal. Love is in the air! God sends us His favor, love, and care just as He sends the spring rains, which produce new growth and blossoming flowers.
Let's take a look at some specific Bible verses about flowers and Spring.
Song of Solomon 6:11
"I went down to the grove of nut trees to look at the new growth in the valley, to see if the vines had budded or the pomegranates were in bloom." Song of Solomon 6:11 NIV.
Song of Solomon 2:11-12
"See! The winter is past; the rains are over and gone. Flowers appear on the earth; the season of singing has come, the cooing of doves is heard in our land." Song of Solomon 2:11-12 NIV.
James 5:7
"Be patient, then, brothers, until the Lord's coming. See how the farmer waits for the land to yield its valuable crop and how patient he is for the autumn and spring rains." James 5:7 NIV.
Zechariah 10:1
"Ask the Lord for rain in the springtime; it is the Lord who makes the storm clouds. He gives showers of rain to men, and plants of the field to everyone." Zechariah 10:1 NIV.
Taking Spiritual Lessons from Flowers
Many of these verses describe our spiritual journeys and growth. We have the most amazing Gardener! He carefully tends to us by giving us His "Son", Living Water, and the "spiritual fertilizer" of His Word.
When I first started gardening, I was on a budget. I started seeds indoors; carefully tending them until it was time to transplant them outside. I ordered bags of "mixed bulbs"; planting whatever they sent me. Perennials are expensive, so I ordered them as an "assorted mix". One assortment looked like dead sticks, but I planted them anyway. The results were beautiful hibiscus plants!
Do you recognize yourself as any of these flowers? Are you a seedling- needing some extra TLC before you bloom for Him? Maybe you're a bulb- full of stored up energy and waiting to be planted to realize your potential. Perhaps you're a mature plant- ready to bloom where you're planted.
Or maybe you see yourself as a "dead stick"… unsure if there are any blooms waiting to come forth even if you were planted… Be assured, our God, who created arrays of beautiful flowers, also created you in His image. And just like Aaron's staff, He wants you to grow and bloom!
Take the time to reflect and meditate on these verses about flowers. Find how you can apply the spiritual truths they represent to your own life. Maybe you would like to even plant some in your own garden this year!
Be sure to also see what the Bible says about spring and the many verses about birds!